It can be daunting to buy a digital camera. The technology changes very quickly, as do the prices and features of the cameras. There are professional-quality cameras with interchangeable lenses, hefty weight, and high-end controls. There are compact consumer cameras with mostly automatic controls, a small zoom lens, and a flash. There are numerous features by which you can compare cameras, but perhaps the most common is image quality. To make image-quality comparisons, all digital cameras are rated by number of megapixels. Aside from how the camera feels in your hands, and, of course, its price, megapixels are a key consideration.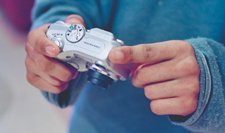 Understanding Your Camera's Resolution
You can't talk about digital cameras without someone mentioning megapixels. A megapixel is a million pixels, and the megapixel rating is a pretty good place to start when comparing cameras. Pixels are the smallest elements of a picture, like the dots you see on your TV screen if you look at it up close, or those of a newspaper photograph. Images are made up of these tiny dots of color and shade; the more of them there are, the higher the resolution; higher resolution means better-looking images. Of course, high-resolution images take up more space on your Mac's hard disk (and your camera's memory card) than low-resolution images do, so for any given memory card or storage device, there's a trade-off between storing more low-resolution images or fewer high-resolution images. Also, if you tend to crop your pictures, more resolution gives you more options. All digital cameras use between, say, 1 and 8 megapixels to capture an image. And in many ways, this defines how good the camera is.
But how many megapixels is enough? The answer depends on what you plan to do with your photographs. If you want to look at them on a TV set, the resolution can be pretty low, because a television is a very low-resolution display (equivalent to about 1/3 megapixel). Using images on the Internet allows even smaller filesand thus no matter how good your camera, you'll end up squeezing the image down to a radically lower pixel resolution (well below 1 megapixel). On the other hand, printing images demands the highest resolutionthe larger the print, the higher the resolution you want.
High resolution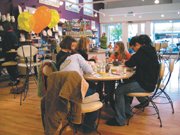 Low resolution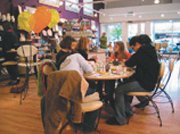 High resolution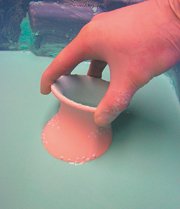 Low resolution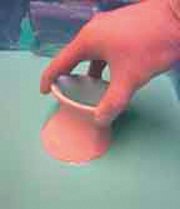 Prints this small make it hard to reveal the difference between resolutions. Still, the image on the left could be blown up to a poster and look pretty good. The ones on the right are already suffering even though they're small.
Tip
Images with lots of detail and color will look worse (revealing odd, digital-looking anomalies) with low-resolution cameras. However, images with large areas of solid color, good contrast, and few detailsas you often find with close-up shotstend to look OK with low-resolution cameras, at least better than wider shots.
So if you have a low-megapixel camera, shoot more close-ups than scenic vistas. If you want more range or plan to shoot wide, you may need a higher-megapixel camera.
A 2-megapixel image will print with excellent quality at typical snapshot sizes (3.5 x 5 and 4 x 6 inches). If you want to make enlargements at, say, 8 x 10, you may want to move up to 3 or 4 megapixels. And if you're a pro, or you plan to do really high-quality photography, 7 or 8 megapixels will likely do the trick. If you never plan to do anything more than display images on TV or on the Web, you can use the lowest-megapixel cameras available and save yourself some money.
Note
This, by the way, is why companies tend to demonstrate their DVDs, photos, and other compressed images using close-ups rather than wide shots. If you want to see how good an image really is, check the stadium crowd shots or the leaves turning on a million New England trees; these are far better indicators of potential problems than the model on the beach is. You really want a combination of both mottled details and solid colors to reveal different kinds of potential problems.
Tip
Some companies offer combo camcorders and still cameras. In general, a camcorder image is of inferior image quality to a still camera; you might be better served by using separate devices, each well tuned for its task. Also keep in mind that you can grab a still frame from digital video any time you want (using iMovie, for instance) and don't have to have a special camcorder or specific feature to provide that function. It may be low resolution, but it's good for small snapshots or Web images.