PDF (Portable Document Format) is the best file format for distributing your newsletter electronically. PDF was developed by Adobe Systems to look exactly like original documents and preserve the fonts, images, graphics, and layout of any source file regardless of the application and platform used to create it. (See extra bits on Page 124.)
To export our newsletter to PDF choose File > Export.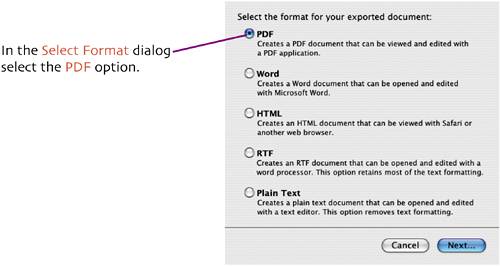 Click Next.
Enter the document name you've chosen in the Save as dialog.
Navigate to the working directory where you previously saved the flyer and newsletter documents.
Press Export.
PDF files can be viewed on multiple platforms with the free PDF reader available for download from Adobe.com. However the Adobe reader is not required on Mac OS X, because the Preview application included in the OS opens and displays PDFs.
Hide the Pages application (Pages > Hide Pages or

-

).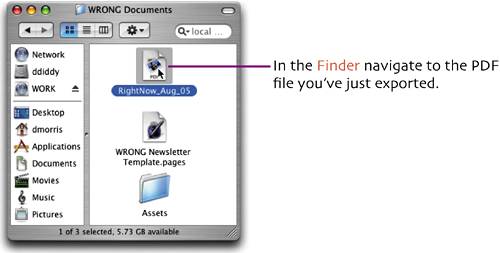 Double-click the file.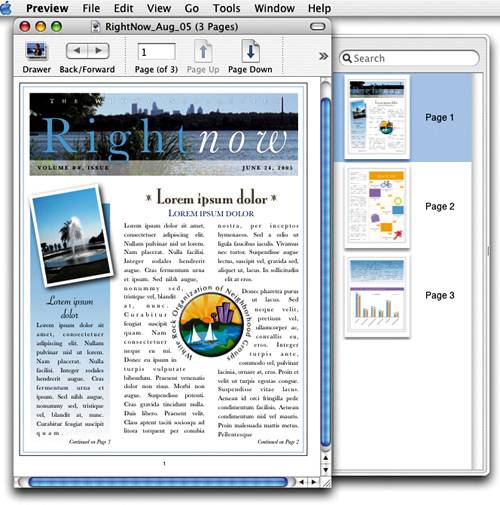 Preview launches and your newsletter is displayed just as it appeared in Pages.