In today's world, little could happen with projects without some form of document collaboration provided for your project team. Project Server 2003 provides a robust document collaboration workspace, which comes with some document management features such as documents versioning, check-in and check-out functions, and read-write access control.
Documents ManagementA Stringent Necessity for Any Project Team
Collaboration within a project team using documents can be at times challenging, and most organizations have recognized these challenges by introducing a document management system that facilitates documents collaboration in a coordinated manner.
Without a proper document management system in place, a number of things can go wrong. If you collaborate with your project team members on documents, you probably can come up with your own examples of what can go wrong in the process of document collaboration. This may include
Multiple versions of a document floating around, creating redundancy, confusion, and extra work.

Confusion about document ownership and version. For example, one team member might waste time researching and writing about a particular issue that another team member already covered in a different version of the same document.

Overlooked comments and notes when a document is passed around and change tracking is not turned on.

Wasted time compiling comments and notes from multiple copies of a single document.
To minimize the negative effects of an inadequate documents management system, you may consider some options presented in the following discussion.
Options for Document Collaboration
To solve your problems with document collaboration and bring better consistency and clarity to your projects, consider several basic collaboration and document management methods discussed in the following sections.
Managing Paper Documents
In spite of high hopes about a "paperless office," many people still rely on paper documents most of the time. In fact, people seem to use more paper than ever before.
Using paper documents is supposed to be straightforward. You give the document to a project team member who edits it or attaches comments and passes it on. No complex software package is required, and if you stick to one copy of the document and one file folder per project, it should be reasonably easy to keep everyone's contributions together.
On the other hand, paper documents can be easily lost or misplaced. They also are not that great if only part of the project team works in the same office and if all team members cannot see all comments and notes as the comments are added.
Managing Email Messages and File Attachments
When you need quick feedback, an email message is the way to go. New messages in your Inbox are difficult to ignore, and the information comes to you rather than you searching for it. Email gets most people's attention, and they can choose to send a reply just to you or to everybody on the project team.
If you want to collaborate on a larger, more formal document with your project team, you can send a document as an attachment. Use the tracking and reviewing features to see who made what changes.
Working with the Meeting Workspace Feature in Microsoft Office Outlook 2003
The Meeting Workspace consists of one or more pages that contain meeting details and lists of related information required when planning, conducting, or following up on a meeting. The Meeting Workspace is a website for centralizing all the information and materials for meetings. Before the meeting, you can use a workspace to publish the meeting agenda, documents you plan to discuss, and meeting attendee list. It is also a natural place to store everything related to your project. You can post meeting agendas and minutes, capture and record important decisions, track task progress, and many other things. You are always guaranteed to have the latest document version, and you don't need to send large file attachments to all team members via email.
To use a Meeting Workspace, send a meeting request to invite your team to the meeting. In the meeting request, include a hyperlink that points to the workspace where invitees can go to learn details about the meeting and review the related materials.
NOTE
A Meeting Workspace is a special type of WSS subsite under a parent SharePoint site, as shown in Figure 22.2.
Figure 22.2. An example of a Meeting Workspace created by sending a meeting request in Microsoft Office Outlook 2003.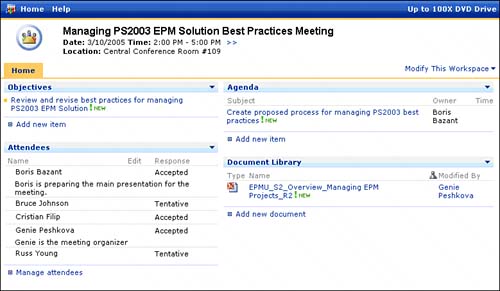 Working with the Document Workspace Feature in Microsoft Office 2003
A Document Workspace site is a WSS site centered on one or more documents. Project team members can collaborate on the document, either by working directly on the Document Workspace copy or by working on their own copy, which they can update periodically with changes that have been saved to the document copy stored on the Document Workspace site.
Because a Document Workspace is a WSS site, project team members can use all available WSS featuresfor example, using the Tasks list to assign each other to-do items, using the Links list to create hyperlinks to original resources, and storing related or supporting documents in the document library.
You can create a Document Workspace when you send a shared document attachment via email. The sender of the shared attachment becomes the administrator of the Document Workspace, and all the email recipients become members of the Document Workspace, where they are granted permission to contribute to the site.
Another way to create a Document Workspace is to use the Shared Workspace task pane (select the Tools menu first) in Microsoft Office programs. You can also use commands on a WSS site to create a Document Workspace.
When you create a Document Workspace from a shared attachment, the site inherits the name from the document on which it is based. When you create a Document Workspace from the Shared Workspace task pane or by using commands on a WSS site, you specify a name for the site.
NOTE
Using the Shared Workspace task pane, you can create Document Workspaces in Microsoft Office Word 2003, Microsoft Office Excel 2003, Microsoft Office PowerPoint 2003, and Microsoft Office Visio 2003 only.
When you create a Document Workspace, your Office document is stored in a document library in the new Document Workspace, where your project team members can access it by opening it in their web browser or in a Microsoft Office program. Figure 22.3 shows an example of a Document Workspace created for a Microsoft Office Word 2003 document.
Figure 22.3. An example of a Document Workspace created for Employment Manual document.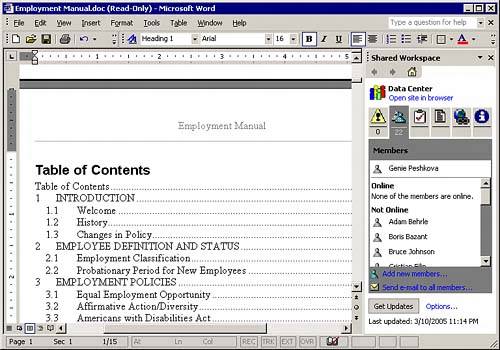 How to Improve the Document Collaboration Process
This section discusses how you can improve the quality and consistency of your project team document collaboration. High-performing project teams know that without efficient document collaboration it is virtually impossible to run a successful project. Following are recommendations based on years of experience, lessons learned, and feedback from project teams:
Periodically evaluate your document and team collaboration processes You might want to ask your project team members what types of problems they experienced with document collaboration. Analyzing a problem that may seem random, such as someone revising a wrong document version, can help you find collaboration process steps that need to be fixed to make sure that they do not happen again. Your project team will not work better because you ask your team members to try hardermany other people are probably asking them to do the same all the time. Your teamwork can improve if and when better processes are in place.

Assign a project leader Every project and project-related document needs an owner. Otherwise, the document might not serve its purpose well. For example, a project team member posts a financial spreadsheet on a project intranet site. Team members are then instructed to periodically update the spreadsheet data. A few weeks later, only a few people are updating the spreadsheet data, and a few weeks after that nobody on the project team is sure why they are supposed to update this spreadsheet. Because the document has no owner assigned, team members don't even know whom to ask for guidance and decide to ignore it. Make sure that you establish clear ownership of each project and related documents!

Set the expectations for your team members A project leader needs to get a commitment from the project team members. If you send task assignments that include document updates with expected finish dates to your team members, do not assume that the tasks will get done on time unless your team members confirm it. Team members might be facing other difficult deadlines on other projects that make your document updates lower on their priority list. When you confirm expectations and task assignment finish dates, you are much more likely to stay in control of your project.

Establish consistent conflict resolution mechanism Many books have been written about reaching a consensus and negotiations, but knowing a few basic rules can help.

Senior management must first set the consistent standard for conflict resolution. Sometimes one project team member can be the tie-breaker. In other cases, the whole project team can vote. It is advisable that subject matter experts such as the lead designer or legal counsel need to have the last word in their areas of expertise.

Keep records of your project progress If you use email as your document collaboration vehicle, you can send messages, with optional attached documents, back and forth until all related issues are resolved. You can save the email thread and use it as an audit trail of the decisions made along the way. Comments and changes added within the document are also important for good record keeping. Save document copies with all comments and changes as a record, and then accept or reject all tracked changes and comments before the documents are ready for publishing.

Encourage communication and participation Heavy-handed methods may help you reach a consensus quickly, but they defeat the purpose of a team collaboration. Team collaboration is about taking full advantage of all unique skill sets and backgrounds of your project team members. Make sure that your conflict resolution methods encourage communication and participation, not artificial consensus that will not last long.

Acknowledge other opinions and explain reasoning Usually the owner of the document or project is the person designated to compile the results after all comments are processed. The owner might need to respond to each concern and comment, or she might be able to make the decision without further team input. Even if the owner has the authority to make the final decisions, it's important to understand everyone's concerns and document how decisions were arrived at.

The Meeting and Document Workspace features provide a space for keeping a collection of project documents, additional information such as detailed technical research, prior versions of documents, team member names and their contact information, and notices about upcoming meetings.

Keep your document collaboration processes lean and flexible Not all problems can be resolved effectively and quickly through document collaboration. Many times, you need to pick up the phone, walk down the hall to talk to somebody on your project team, or schedule and attend a team meetingthat is, after all, what project managers do most of the time.

Focus on document version control Poor document version control can lead to a lot of waste and frustration. It is a good idea to set some ground rules before starting to collaborate on any complex document.

If you are collaborating on a document through email, establish rules for how to use the To and Cc lines and make sure that all your team members understand when to use Reply or Reply to All.

If you are collaborating on a Microsoft Office document, protect the document from unauthorized changes including the Track Changes feature being turned off. You can also require anyone who changes a document to add her name, the date of change, and a version number to a header or footer of the document.

Need for effective version control helps to make an argument for online document collaboration. When you store a document in a Meeting or Document Workspace or project document library, everyone on the project team can always see the latest document version. Any team member can check out documents, make changes, and check them back in. You can see who has the document checked out and who has made changes. You can also see the document history and older document versions at any time.
Using Document Libraries
You can configure a space for project documents by creating a WSS site for each project in your project portfolio. These project sites may be created automatically or manually when a project is published to Project Server 2003.
The project manager or anybody else with appropriate permissions can then set up a document library. A document library is a document folder with a collection of documents. The default template for the documents in each library can be configured, if required. By default, administrators as well as project managers can define the document properties required and who has access to the project documents. Each document's creator defines information about the document, which appears in the contents list for the library.
Two different types of document libraries are available in Project Server 2003:
Project document library Stores documents related to a specific project. Each project can have multiple document libraries configured. Authorized users can create additional document libraries for the project. Project managers, who by default have design list permission on WSS, can make changes to specific document libraries.

Public document library Stores documents accessible to all users in the organization. The server administrator configures the access to documents in this library. Although any user can contribute documents to this library, only an authorized user can create and customize public document libraries.
NOTE
Before you can work with documents, a web server running WSS must be installed and configured properly for Project Server 2003, and a project-specific site must be created for each project in your portfolio.
Viewing Documents in Project Professional
If you want to view documents in the Project Professional client, select Collaborate, Documents from the menu.
Document libraries features include the following:
Alert notification The PWA client uses alerts to notify you through email about additions, deletions, and changes to document libraries. You can receive alert results immediately, or request alerts daily or weekly.

Document versioning and document check-in and check-out With document versioning, a backup copy of a file is created whenever the file is saved to a document library. Users can also check out a document to lock it while editing, preventing other users from overwriting or editing it inadvertently.
Three groups of document libraries are accessible to you and your project team members via the Project Professional client:
My Projects This library group shows documents related to your specific projects. Each project can have multiple libraries associated with it. Authorized users can create additional document libraries for the project. Project managers, who by default have design list permission in WSS, can define properties for each document library or create new document libraries. Team members can create, upload, and edit documents in existing document libraries. To configure these permissions for creating, uploading, and editing documents for other users, go to the WSS server administration module.

Public This library group stores documents accessible by all users in your organization. The administrator defines who has access to documents in this library group. By default, every user has permissions to create and customize public document libraries.

Other Projects This library group stores documents related to additional projects that an administrator gives you permission to view.

PAGE 468.