The Stage is by far the simplest part of Director's interface: It's just a plain white rectangle in a frame ( Figure 9.1 ). But there's more to the Stage than meets the eye. By means of a number of controls scattered throughout Director "in menus , in the Property Inspector, and on the Tool palette "the Stage can be resized, repositioned, zoomed, scrolled, and gridded. Not only is the Stage the place where your movie plays; it's also a place where you can create cast members such as buttons , text fields, and shapes .
Figure 9.1. The Stage's default appearance.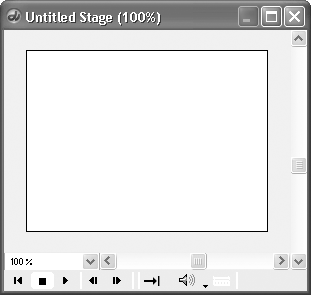 This chapter will show you how to customize the Stage and use its hidden features to show off your movie to its best advantage.