You can add interactive features to movies without having to write or understand Lingo, Director's scripting language. You simply drag a behavior (a prefabricated Lingo script) onto a sprite or frame to make certain actions occur in response to events during your movie. Typical events include a click of a sprite or the entry of the playhead into a specific frame.
Director provides a Library palette of ready-to-use behaviors grouped by categories, including Animation, Internet, and Navigation ( Figure 14.1 ).
Figure 14.1. The Library palette contains ready-to-use behaviors grouped by category, such as Text, shown here.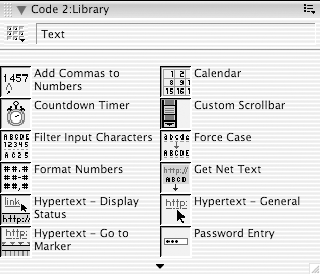 In this chapter, you'll learn how to assign Director's drag-and-drop behaviors to sprites and frames , how to modify the supplied behaviors, and even how to create your own behaviors within the Behavior Inspector. A couple of specific examples will get you started building behavior interactivity into your movies.
Even if you plan to acquire Lingo scripting skills, it's a good idea to experiment with behaviors first to develop a feel for what Lingo can do.