The Inbox window doesn't have to look exactly like the way it appears on your screen now. You can change the way it looks to suit your tastes or needs. Remember that you can close the Outlook Bar on the left side of the screen by right-clicking an empty area on the bar and choosing Hide Outlook Bar. To redisplay the bar, choose View, Outlook Bar from the menu.
You can turn the toolbars on and off, just as you can in any other Office program. Right-click anywhere on the toolbar and click Standard to toggle the display of the Standard toolbar.
Additionally, you can change the height or width of any window pane. Move the cursor over any window edge and drag it to a new position.
Finally, you can change the width of the column headings in the Column Heading bar. Move the cursor onto the edge of any column, and drag it to the new position. When you quit Outlook and return, the sizing changes remain active.
Importing Account Settings
Outlook imports certain email account settings and email when you install Outlook. If you have email or account settings that were not imported on installing Outlook, you can do it now by choosing File, Import and Export. This starts the Import and Export Wizard, shown in Figure 17.3. You can import Internet Mail account settings. Just make your choice and follow the wizard's directions.
Figure 17.3. The Import and Export Wizard allows you to import Internet settings and messages from other programs.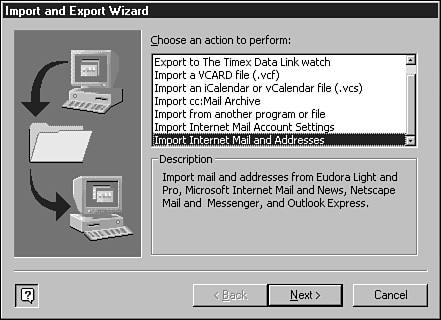 Importing Existing Mail
If you previously used another program for email, you can also import messages by using the Import and Export Wizard. Choose File, Import and Export; select Import Internet Mail and Addresses; and follow the instructions.
If you import information from another program, it remains intact in the original program. It is not physically moved into Outlook, only copied . Keep this in mind if you have limited disk space and tons of data.