Before You Begin

100 Install Microsoft Plus! Digital Media Edition (DME)
See Also

104 Use DME to Capture Music from Old LP Albums
Back around the days of Noah, people used to listen to music on vinyl record albums called long-play albums , or LPs . Compact discs (CDs) had not yet been invented. Millions of those records still line people's attics and flea market shelves . An entire LP fan base has caused somewhat of a rejuvenation of interest in LPs because of their unique sound quality, which today's CDs mask as a result of their high fidelity. It seems the sound of the phonograph needle hitting the record and the background hum that occurs during playback produces a nostalgic sound, and some vinyl albums now command high dollar figures.
How can the presence of LP albums that still abound help you as a movie producer?
NOTE
| | |
| --- | --- |
| | The following warning should come as no surprise: Be sure not to use music from record albums in any commercial movie that you make. Using your own LP albums for background songs in your videos won't bother music execs, despite their current excitement about copyright infringements. Just be sure that you own the records, and only use the music for noncommercial videos you make for your family and friends . |
Chances are, if you have some of these albums, you probably have not yet replaced all of them with CDs. Yet, you might want to use many of the tunes from these albums as backgrounds in your videos "it makes sense to capture their contents.
LP record albums are not digital like audio CDs. Therefore, you cannot simply transfer their contents, without quality loss, to your computer and play them there. One way to transfer music from your albums to your computer is to record them with a microphone connected to your computer's sound card, but obviously a direct connection would be better.
The Microsoft Plus! Digital Media help screens show you how to connect your phonograph to your computer through your stereo system.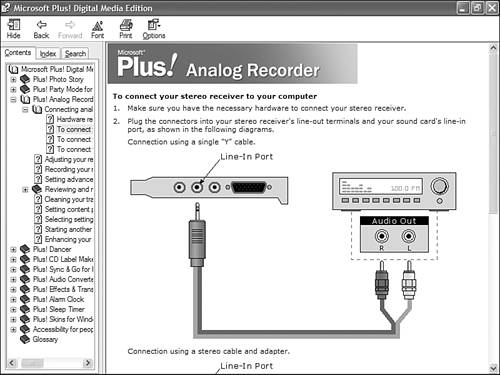 If you still own a turntable, connect it to your stereo. If you don't have a turntable, you'll have to borrow one because it's the only way you can play your albums. The sound from a turntable is not strong enough for your computer's sound card's line-in jack to sense. Therefore, you will need to run the turntable through your stereo and then connect your stereo's output jacks to your computer's sound card.
NOTE
| | |
| --- | --- |
| | Your stereo volume level will probably not match those of your sound card's line-in jack at first. When you first begin recording, the DME provides a way to adjust the volume level. |
The Microsoft Plus! Digital Media Edition includes the Analog Recorder program. With Analog Recorder, after you hook up your turntable to your computer's sound card, you can easily record your records' tracks ( see 104 Use DME to Capture Music from Old LP Albums ). The Analog Recorder includes special filters that reduce the pops and hisses normally associated with LPs and that enable you to divide your recorded LPs into individual tracks, even if you record whole sides of an album at one time.
TIP
| | |
| --- | --- |
| | Analog Recorder also records from tape recordings that you might want to put onto your computer. As with LPs, Analog Recorder can help improve the sound quality of those tapes as you save their content to your computer system. |
So, if you have some of those old big band albums from the 40s and 50s that would work well in your movies, the DME comes to the rescue.