Adjusting Color with Color Cast
Color cast is the term experts use when an image has too much of one color in it. Sometimes an image will get a cast from poor lighting, bad scanning, or as an after effect from some other adjustment such as Auto Levels. The Color Cast Correction dialog box, shown in Figure 24.19, removes color casts by having you locate a point in the picture that should be pure white, middle gray, or black, and then adjusting the color so that it actually is white, gray, or black. To adjust the target color (and thus, the other colors in your image), Color Cast adds the color opposite the target color on the optical color wheel to cancel out or neutralize whatever color is too strong in the black or white or gray. For example, if the target color is magenta and it should be black, Color Cast adds green ( magenta 's opposite on the color wheel).
Figure 24.19. Just click on something in the picture that should be white, black, or neutral gray. Elements will do the math and change the colors.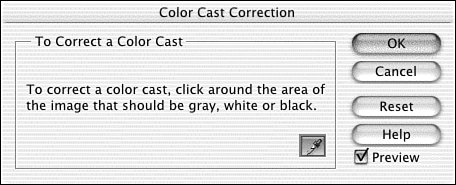 To use Color Cast, choose Enhance, Adjust Color, Color Cast. Then use the eyedropper to click a point in your image that should be pure white, pure black, or medium gray.
If you don't like the result the first time, try a different black or white spot, with or without clicking Reset first. The results will vary according to the color strength of the pixel you select.