Burning a DVD is really as simple as clicking a button and waiting for your masterpiece to be created. There are, however, several steps you should take to be sure that the DVD really is ready to goPreviewing the contents, Preparing your computer, and, finally, Burning the DVD. We'll cover these steps in detail now.
Task: Previewing Your Project
Before you burn your finished DVD to disc, you should preview it to make sure everything is exactly as you want it. While it's tempting to skip this step when your project is so close to being completed, you will have to burn the project all over again, and end up waiting twice as long to view it, if you made any mistakes.
To preview your project, click the Preview button.

In the remote control that appears on your screen, click the arrow buttons to select a menu button, as shown in Figure 20.1. When you press Enter, the content linked to the selected button will play.

Figure 20.1. In Preview mode, iDVD displays a remote control so you can navigate through the menus of your project.

Repeat step 2 until you've tried all the elements in your project, even those in submenus, to make sure you finished all the portions of your project.

When you have tested everything, click the Preview button or click the Exit button on the remote control to return to edit mode.

| | |
| --- | --- |
| | While previewing your project, make sure that you have motion activated so you can see any motion effects in the menus or menu buttons. You'll know motion is activated if the Motion button is green. |



Preparing Your Computer
After you've tested your DVD project and are certain everything is as you want it in the final version, you're almost ready to burn your project to DVD disc. Before you do so, however, there are a couple of things you need to do to make the process go smoothly.
First, You should quit out of any other applications you have running, such as iMovie or an email program. Burning DVDs is a resource- intensive process, and it's best to let your computer focus all of its processing power on iDVD.
Next, you will want to make sure that your Mac doesn't go to sleep in the middle of burning. (This doesn't seem to affect all Macs, but it's better to be safe than to waste a DVD-R.) To do this, go to the Apple menu at the upper left, and open the System Preferences panel. Choose Energy Saver from the Hardware section, and set the slider that controls the length of inactivity before the computer sleeps to Never (see figure 20.2).
Figure 20.2. Open the Energy Saver pane of the System Preferences to ensure your computer doesn't sleep during disc burning.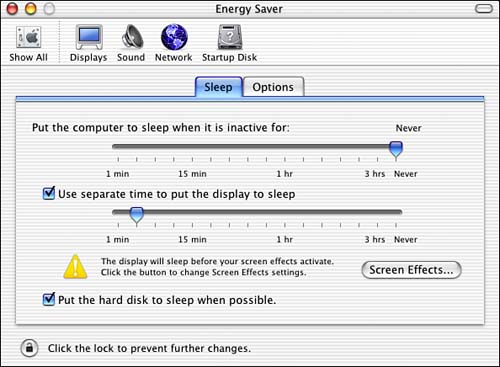 Task: Burning Your DVD
After you've tested your project and prepared your computer, burning the actual disc is quite simple. Just make sure that there is nothing else you want to add to your projectremember, once you burn a DVD-R it can't be reused.
| | |
| --- | --- |
| | As you learned in Chapter 18, there are many kinds of DVD media. Make sure you are using 2.0 General DVD-R discs. Also, some brands of disceven the right kinddon't seem to work in iDVD. For that reason, it's best to test a single disc before buying DVDs in bulk from one manufacturer. |
Click the Burn button. When clicked, the gray button will retract to reveal a pulsing button in its place.

Click the pulsing button to confirm that you are ready to burn your project to DVD.

| | |
| --- | --- |
| | If you have forgotten to turn motion on, iDVD will ask if you wish to burn a DVD without motion menus. You can click Cancel to back out of the burning process you've initiated and turn motion on, or you can click Proceed to burn your disc with motion disabled. |




You will be prompted to insert a blank DVD-R disc into the drive, as shown in Figure 20.3.

Figure 20.3. iDVD prompts you to insert a blank disc.

Insert your disc and wait for iDVD to do it's thing.

| | |
| --- | --- |
| | Be careful not to press the Eject key while burning is in progress. This may interrupt burning, and result in an unusable disc. |



It will take a while for your computer to create the disc. Exactly how much time depends on your computer's processor and how much content is on the disc. Generally, it will take two to three times the length of the video on the disc for that video to be encoded and written.
Task: Testing Your DVD
After your DVD has been written, there's one step yet remaining--to make sure that the disc works! To find out if the disc has been created correctly, the best option is to try it in the computer that wrote it. If the DVD works in your computer, chances are good that it will play in most newer DVD players and DVD-drive equipped computers. (See www.apple.com/dvd/compatibility/ for a list of compatible players.)
To test your DVD, insert it into your computer's drive.

The DVD Player application should open automatically with your DVD main menu visible.

Using the remote control that appears on your screen, click the arrows to select a button and click enter to watch that segment of your DVD.