---
Creating TOCs from Styles
By default, tables of contents are created using heading styles: Heading1, Heading2 and Heading3. Refer to Figure 9-9.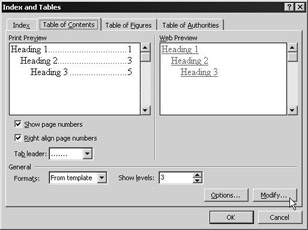 Figure 9-9: Index and Tables Dialog, Table of Contents Tab
If you create custom styles, or wish to use other styles, this is easily accomplished by using the options button under:
Word 97 and 2000: Insert → Index and Tables Table of Contents tab.

Word 2002/XP: Insert → References → Index and Tables → Table of Contents tab.
Using this method to create a table of contents is by far the easiest method! However, something that commonly occurs is that people create the table of contents and then see the styles TOC1, TOC2, etc., appear in their styles list.
These TOC styles are built-in and created by inserting a table of contents. You should not apply these styles to any text unless, for instance, you're manually adding something to your table of contents.
Even if you're not using a table of contents, creating one can help you to be sure you don't have inappropriate styles set in your document. It wasn't very long ago that my graphics used to show up in my tables of contents because I had the wrong style applied!
---

Dreamboat on Word: Word 2000, Word 2002, Word 2003 (On Office series)
ISBN: 0972425845
EAN: 2147483647
Year: 2003
Pages: 130