| | |
| --- | --- |
| only for RuBoard - do not distribute or recompile | |
2.8 Storage Area Networks (SANs)
The evolution of storage brings us to Storage Area Networks (SANs), described in detail in Chapter 4.
A Storage Area Network is based on the principle of networking devices together. As you learned in Chapter 1, the SAN consists of a group of mass storage devices (disk arrays and tape libraries) connected indirectly to host computer systems and each other by means of interconnecting devices such as hubs or switches.
Figure 2-10. Example of a SAN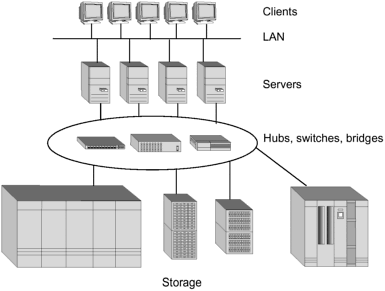 Where LANs connect host computer systems together to share the access to servers and stored data, SANs connect storage devices together to provide host computer systems (and users) high-speed and immediate access to data. SANs also provide host computer systems multiple routes to data, as a measure of protection if failures happen. In some LANs where SANs are employed, the host computer system in control of some specific data can be failed over to another host system to guarantee access to data in case of a system failure. It can be configured so that any host can access any storage unit.
| | |
| --- | --- |
| only for RuBoard - do not distribute or recompile | |