15.2

Downloading ClanLib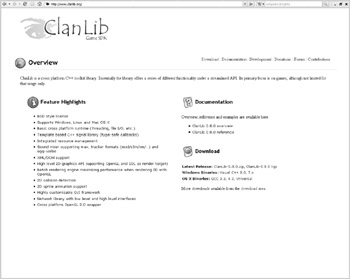 Figure 15.1
ClanLib can be downloaded from http://www.clanlib.org. At this site users will find documentation for all the classes in the library and a forum for users to post messages and help one another. At the time of writing, there are several packages that need to be downloaded and installed. These are as follows:
Stable Version

There should be a package listed on the page called Stable Version. This is the latest main ClanLib library-all the classes and functions. This will contain the source code too.

Dependencies

The ClanLib library itself uses and is dependent upon a number of other libraries, so these too must be downloaded. They are not themselves part of the ClanLib package. These libraries can be downloaded in source code form (which means readers need to compile them themselves) or they can be downloaded in a precompiled binary form. It is convenient and simplest to choose the latter. While there are a number of these libraries, the essential ones are libjpeg, libpng, and zlib.