You can connect a SideShow device to the host computer by any appropriate technology, including USB, Bluetooth, WiFi, or Infra Red. The controlling gadget application on the host computer sends information into the device and receives input from the device. The Windows Vista Control Panel provides a means by which you can control which gadgets put content on your particular SideShow devices.
Figure 8-1 shows how SideShow devices are managed within Windows Vista. Down the side of the dialog box are all the gadget applications that have been installed on a particular computer; in this case, the Flashlight Memo, Inbox, Calendar, and Media Player gadgets are available. Along the top are all the SideShow devices to which this computer can connect. Users can select which application gadgets connect to which SideShow devices by selecting the check boxes in the appropriate columns. At the moment, two SideShow devices and three gadget applications are installed.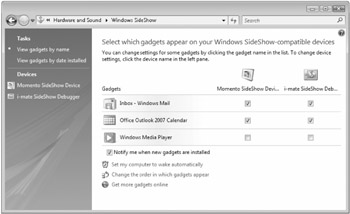 Figure 8-1: Windows SideShow Control Panel.
| | | |
| --- | --- | --- |
| | Note | You may find this terminology confusing, particularly if you equate the word gadget with a physical device. In the case of the SideShow system, a gadget is a software application that runs on the host computer and talks to a physical SideShow device. |
Once you associate a gadget application with a particular device, that gadget application will send content into that device when the device connects.