Increasingly, people are using Web-based email to communicate. Web-based email allows a user to send and receive messages directly from a Web page, rather than opening a separate email program.
The advantages of this type of email are twofold: You can access your email and send and receive messages from any computer connected to the Internet, so it's great for travelers; and typically, the email account is free.
They are available all over the Web; Yahoo! and Hotmail, the Microsoft Network's Webmail offering, are the two biggest. But lots of sites offer free email as a way to increase visitors to their site. The more people sign up for it, the more people visit the site, the more people see the ads on the site, the more the site owner can charge for the ads. Free enterprise is a wonderful thing!
Heck, even the Major League Baseball site (www.majorleaguebaseball.com) offers free email to its users.
The primary drawback, however, is that these aren't full-featured email programs. Handling attachments to email is more difficult, if it's available at all. Saving emails is harder, too. And typically, you can't use an address book.

After you've been on the Web a while, you will encounter some sites that want you to "register" with them in order to be able to use certain features. Although registering is often free, you usually have to supply an email address, so they can send you "special offers" and the like. Many people sign up for one of these free email accounts simply so they have an alternate email address to give to these sites. That way, your regular email account will receive less junk mail.
There is a combination of regular email and Web-based email that's a wonderful thing, however. Some ISPs offer a Web-based mail client to their regular members , so you can access your email if you're away from your regular computer.
America Online is one of these. AOL members can read their email from anywhere in the world, simply by logging on to the AOL site at www.aol.com. You simply sign in with your screen name and password, click the Check Your Mail! button, and you'll be able to read your messages. You can also reply, forward, or create new mail messages, right from the site (see Figure 5.22).
Figure 5.22. America Online offers a Web-based email option so its members can access their email from anywhere in the world.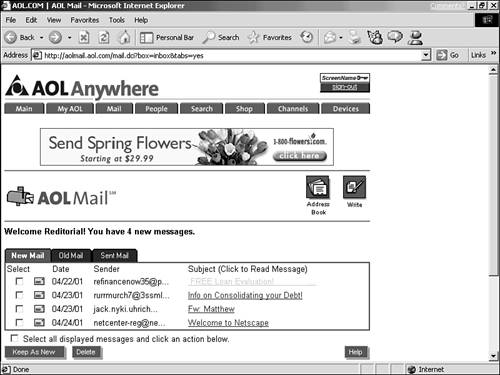 Each message appears as a highlighted and underlined link. Clicking on the link opens the message. It's pretty simple.