Integrating BizTalk Server into existing GENTRAN installations can solve the business problems of:
Reducing or eliminating the costs associated with using a VAN to transfer business documents between business partners.
Reducing the time and complexity of setting up and configuring automated electronic transmission of business documents between trading partners.
Integrating BizTalk Server into existing GENTRAN installations also brings about the benefits of these added features:
EDI to XML translation.
Using the Internet and HTTPS protocols to securely transmit XML documents to business partners.
This implementation section will focus only on the integration of BizTalk Server and GENTRAN systems. As the following diagram illustrates, the process involves placing files and data processed by GENTRAN on a file share. BizTalk Server then retrieves the files from the share and either transmits them to a business partner over the Internet or makes them available for other internal processing by placing the files in a Microsoft Messaging Queue (MSMQ).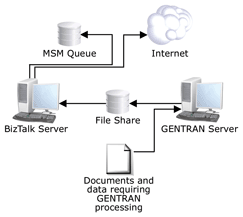 GENTRAN to BizTalk file transfer