Sending an IDoc to SAP R/3 System
This section describes the data flow of an XML document through BizTalk Server to SAP.
A BizTalk Server specification (XML schema) must already exist for the IDoc to be sent to the SAP R/3 system. To generate a specification, see the section "Generating a BizTalk Server Specification Document."
The following illustration shows the process: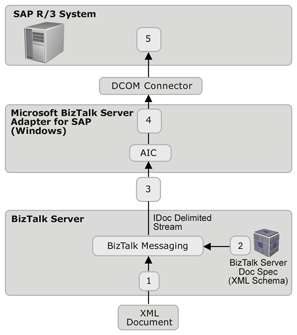 Transferring an IDoc from BizTalk Server to SAP