The risk management process begins during the Envisioning Phase and continues through the entire product lifecycle. As a deliverable for the Planning Phase, the Master Risk Assessment Document is continually revised using the five-step process shown in Figure 12.2. It should come as no surprise that the team would continue to manage and track the status of the various risks from the Planning Phase's revised Master Risk Assessment Document. Again, for each risk, the project team should answer the following questions:
Has the team done anything to mitigate the risk?
Has the risk changed due to forces outside the team's control?
As a result of either team efforts or outside forces, has there been a change in either the probability or the impact of the risk? If so, what is the change in the risk's exposure rating, and therefore in its priority?
Have any of the contingency triggers been removed?
Based on answers to the questions above, what should be the team's next course of action?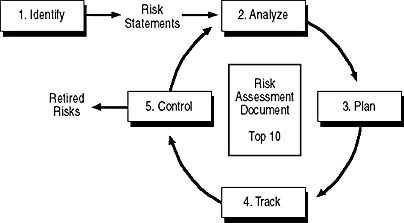 Figure 12.2 Risk assessment revisited
We continue to emphasize risk management to stress its importance in completing a project successfully. Risk management should be an ongoing and dynamic process. Practicing risk management throughout a project is a vital part of the MSF approach to project management. During the Developing Phase, the project team should reevaluate the project's top ten risks and execute mitigation plans, as well as executing the contingency plans for realized risks.