What You Will Learn
In this lesson you will:
Learn to create Shockwave movies for Web playback

Learn more about the Publish Settings dialog

Compress images and sound

Use Director to create an MP3

Use the HTML publishing templates
Approximate Time
This lesson should take you about 1 hour to complete.
Lesson Files
Media Files:
bg_sound.aif
bg_sound2.aif
bg_sound.wav
Starting Files:
2d_game.start.dir
Ending Files:
None
This is the fourth and final lesson in the third project, an old-style 2D Space Shooter. In this lesson you'll learn about the Shockwave file format and publishing Shockwave files to the Web.
The space shooter playing within Mozilla Firefox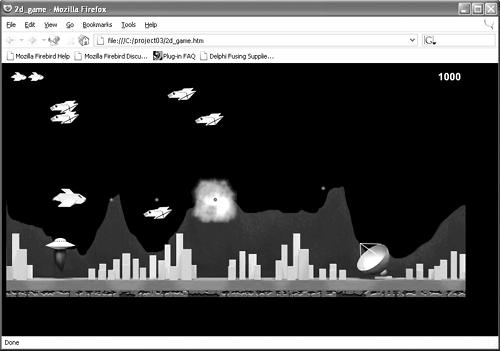 Being able to place Director movies on the Web lets you create a huge variety of applications for online delivery, from games to business presentations to 3D floor planners.