In CMS all access is authenticated against Windows user accounts. The SCA Access tab displays a list of domains that will be used to authenticate CMS users (Figure 18-16). Administrators can add domains to this list. When you log in to the Site Manager and when you use the Web Author manual login, only these domains are available. In the Site Manager, only these domains will be listed for selecting accounts to be added as members of the CMS rights groups. By adding domains in the SCA, you make them visible in the CMS environment. You can then increase the number of users from these domains that take part in the publishing workflow.
Figure 18-16. Supported domains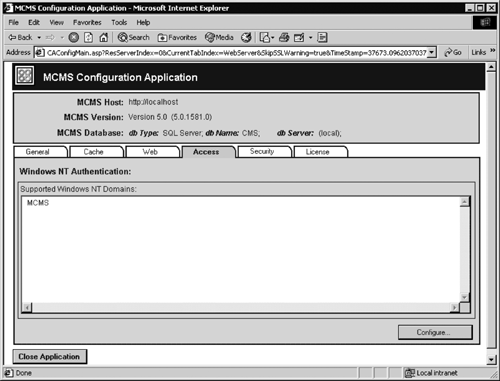 The SCA Access tab lists Windows 2003, Windows 2000, and Windows NT domains used for authentication under the same heading, Windows NT Authentication, in the Supported Windows NT Domains list (Figure 18-16). The list displays the NetBIOS domain names.
To modify the list of supported domains, in the SCA Access tab click Configure; in the Access window either manually enter the domain name and click the Add button (Figure 18-17), or click the Browse button and select the domain you'd like to add from the list of visible domains, and click OK.
Figure 18-17. Access window
The CMS system account is used to browse domains; in order to do so, it must have appropriate privileges on the domains. We will look into the CMS system account in the next section.