Overview
In the previous chapter, you learned how to configure and manage the Central Administration Home page and the Operations page. Now you are going to learn about the third management page in Central Administration, which is the Application Management page. Don't confuse application management with Web application management however. Even though you configure Web applications on this page, it is only one section of the configuration options available. Many of the applications that can be configured in Microsoft Office SharePoint Server 2007 are optional, and you might not want to configure everything that is presented on this page. However, this chapter addresses all the available options and points out certain options, such as the Shared Services Provider (SSP), that are important to the successful initial deployment of your farm.
One improvement made in Office SharePoint Server 2007 is the ability to create and manage Web applications that exist in Internet Information Services (IIS) 6.0. In the previous version of SharePoint, you had to create Web sites (virtual servers) and configure them prior to extending them with SharePoint. With the new Web application management tools, you can now do this from Central Administration. You will also be learning about site management tools, such as quota templates, that enable you to configure and manage site collections and even configure an auto-site deletion rule.
There are eight sections on the Application Management page (see Figure 7-1), and in this chapter, you will learn about the following five sections:
SharePoint Web Application Management

SharePoint Site Management

Application Security

External Service Connections

Workflow Management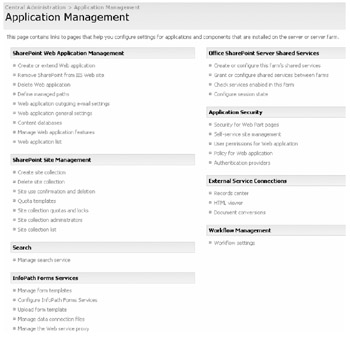 Figure 7-1: The Application Management page in Central Administration
The remaining three sections are covered in the following chapters:
Search: Chapter 16, "Enterprise Search and Indexing Architecture and Administration," and Chapter 17, "Enterprise Search and Indexing Deployment"

InfoPath Forms Services: Chapter 21, "Administrating Office Forms Server 2007 in Office SharePoint Server 2007"

Office SharePoint Server Shared Services: Chapter 18, "Administrating Shared Services Providers"