You've Been Pinned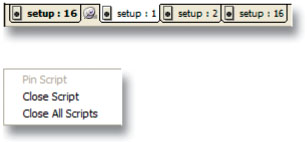 Hardcore developers often find the Flash Actions panel a bit limited when it comes to working with complex scripts. A lot has changed in MX 2004 to make things easier for the developer, and one of them is the capability to view multiple scripts at once.
Start by viewing any script in the Actions panel. At the bottom of the panel, click the pin icon to make that script stick to the Actions panel. Now you can go to any other location in your document, view other scripts, and pin them too. This will give you quick access to a number of scripts throughout your document, all of which are accessible with one click of a tab. To close a pinned script, activate it and click the pin icon again.
If you need to close all pinned scripts at once, you can right-click any script tab and choose Close All Scripts. I don't know about you, but when I found this one, I was thrilled considering how much time I waste jumping from script to script and having to hunt each one down.