A Project template is useful for setting up Liquid Edition to handle various different types of projects, perhaps with a standard intro.
For example, you may want a wedding video to have the tracks ordered as shown in Figure 1.31. Saving a Project template means you only have to set this up once and then load it back in whenever you need it.
Figure 1.31. A typical layout for a wedding Project.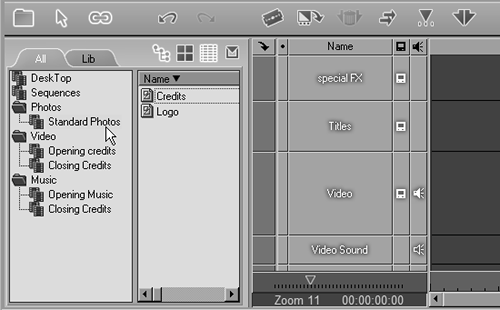 Creating a Project template will save the layout of the Racks and Folders, any media clips placed in these folders, and any media clips that are on the timeline, but it won't save the toolbar buttons that you may have added to the interface.
To save a Project template
1.

Select File > Manage Projects > Save as Template (Figure 1.32).



Figure 1.32. Saving a Project template.




2.

Once the dialog box appears, choose a unique name and then click Save.


Tip
To open a Project template
1.

Select File > New > Project (Figure 1.34).



Figure 1.34. Opening a Project.




2.

Browse to the Pinnacle directory where the Project template is stored, select the one you want, and click OK (Figure 1.35).



Figure 1.35. Choosing a template from the drop-down menu.



Tip
If you can't see the template, you need to check if it has been saved in the default Pinnacle directory. If it hasn't, you can use Windows Explorer to locate the template and copy it to this location.