Major Hotspot Networks
For the remainder of this chapter, I'll describe the major hotspot networks and summarize their pricing plans. For those networks that act as aggregators of independently owned hotspots, I also include information on how the aggregator companies set up relationships with independent hotspot owners and share revenues with them. If you're the owner of a bookstore, coffee shop, health club, or other upscale hangout, take a look at the numbers and do a few back-of-the-envelope calculations. It's not riches, but it's what entrepreneurs call 'free money'-meaning you have to do virtually nothing to earn it, once the system has been set up and debugged.
Boingo
Boingo: http://www.boingo.com
Making the Wi-Fi bandwidth transaction as close to effortless as possible is what Boingo Wireless was founded to do. If you have an account set up with Boingo, you can open your laptop at any Boingo partner hotspot, launch the Boingo connection utility, and you're in. The utility knows your user ID and password, and handles the transaction through the partner hotspot. It then opens the connection to the Internet. This happens in a couple of seconds and does not require any password entry or other attention from you.
The Boingo connection utility is a free download, and you don't have to have a Boingo account to install and run it. Some people have used it as a 'stumbling' utility, something like Netstumbler, since it senses the presence of nearby Wi-Fi hotspots and presents a list of hotspots to which you can connect. Unlike NetStumbler, Boingo will connect your computer to any unencrypted hotspot. Nominally this is to provide equal access to the free community hotspots here and there around the country, but the open secret is that Boingo doesn't attempt to determine if a hotspot is truly free and open. (Boingo also has the ability to store WEP keys, so if you are party to a Wired Equivalent Privacy-protected hotspot you can still connect using the Boingo utility.)
The true brilliance in the Boingo idea is this: The Boingo connection utility carries within it an off-line directory of Boingo partner hotspots, which is searchable by state, city, zip code, or type of hotspot (airport, café, health club, convention center, and so on.) The directory is updated periodically as Boingo recruits new hotspots as partners. You don't need to be online to search the directory. See Figure 10.1 for an example of the Boingo utility at work.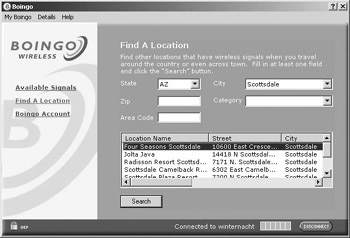 Figure 10.1: The Boingo Off-Line Hotspot Directory Search Screen.
Boingo will list free-access community networks as partners on its directory, which is actually pretty amazing in my view. The built-in directory utility does not require you to be online to find a Boingo hotspot, which is spectacularly useful. After all, when you want to find a hotspot to allow you to go up on the Web, it's kind of silly to expect you to go up on the Web to read the hotspot directory.
Rates and Plans
As this book is being written, Boingo offers three different plans for accessing Boingo partner hotspots:
'Boingo-As-You-Go' provides you with connectivity at any Boingo partner hotspot for $7.95 for a single 24-hour 'connect day.' You can disconnect and reconnect to that same hotspot during that single 24-hour day without additional cost. No monthly or recurring charges; you pay by the day that you use the system.

'Boingo Pro' gives you 10 connect days for $24.95 a month. Additional days are $4.95.

'Boingo Unlimited' gives you unlimited connect time at any Boingo partner hotspot for $74.95 a month.
Note that a 'connect day' is a 24-hour period at one Boingo partner hotspot. In other words, if you connect at a hotel after breakfast for an hour to read your mail, then hop a cab to the airport, then connect to another Boingo partner at the airport, you'll be charged for a second connect day, even though both connections were begun and ended within a single 24-hour period.
For people who do a lot of online work while on the road, this is actually a whole new price point. Most Internet cafés charge $5 to $10 per hour; with Boingo, you can spend all evening holed up in your Wi-Fi equipped hotel room, working a broadband connection for $5 a day.
Compatibility
At this writing Boingo works under Windows 98 Second Edition, Windows ME, Windows 2000, and Windows XP. The list of supported Wi-Fi cards is impressive, especially for Windows XP. However, with installable drivers, most common Wi-Fi client cards will work, and I've tested it with both the Orinoco Gold and the Cisco Aironet PCM-340. There is currently no Macintosh or Linux support.
The Boingo 'Hot Spot in a Box' Partner Program
Most Boingo partners establish a relationship with Boingo through individual negotiation, but there is a 'canned' program for retailers who want to do as little fooling with computer gear as possible. The 'Hot Spot in a Box' program consists of a high-end 802.11b access point, and captive portal software for authenticating the user and controlling the connection. The retailer provides a dedicated PC and a broadband connection to the Internet. Boingo Wireless shares revenues with the retailer based on connect days. The current rate is $1 per connect day. That doesn't sound like a great deal on the surface, but recall that gross revenue for a connect day is typically $5, and 20% is a reasonable royalty for a service sold and billed elsewhere and requiring little effort on the part of the retailer.
Additionally, there is a $20 bounty for each new Boingo Wireless user who signs up for an account for at least sixty days, based on a hotspot owner's referral.
Joltage is probably Boingo's closest competitor, since the Joltage business model is very similar to Boingo's in most ways. I give Boingo tremendous points for their locally installed hotspot directory utility, which allows you to land in a strange city and scout out the nearest Boingo hotspot without having to connect to the Web in some other way to do the search.
Joltage
Joltage: http://www.joltage.com
One of the newest players in the hotspot networks game is Joltage Networks. Their business plan is very similar to that of Boingo: Joltage establishes partnerships with hotspot owner/operators to aggregate them into the Joltage network. Joltage handles subscriber billing and customer service, and provides a captive portal software package to the hotspot operator to do the hotspot billing and user authentication work at the hotspot site. In return, the hotspot owner receives a royalty on each connecthour 'spent' at that hotspot, and a bounty for each new Joltage subscriber signed up from that hotspot.
Unlike Boingo, Joltage has no client connection utility. Logging into a Joltage hotspot is done conventionally, by launching a Web browser within the hotspot and issuing a request for any URL. (The automatic 'home page' request on launching most browsers accomplishes this with no additional typing.) The URL request is redirected to the portal entry page, where you have to manually enter account and password data.
Rates and Plans
Joltage currently offers two different plans for accessing Joltage Network hotspots:
'Pay-As-You-Go' gives you access to the Internet for $1.99 per hour, with a one-hour minimum at each connect. Additional time beyond one hour is billed pro-rata in 15-minute increments.

'Monthly Access' is a $24.99 ongoing monthly charge. Each month subscribers are allowed 3600 minutes of connect time and 500 MB of download traffic.
Joltage's Pay-As-You-Go program has by far the most aggressive pricing in the business, especially for business travelers who don't typically spend hours at one location surfing the Web. (A fee of $2 for an hour of connect time is about half of what you'd pay for a barely edible airport hot dog!) If you mainly need to log on quickly to download email or check facts quickly on the Web, Joltage is definitely the way to go.
The only major downside to Joltage is that you need to be connected to the Web to locate a Joltage Network hotspot. If you're in an unfamiliar city looking for a place to log on to the Net, having your hotspot directory on the Web is way less useful than having it installed as a local application on subscriber laptops, as with Boingo.
The Joltage Provider Program
Like Boingo, Joltage makes its money by partnering with hotspot owner/operators, providing a captive portal/back-end management application, and sharing revenues billed through the Joltage portal. The revenue sharing plan has incentives for various revenue-expanding and quality of service issues. Here are the plan details. It's complex, so read carefully:
The base share for Joltage providers is 15% of revenue logged through the provider hotspot.

An additional 3.75% share is granted to providers after five months of membership in the Joltage Network.

Keeping a hotspot up and functioning for at least 12 hours every day earns an additional 3.75% 'quality of service' share.

A 'provider channel share' of 7.5% is added when the hotspot owner either contacts Joltage directly or is contacted directly by Joltage. If a third party referred the hotspot provider to Joltage, that third party receives the 7.5% share. In this way, Joltage hopes to encourage providers to recruit other providers through the 'old boy/old girl' networks active in the retail trade.

Joltage encourages hotspot partners to aggressively recruit new Joltage subscribers by offering a 7.5% royalty on the ongoing revenue coming from each new subscriber signed up through the partner's hotspot. This royalty is paid even when a subscriber later logs in through other Joltage providers.
One interesting wrinkle in the Joltage Provider Program is that the captive portal application may be downloaded in trial form and used without charge. The trial version is fully functional except that it doesn't bill for access. This allows prospective partners to see how well the system works, and whether their customers will in fact use it. If you prefer, you can use the portal package as long as you like in its trial form (no time limit) to provide a no-charge public-access hotspot, and Joltage will list such a free public hotspot in their location directory if you choose to have such a listing. (You can also keep a trial hotspot 'unlisted' at your option; say, if you're just evaluating the possibility of becoming a conventional fee-based provider in the Joltage Network.)
The Joltage captive portal app is unique among low-cost captive portals in that it runs on Windows 2000 and XP as well as Linux. (Most captive portal software comes out of the Linux community and works only on Linux or BSD Unix.) This may tip the decision for prospective retail hotspot partners who know Windows already and don't want to spend the time ascending the (steep) Linux learning curve.
T-Mobile
T-Mobile: http://www.t-mobile.com/hotspot/
T-Mobile is a cell-phone company that has gotten into commercial hotspot implementation in a very big way. If you've ever cranked up your laptop at a Starbuck's and connected to the Internet, you've made the acquaintance of T-Mobile. True, if you used the very earliest Starbuck's Wi-Fi connections, they were operated by the nowdefunct MobileStar. They're all T-Mobile now, since the T-Mobile's parent company, Deutsche Telekomm, acquired MobileStar's assets in October 2001.
T-Mobile has more hotspots than any of its major competitors (At the time of this writing they list over 1,600) but their coverage is highly concentrated in the very largest cities of a relatively few states. For example, there are no T-Mobile hotspots at all in the entire state of Arizona, nor (surprisingly) Ohio. T-Mobile is for now largely a bi-coastal phenomenon.
As with all of its competitors, T-Mobile handles billing, customer service, and user authentication through a captive portal application that manages the hotspot.
Logging into a T-Mobile hotspot is done by launching a Web browser within the hotspot and issuing a request for any URL. (The automatic 'home page' request that occurs when you launch most browsers accomplishes this with no additional typing.) The URL request is redirected to the portal entry page, where you have to manually enter account and password data. There is no client connection utility a la Boingo.
Rates and Plans
In the fall of 2002,T-Mobile's offers subscription, prepaid, and pay-as-you-go pricing plans. As you might imagine of a cell-phone carrier, pricing strongly resembles cell phone pricing, with an emphasis on 'minutes':
'Pay-As-You-Go' metered service runs $2.99 for the first 15-minute segment used, with a 15-minute minimum. Additional minutes run $.25 per minute. Your first hour will thus cost $14.24, and each additional hour $15.

Monthly local service by monthly subscription runs $29.99 per month, at any T-Mobile hotspot within a selected metropolitan area. (Your choice, though it's a short list!) This gives you unlimited local minutes and 500 MB aggregate data transfer through the connection. Minutes used outside your selected local area run $.15 per minute. Past the 500 MB data transfer, additional data transfer costs $.25 per megabyte.

Monthly national service runs $49.99 per month, at any T-Mobile location anywhere in the U.S. This provides unlimited connection minutes and 500 MB aggregate data transfer. Additional data transfer beyond 500 MB runs $.25 per megabyte.

The 'Prepay 120' plan gives you 120 minutes nationwide for $20. ($.17/min.)

The 'Prepay 300' plan gives you 300 minutes nationwide for $50. ($.17/min.)
Be sure you compare this rate plan with those of Wayport, Boingo, and Joltage, which I summarize elsewhere in this chapter. T-Mobile is clearly in a pricing category by itself. On one hand, I suspect they understand the capital requirements of building out a national hotspot network-it was insufficient capitalization that sank
MobileStar. On the other hand, Joltage offers pay-as-you-go for $2.99 an hour, and bandwidth is as pure a commodity as anything you could name. I personally believe that aggregating hotspots owned (and thus capitalized) by retailers and splitting the revenues is a more sustainable business model than building the hotspots yourself. Time will tell. (I will predict that as its competition gains ground, T-Mobile's prices will fall.)
T-Mobile deploys and owns its hotspots (in cooperation with premises management) and does not currently have a hotspot owner/partner program.
Wayport
Wayport: http://www.wayport.net
One of the earliest providers of fast Internet connections in public places is Wayport. Since 1996 they have provided T-1 class wired access through Category 5 cables in hotel guest rooms and meeting rooms, and airport kiosks under the Laptop Lane brand. More recently they have begun deploying Wi-Fi hotspots in hotel lobbies and airport common spaces, and now have over 450 hotspots around the country, including nine at major airports.
Wayport uses a captive portal to authenticate users and manage billing, and it works identically for both their wired and wireless connections: You boot a Wi-Fi equipped laptop (or plug the Cat 5 cable into the Ethernet port of a wireless-less laptop), open a Web browser and issue a URL request for any URL. The request is redirected to the portal entry page. (Most people have a 'home page' that loads automatically on browser startup, and that's enough to take you to the portal entry page. Unless your browser loads with a blank screen, you don't actually have to type a URL request.) You type your user ID and password into the portal form, and after authentication, the portal opens to the Internet at large.
Rates and Plans
Wayport has focused on airport and hotel locations almost exclusively. Their pricing plan reflects that focus. Registered Wayport users can pay by the connection, on a monthly plan, or monthly on an annual contract:
A single hotel connection is typically $9.95, though that may vary depending on Wayport's arrangement with a given hotel. A hotel connection lasts from the time the connection is established until the next hotel checkout time. In other words, for a hotel with a checkout time of 11:30 A.M., if you check in and connect at 7 P.M., your connection is paid until 11:30 the following day. Or if you don't connect until after breakfast, at 8:00 A.M., your connection is good only until 11:30. (Check in and connect early!) A hotel connection may be charged either to your hotel room or directly to your credit card.

A single airport connection costs $6.95, and lasts from the time you connect until midnight local time.

A month-to-month subscription costs $49.95 per month for unlimited connection at any Wayport hotspot. (Hotel meeting rooms are excluded.)

On an annual contract, the monthly subscription fee is $29.95 for one year, minimum. (Hotel meeting rooms are excluded.)

Wayport also offers prepaid connection cards for discounts on connections.
This program was still being firmed up as I write this; check the Wayport Web site for details.
Wayport deploys its own hotspots (in cooperation with hotel and airport management) and does not currently have a hotspot owner/partner program.