4. About My Network Places
BEFORE YOU BEGIN

SEE ALSO

Navigate the Windows Desktop and Start Menu

About Accessing Network Resources

Access Shared Folders and Open Shared Files
My Network Places is a network browsing tool that allows you to view connected computers and access their shared folders and printers. Use My Network Places if you are connected to a network and need a resource (such as a file or printer) on another computer that is part of your network. Because this book is about setting up and configuring a wireless home network, you will find that being familiar with the My Network Places window makes it easy for you to both share resources with other computers and access their shared resources.
You can open the My Network Places window (which isn't really a place as much as it is a listing of connected computers and their shared resources) from the Start menu: Select Start and then choose My Network Places. Computers on your network that share resources such as folders are listed in the My Network Places window (they are typically not listed unless you have accessed them at least once).
My Network Places provides you with a powerful tool for browsing your local network.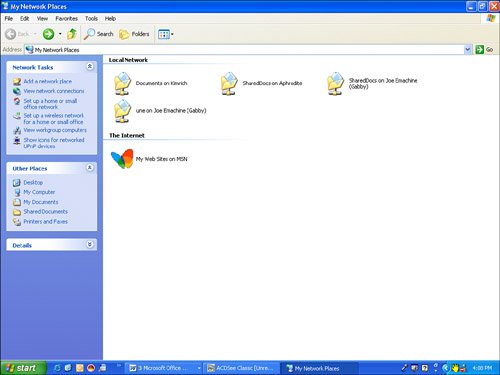 The My Network Places window provides links that allow you to add a network place (connect to a particular computer and shared resource), view network connections, and view workgroup computers (computers that are part of the same home or small office network). More importantly, My Network Places makes it easy for you to create a workgroup network after you have your various computers connected to your wireless network.