As you browse the Web, you may want to return to a particular website that you have looked at in the past, but can't remember the URL and didn't bother to bookmark the site. You can access the browsing history and recall sites from the history list.
Before You Begin
68 Browse Web Pages

Open History Pane
To open the History pane in the browser window, select the Go menu and then History. The History pane opens in the browser sidebar (on the left side of the browser window).
Tip
Right-click on the Firefox Navigation toolbar and select Customize. You can drag additional icons to the toolbar from the Customize Toolbar dialog box. For example, you can add the History icon to the toolbar, making it easier to access your browsing history.

Select Time Frame
By default, the History list is arranged by date. Select a time frame such as 2 Days Ago to view the sites visited on that day.
Tip
To change how the History list is viewed, select the View drop-down list at the top of the History sidebar and select one of these options: By Date and Site, By Site, By Date, By Most Visited, or By Last Visited.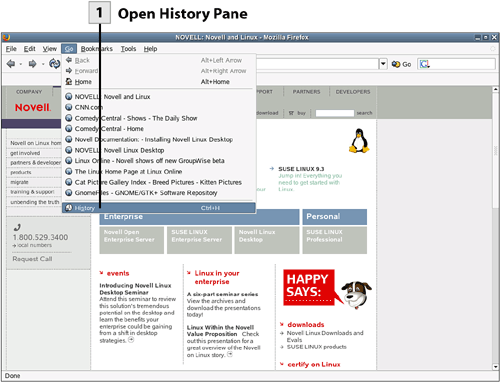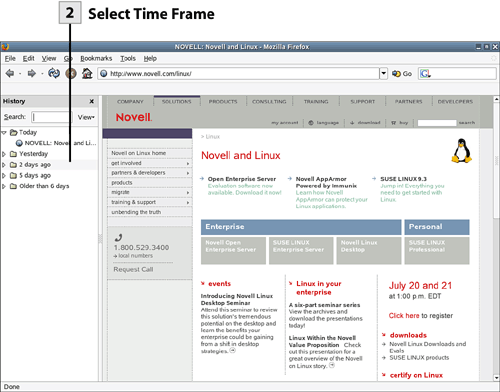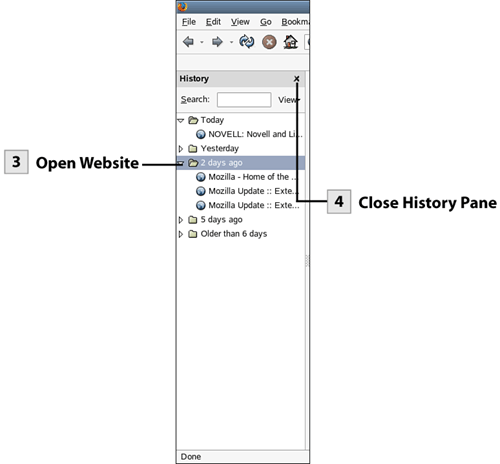 Open Website
Select a site in the History list to open that site in the browser window.
Tip
To change the number of days remembered in the History list, select Edit, Preferences. Select the Privacy icon, and then expand the History options. Set the number of days as needed. If you want to clear the History list, click the Clear button.

Close History Pane
After you have finished using the History pane, select the Close button at the top right of the pane.
Tip
You can also search the History list, which is useful if you don't really remember when you viewed a particular site. Type a keyword or words in the History pane Search box. A list of sites that meet your search criteria appears in the History pane.