| BEFORE YOU BEGIN | SEE ALSO |
| --- | --- |
| 12 Run a Program from the Run Application Dialog | 66 About Installing Applications from Other Archive Types |
| 21 Add an Item to a Menu | |
| 60 About Updating Applications Using Red Carpet | |
Programs that you install on your system come as archive files. The most common and the easiest to deal with is the RPM file. RPM stands for RedHat Package Manager, which was developed originally for RedHat Linux. Other implementations of Linux including NLD and SUSE have embraced the RPM format because the program contained in the archive (the RPM) has been compiled and is ready to install.
Key Term
RPM An archived, compressed, and compiled software application, code library, or help file. RPM stands for RedHat Package Manager.
RPM files can be downloaded from the Web and then installed to your system from a Nautilus window. All you have to do is download the file to a folder on your computer. Then locate the downloaded file using Nautilus.
Locate the downloaded RPM using Nautilus.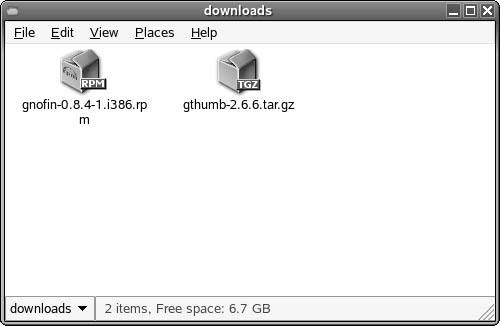 Web Resource
http://www.linux.org
This website is a good place to begin your search for Linux software not available through your NLD subscription channels (and Red Carpet). This site provides a listing of software by category (such as Games). You can read about a particular program before downloading. Remember that you want to look at the license type for these files because not all are GPL or GNU (meaning open source). Try to find an RPM compatible with NLD. Generally, RPMs designed for SUSE Linux Professional will work with NLD.
When you double-click on the file, you are asked to provide the root password. Red Carpet then opens, ready to install the application. The great thing is that Red Carpet also lists and installs any required files needed for the new application to run (taking care of the dependencies).
You can then run the newly installed program from a Run Application window (select System, Run Program). All you need to do is type the name of the application in the window and press Enter. You can also add the application to the Programs menu for easy access.
Note
It is certainly not required that you spend a lot of time searching for new software packages on the Web. Your subscribed channels will provide you with most of the software that you need (using Red Carpet). However, on occasion you may need to look elsewhere for something special. Be advised that even software listed on high-profile Linux websites such as linux.org isn't always available. Many of the links dry up over time (the sites don't exist anymore). Remember that most Linux software is GNU (open source), and so developers create a new application with much excitement, but the excitement dies down over time. Some applications never go through a revision cycle or are dropped by the developer altogether. The Red Carpet support for NLD is guaranteed to be there for five years from the release date, so you know that software will be there.