After you have a printer installed on your system, you can, of course, print. All the applications and applets that have the capability to print can access the installed printer or printers.
In many cases, a print icon on a toolbar allows you to send the current document or other item directly to the printer. In cases where you want more control over the printout, you can access a Print dialog box. The actual settings available in an application's or applet's Print dialog box vary from program to program.
| BEFORE YOU BEGIN | SEE ALSO |
| --- | --- |
| 32 About Configuring Hardware and System Settings in NLD | 111 About Printing in Writer |
| 35 About Printing and NLD | 112 Print a Document |
| | 127 Print a Spreadsheet |
| | 142 Print Slides, Notes, and Handouts |

Open an Application or Applet
Select the Programs menu, a submenu (such as Accessories), and then an application or applet icon to open an application. Type a document or create an item, such as a drawing.

Open Print Dialog
In most applications and applets, select File, Print to open the Print dialog box.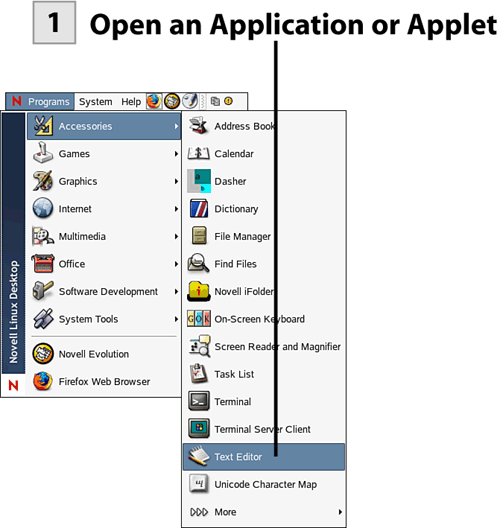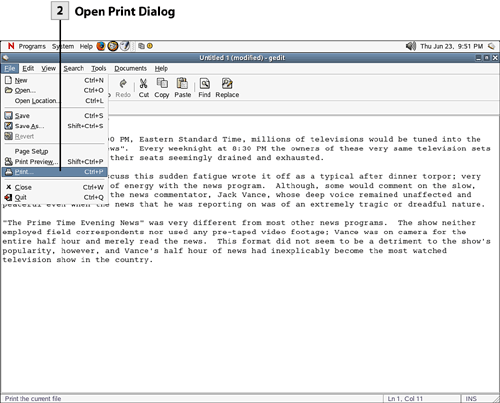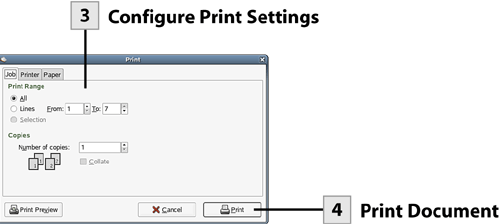 Configure Print Settings
Each Print dialog box varies depending on the program you are running. In the GNOME Text Editor's Print dialog box, you are provided three tabs: Job, Printer, and Paper. The features provided on these tabs are available in most applications.

On the Job tab, you can set the number of lines to print (in other applications this is pages you want to print) and the number of copies you want to print. On the Printer tab, you can select the printer that you want to use and configure the printer for duplex printing (among other settings). On the Paper tab, you can set the paper type, orientation (portrait or landscape), and the paper tray to be used.

Print Document
After you have configured the print settings, you are ready to print. If you want to view the printout onscreen as a preview, select the Print Preview button (the location of this button varies depending on the application you are using). When you are ready to print your document, click the Print button to send the item to the printer.
Note
NLD provides you with the ability to print your documents and other items directly to PDF files. PDF files are the standard for documents used on websites, and they also preserve the "published" look of documents that you create. PDF documents are read using the Adobe Acrobat Reader (which is a free utility from Adobe). This is a big deal because most other operating systems require that you purchase add-on software to create PDF documents this easily.