Global eXchange Services combined innovative Internet commerce technologies with its quality control process. General Electric's division of GE Information Services (GEIS), as shown in Figure 1.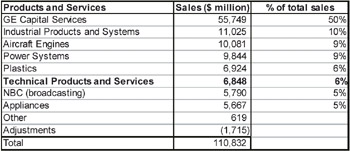 Source: Hoovers Online Network (2001). (Online). http://www.hoovers.com. Accessed February 10
Figure 1:

Selected Products and Operations of General Electric (1999)
For more than 30 years, GEIS had been pioneering advances in the information management industry. In the 21st Century, GE Global eXchange Services intended to maintain this leadership position as the most experienced and responsive provider of complete solutions for business electronic commerce. In its initial stages of formation in 2000, GXS began to service its own customers (i.e., its own set of buyer and seller trading partners involved with GE internally). In later stages, GXS began to serve as a dual-purpose private exchange where it sold its B2B e-commerce services to external buyers and sellers (i.e., linked more than a hundred separate markets) plus maintained its internal network operation. GXS planned to stay ahead of its competitors by applying Internet technologies, forming strategic alliances, and creating additional products and services to help GE customers streamline supply chain management. GXS mission was "To create intelligence throughout the business supply chains of our customer around the globe combining Six Sigma process discipline with innovative electronic commerce technologies" (GE, 2001). The three basic services that GXS extended, Enterprise Resource Planning, Quality Control, and Consulting and Training, were incorporated into its products offered.
Technology
In a June 1999 interview with Business Week Online, GE Chairman and CEO, John Welch, stated, "Where does the Internet rank on my priority list? Its number one, two, three, and four. I don't think there's been anything as important or more wide spread in all my years at GE" (GE, 2001). As Welch noted, the technology was a major component of business, especially at GXS. The software involved e-commerce applications that performed as Web portals for e-commerce to be conducted. As shown in Figure 2, there were 3 portfolio applications through which GXS conducted its B2B commerce: GE Integration Solutions, GE Interchange Solutions, and GE Marketplace Solutions.


Figure 2: GXS' Software Applications
Customers
The customers in the B2B segment were broken down into two categories: buyer and supplier. Buyers were scattered over 1,200 e-marketplaces, but most concentrated at select sites that presented the best purchasing opportunities for their needs. For GXS, suppliers comprised of small businesses, corporations, and supply chain partners within a single company, a single industry, companies in an industry, or across industries.
Employees
GXS had over 1,500 employees world wide, and was headquartered in Maryland, USA. The global presence enjoyed by GE means that support could be extended to all customers. Further to this, multinationals companies could confidently deploy Integration Brokers across all locations, thus maintaining infrastructure consistency.
Management
The combined talent and unique leadership skills of Jack Welch (GE Chairman) and Harvey Seegers (GXS President and CEO) enabled GXS to become one of the world's largest provider of electronic commerce solutions. Jack Welch was widely viewed as one of the best corporate leaders in the U.S. who drove the General Electric Company with a mandate to make it #1 or #2 in every industry it operated. Harvey Seegers had a vision to have nearly every electronic dollar pass through his company's systems.