As you've probably surmised, Painter is primarily a painting program, so it makes sense that you will spend most of your time in the application using one of the many brushes. You can adjust and customize every brush, which results in literally thousands of different tools at your disposal.
Selecting Brush Categories
All of the brushes in Painter are divided into logical categories, which makes them easier to find. Once you've selected a brush category, you can then select individual brushes. Whenever you select a category, the Property bar will change to give you the corresponding tools for the brushes in that category.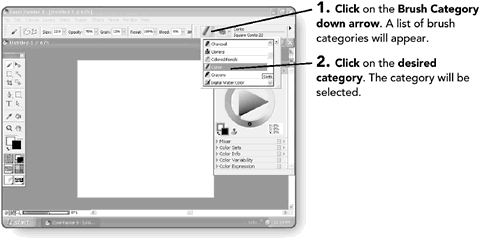 Selecting Brushes
Once you have selected a brush category, you can select specific brushes to use in your project.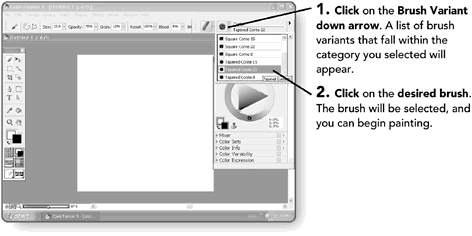 Adjusting Brush Settings
The fastest way to adjust brush settings, including size, opacity, and grain, is to use the Property bar. It will give you access to the most common settings for the brush you selected. Because each brush works differently, the corresponding Property bars will provide different options.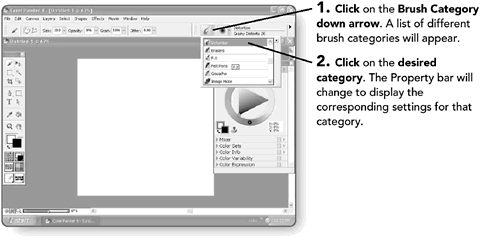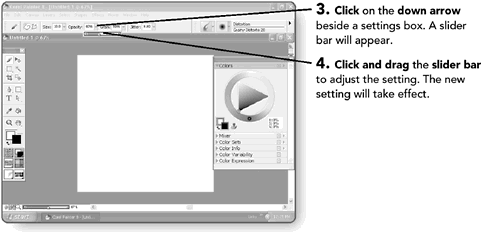 You can change the size and opacity of almost every brush, but there are a variety of other settings that will differ depending on the capabilities of the brush.
Size. This controls the size of the brush. The default unit of measurement is pixels.

Opacity. This controls the level of opacity for the brush. The range is from 0 to 100%, where 0 is completely transparent and 100% is completely solid.

Grain. Some brushes allow you to control the amount of color that actually penetrates the texture of the paper.

Jitter. This controls the amount of variation or spread of the brush you are using.

Bleed. This is the amount of color the brush picks up from the paper surface.

Resat. Resat stands for Resaturation , which allows you to control the level of saturation from 0 to 100% of the brush.
Applying Brush Strokes
After you've selected your brush, applying a brush stroke is a matter of clicking and dragging across the page.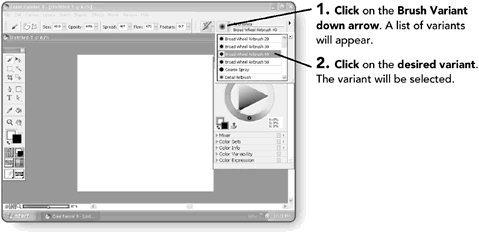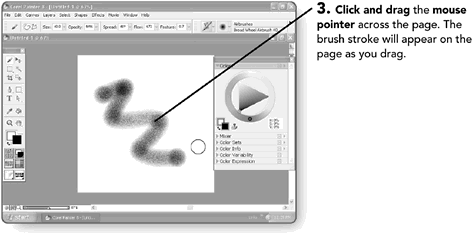 Applying Straight Lines
It's difficult for even the most steady of hands to draw a straight line when painting a brush stroke, so Painter made it easy by providing a tool for the job.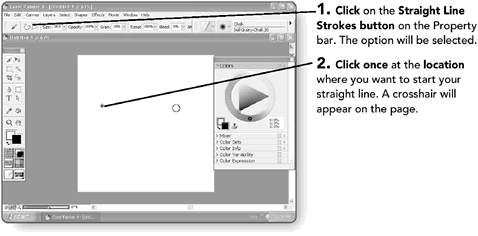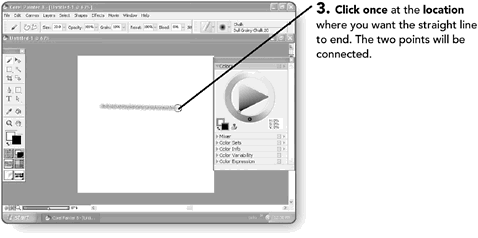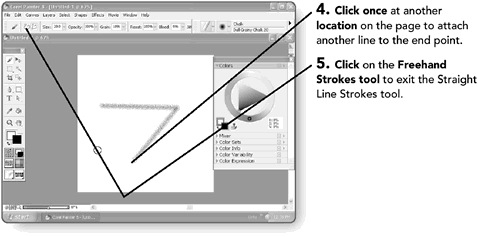 NOTE
You can end a line at any point by pressing Return (in the Mac OS) or Enter (in Windows).
Undoing a Stroke
If you make a mistake or you simply decide you don't want the last stroke you made, you can use Painter's Undo functionality.
NOTE
The keyboard shortcut to undo an action is Command+Z (in the Mac OS) or Ctrl+Z (in Windows).