I try to give some serious answers to this question in Appendix A on page 285. More lightheartedly, Figure 3.4 illustrates my observation of the lifecycle of many technologies. I sense that the hype reached its peak around 1999 when the industry press made almost daily announcements that the entire world, including my toaster, would be managed by WBEM/CIM by 2001. A period of sober reconsideration seems to have left us on the gradual upward trend that precedes either enthusiastic industry acceptance or abrupt industry rejection .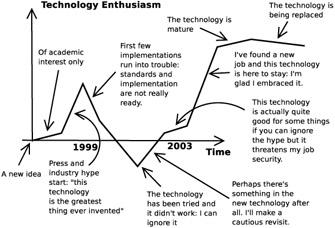 Figure 3.4:

WBEM/CIM's Informal Enthusiasm Curve
Because there appears to be no competing technology offering the same benefits as WBEM/CIM, I believe that industry will accept rather than reject it.