A SNAPSHOT INTRODUCTION
For more than 50 years , the IT industry has been a catalyst for global growth and opportunity. The dynamic effects on our society, including commerce and all types of industries, have been astonishing. The global market for all IT products surpassed $1 trillion in 2002 and is projections to reach $1.4 trillion by 2005 [1] despite economic uncertainty. In addition, the IT industry has generated millions of highly skilled workers worldwide who, in turn , are paid above-average salaries and are able to contribute to better standards of living and stable societies . In addition, millions of jobs have been created in related industries, such as services, support, and training. In the United States, for example, nearly 11 million people are employed in IT. Add to that nearly 14,000 IT companies that employ 50 or more employees . [2] The United States is the world leader in IT, representing over 35 percent of global IT spending, or over $350 billion. [3]
The IT industry can be classified as a "transformation technology." This is because it affects economic and social systems dramatically and is frequently compared to earlier transformative technologies, such as electricity, the telephone, and the automobile. Analysis of enterprise growth and productivity over the last 50 years has shown accelerated development in almost every industry employing IT products and services. From its earliest beginnings after World War II, where a small group of companies targeted large enterprises with big, expensive mainframes, to today's standard, where millions of cheap and powerful desktop computers and sophisticated software are universal, IT has continued to grow. Add to this scenario the superglue called the Internet, which ties hundreds of millions of these computers and their associated networks and corporations together, allowing information, transactions, and ultimately revenues to flow across global borders 24 hours a day.
One measure of IT growth is to analyze per capita spending by country. Figure 4.1 illustrates this trend. Note that despite its very high population, the United States is in the top three.
Figure 4.1. Per capital spending by country.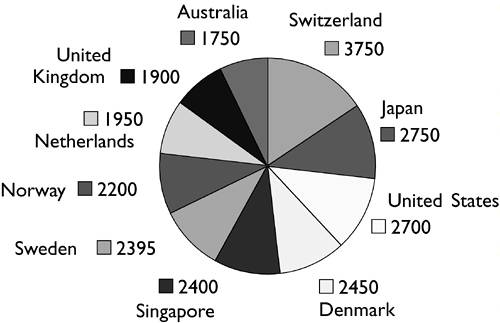 IT also presents significant opportunities for developing countries. In the past 20 years, countries such as India and China have created IT industries and can now compete in the global marketplace . They do so with IT products that have quality, service, and support that rival, and in some cases exceed, many Western-based enterprises. Many IT companies are well established in delivering services in North America and Europe, with world-class capabilities. This trend is expected to expand and continue. Many organizations familiar with the economic struggles of these nations believe that IT and the Internet will provide a more level playing field and enable those countries, to use economic jargon, to " leapfrog " many stages of their development. IT will catapult them into societies that rival our Western culture, with its associated benefits and advantages. It also means that these countries will share the economic pie; where in the past they have been excluded. Again, this is an excellent example of how IT is a transformation technology.
India's IT industry illustrates the benefits that developing nations can realize from the commercial software model. Between 1994–1995 and 2000–2001, gross earnings from India's software industry grew from $835 million to $8.2 billion, while the value of software exports grew from $485 million to $6.2 billion. [4] India had over 16,000 IT firms in 2001 (double the number of firms just six years earlier), which employed over 561,000 workers. Overall, IT spending in India grew an average of 20.6 percent annually from 1995 to 2001 and is expected to increase to 26 percent annually from 2001 to 2005.