Except for a short time at the very beginning, the personal computer revolution has always been accompanied by an equally innovative portable computer revolution. Indeed, in many ways, the evolution of portables has been much more dramatic than that of desktops. Whereas desktop computers have not changed markedly in their form factor, portables have shrunk from the size of a suitcase to the point where one can fit one into a shirt pocket.
Some people date the beginning of the personal computer revolution as 1981, when the original IBM PC was introduced. This landmark system was preceded, however, by a number of important computers, some of which were portable.
In September 1975 "just months after the original personal computer was introduced under the Altair name "IBM introduced its 5100 Portable Computer (see Figure 1.1). Although it was hardly something anyone would happily carry, weighing in at 50 pounds , the 5100 holds the distinction of being the first portable computer in history, and very nearly the first personal computer, period.
This device, which was larger than an IBM typewriter, was the result of a project called SCAMP, the goal of which was to create a small computer that could run IBM's APL programming language. The name SCAMP arose from "Special Computer, APL Machine Portable."
The IBM 5100 was available in 12 models, which varied in terms of memory size, from 16KB to 64KB. Data storage was supplied by a 1/4-inch tape drive that could store 204KB per tape cartridge. Prices ranged from $8,975 to an amazingly high $19,975. In March 1982, six months after the introduction of the IBM PC, the 5100 was discontinued.
Most early portable systems started out as nothing more than desktop PCs with integrated CRT displays, keyboards, and of course a handle. These systems weighed between 25 and 50 pounds and were the size of sewing machines or small suitcases. At first, this category was simply labeled as portable . But years later, when significantly smaller laptops appeared, these systems were branded as transportables or luggables .
It may be hard for current laptop users to believe this, but it was quite common in the 1980s to see businessmen lugging these 30-pound behemoths from one appointment to another. For obvious reasons, however, these giant computers were soon supplanted by a new generation of portables that were significantly easier to carry.
Although the IBM 5100 holds the distinction of being the first portable, its stratospheric price tag kept it from being the first popular portable. That distinction would have to wait until April 1981, when the Osborne 1 was introduced. Like the 5100, the Osborne was much heavier than any of today's portables, but it was only half the weight of its predecessor from IBM.
One of the most important characteristics of the Osborne was that it was not compatible with the IBM PC. That deficiency is quite understandable, however, because the Osborne appeared no less than four months before the announcement of that very popular desktop.
The Osborne had an ingenious design. In its mobile configuration, it resembled a thick suitcase or a sewing machine. To use it, you would lay the system on its side and fold down its bottom panel, revealing a keyboard, two floppy drives , and an incredibly small CRT display (see Figure 1.2).
Aside from its portability, the Osborne 1 introduced another key feature for personal computers: bundled software. This system was probably the first to be bundled not only with an operating system, but also with word processing and spreadsheet software, as well as a number of utility programs. The list price of the Osborne, including software, was only $1,795, considerably less than most of the desktops of the time "a rare point in history when portables cost less than desktops.
Despite the bulkiness of the Osborne and its quirky display, many of its users still to this day have fond memories of the device. And although the Osborne itself was soon discontinued, its general design carried on for several more years in products such as the Compaq Portable and the IBM Portable PC. A comparison of these luggable systems can be found later in the book, in Table 1.2.
Yet another first for the Osborne was not so fortunate for its manufacturer. The design of the Osborne was so ingenious that it had the honor of being one of the first computers to spawn a clone. Not long after the appearance of the Osborne, a portable called the KayPro II debuted. Although similar in most respects to the original, the KayPro improved on the Osborne by having a larger display and a sturdy metallic case. And, unlike the Osborne 1, the KayPro's monitor could display a full line of 80 characters.
The first laptops appeared in the early 1980s and were quite different from the devices we now refer to by that name. These early portables looked like a tablet, the bottom half of which was taken up by a keyboard. The most prominent member of this group was a computer that had an incredible price tag: $799.
In March 1983, Radio Shack introduced its TRS-80 Model 100. Although this computer was not PC compatible, it attracted a significant following owing to its portability.
The Model 100 looked like a small coffee-table book about 2 inches thick (see Figure 1.3). Half of its top panel was devoted to an LCD screen, the other half to a keyboard. Inside the system was an 8-bit processor along with 8 "32MB of RAM. An additional 32MB of ROM was loaded with a rudimentary operating system and a simple word processing program. Power was supplied by a set of four large disposable batteries.
By far the most impressive feature of the Model 100 was its weight of just 3 pounds. The system served as an adequately functional and highly portable word processing machine that became standard equipment for many journalists in the 1980s. Its keyboard lacked many of the keys found on the IBM PC, but the keys that the Model 100 did have were all full size and easy to use.
Although it would be years before a similar system in this weight class would appear on the market, the Model 100 deserves mention if for no other reason than the fact that it helped coin the term laptop .
As useful as the Model 100 was, it had one glaring and increasingly important limitation. Yes, the laptop had proven to be a useful tool, but now that device had to be PC compatible.
In August 1981, the personal computer industry completely changed. The reason for this metamorphosis was the introduction of a $3,000 device called the IBM Personal Computer. As popular as the Osborne and other early portables were, their days were now numbered. It soon became clear that anything that was not compatible with the IBM PC would soon become obsolete.
In general shape, the Compaq resembled the Osborne and KayPro luggables (see Figure 1.4). To use the system, you laid it on its side and unlatched the bottom panel, which was the keyboard. Removing the keyboard revealed the Compaq's green CRT display and a pair of full-height floppy disk drives.
Inside the Compaq was the same processor, memory, and expansion slots as on the original IBM PC. Unlike other manufacturers of the time, Compaq was able to duplicate the PC's internal BIOS code without violating IBM's copyright. The result was a system that was one of the very few that could run all the software being developed for the IBM PC.
It is debatable whether the most important aspect of the Compaq was its portability or its compatibility. Needless to say, the combination of these two was very attractive and ended up propelling a tiny three-person startup company into what eventually became the largest personal computer company in the world.
In February 1984, almost 15 months after the Compaq Portable was announced, IBM debuted its own portable "in effect cloning the cloner. The IBM Portable Personal Computer 5155 Model 68 looked similar in size and shape to the Compaq system, being a small suitcase- sized system that weighed 30 pounds. Inside it had a built-in 9-inch, amber composite video monitor; one 5 1/4-inch, half-height floppy disk drive (with space for an optional second drive); an 83-key keyboard; two adapter cards; a floppy disk controller; and a CGA-style video adapter. The resolution of this adapter was only 640 by 200 with just two shades of gray. The unit also had a universal-voltage power supply capable of overseas operation on 220V power. The list price for the 30-pound computer was $4,225.00. Figure 1.5 shows the Portable PC exterior.
The system board used in the IBM Portable PC was the same board used in the original IBM XT "the company's first PC equipped with a hard drive. The Portable PC lacked the hard drive, but did come with 256KB of memory. Because the XT motherboard was used, eight expansion slots were available for the connection of adapter boards , although only two slots could accept a full-length adapter card due to internal space restrictions. The power supply was basically the same as an XT's, with physical changes for portability and a small amount of power drawn to run the built-in monitor. In function and performance, the Portable PC system unit had identical characteristics to an equivalently configured IBM XT system unit. Figure 1.6 shows the Portable PC interior view.
IBM withdrew the Portable PC from the market on April 2, 1986, a date that coincides with the introduction of the IBM Convertible laptop PC, which is described later in this chapter. The Portable PC was not popular in the computer marketplace , although it compared to, and in many ways was better than, the highly successful Compaq Portable available at the time. The system was largely misunderstood by the trade press and user community. Most did not understand that the system was really a portable XT and had more to offer than the standard IBM PC. Maybe if IBM had called the system the Portable XT, it would have sold better!
Table 1.2 shows the common part numbers for the configurable options available for the Portable PC.
Table 1.2. IBM Portable PC Model Configurations
| Description | Part Number |
| --- | --- |
| 256KB, one 360KB half-height drive | 5155068 |
| 256KB, two 360KB half-height drives | 5155076 |
| Half-height 360KB floppy disk drive | 6450300 |
The disk drive used in the Portable PC was a half-height drive, the same unit specified for use in the IBM PCjr, a short-lived consumer-oriented desktop. When the Portable PC was introduced, the PCjr was the only other IBM sold with the same half-height drive.
Table 1.3 lists and summarizes the three main luggable PC systems.
Table 1.3. Notable Luggable Systems
| | Osborne 1 | Compaq Portable | IBM Portable PC |
| --- | --- | --- | --- |
| Date Announced | April 1981 | November 1982 | February 1984 |
| CPU | Zilog Z-80A | Intel 8088, 4.77MHz | Intel 8088, 4.77MHz |
| Memory | 64KB RAM | 256KB "640KB | 256KB "640KB |
| Operating System | CP/M-80 | MS-DOS | IBM PC-DOS (MS-DOS) |
| Display Type | 5-inch green monochrome CRT | 9-inch green monochrome CRT | 9-inch amber monochrome CRT |
| Display Resolution | 52 characters by 24 lines, no graphics | 80 characters by 25 lines, 640x200x2 shades of gray | 80 characters by 25 lines, 640x200x2 shades of gray |
| Data Storage | Dual full-height 5.25-inch 100KB floppy drives | One to two half-height 360KB floppy disk drives | One to two half-height 360KB floppy disk drives |
| Expansion Slots | None | IBM PC bus | IBM PC bus |
| Weight | 25 lbs. | N/A | 31 lbs. |
| List Price | $1,795 | N/A | $2,995 |
Lunchboxes
The next major category of portable computer was considerably smaller in size, but still large by today's standards. In size and shape, these computers resembled small briefcases or the lunchboxes that children once brought to school, ergo the category name.
The design of lunchbox computers was quite simple. One side of the lunchbox was taken up by a display. The keyboard module could be attached over the screen, protecting both it and the keyboard during travel.
To accomplish this relatively small size, lunchbox designers took advantage of a new technology that was just becoming available: flat-panel displays, such as high-contrast gas-plasma displays and electroluminescent panels. These panels were considerably smaller than the CRT displays on the luggable systems. They also had very high contrast. The downside, however, of these early flat-panel displays was their cost. Lunchbox computers equipped with these screens were incredibly expensive, in some cases carrying a price tag close to $20,000. That would be equivalent to at least $25,000 "$30,000 in today's dollars.
Another cost of these early flat-panel displays was their power requirements. The electrical appetite of these screens was so great that few if any of these systems could survive on battery power alone. Instead, they required a nearby AC outlet. The development of an affordable battery- powered portable PC would have to wait until large, low-power, high-resolution LCD displays could be efficiently produced.
As limiting as the AC power cord was, the availability of this plentiful power had a positive benefit. This ample electrical supply coupled with the fairly large size of these systems made it easier for designers to incorporate the latest and most powerful computer components available. Instead of being required to wait for a low-power CMOS version of the Intel 80386 processor to become available, or for a super-thin hard drive to be ready, designers could use essentially the same components that were being incorporated into high-end desktops. The performance difference between desktops and lunchboxes was practically nil. It would be several years before a similar parity would occur between desktops and laptops.
The large size of the lunchbox computers provided one additional advantage that has never been fully realized in subsequent generations of advanced laptops and notebook computers. Like the luggable computers, the lunchboxes had a desktop-style expansion bus. Because of this, upgrading or customizing a lunchbox was almost as easy as it was on a desktop. If your application required a special AT-style expansion card, the lunchbox was your portable of choice. Laptop manufacturers try to emulate this capability by providing docking stations with one or more desktop-style expansion bus slots. But these docking stations are not portable at all.
Two of the most notable of the lunchbox computers were the P70 and P75 from IBM. Both of these systems were portable variations of IBM's PS/2 Model 70 desktop introduced in 1987. Because good-quality LCD screens were not yet available, these portables used orange-and-black gas-plasma displays.
Both the P70 and P75 were quite large, being more like briefcases than lunchboxes. Inside, their high-power components were a match for any desktop. Table 1.4 contains a list of the specifications for both systems.
Table 1.4. Details on IBM's "Lunchbox" Portables: the P70 and P75
| | IBM P70 | IBM P75 |
| --- | --- | --- |
| Introduction Date | June 1988 | November 1990 |
| Processor | 20MHz 386 | 33MHz 486 |
| Bus Architecture | Two Micro Channel slots | Four Micro Channel slots |
| Memory | 2MB "8MB | 8MB "16MB |
| Video | VGA | XGA |
| Screen | 10-inch gas plasma | 10-inch gas plasma |
| Floppy Drive | 3.5-inch | 3.5-inch |
| Hard Drive ( SCSI ) | 30MB; 60MB; 120MB | 160MB; 400MB |
| Weight | 20 lbs. | 22 lbs. |
A number of other companies, including Compaq, offered lunchbox computers for several years. As the much smaller laptops became more powerful, however, the need for lunchbox systems waned. Nevertheless, these portables are still on the market, being prized for both their expansion capabilities and their ruggedness.
One example of a current lunchbox is the FlexPAC P4 ruggedized portable from Dolch Computer Systems (see Figure 1.7).
Figure 1.7. The Dolch FlexPAC P4 rugged computer is an example of a powerful lunchbox computer that is still available. (Photo from www.dolch.com.)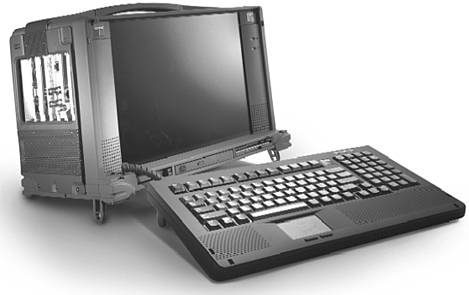 This lunchbox weighs no less than 23 pounds and measures 16x11x9.8 inches in size. Inside there is room not only for a 14.1-inch screen, a Pentium 4 processor, a 40GB hard drive, a floppy drive, a CD-ROM drive, and 2GB of memory, but also for six desktop-style PCI slots, one of which doubles as an ISA slot.
Laptops
Luggable and lunchbox computers were certainly powerful, but anyone who has carried one of these devices has probably yearned for something considerably lighter. That something was the laptop "a PC-compatible laptop.
The IBM PC Convertible
The first true laptop as we know it appeared in the form of the IBM PC Convertible, which was introduced in April 1986 (see Figure 1.8). This system used a clamshell design, in which the screen folds over the keyboard when the system is being moved. That classic design is still used by almost all portables today.
Figure 1.8. The IBM PC Convertible, the first clamshell-style laptop. (Photo from www.ibm.com.)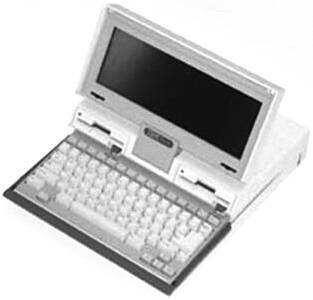 In most other aspects, however, the Convertible was much different from current laptops. Its LCD display was not backlit and had a very flat aspect ratio. Data storage was supplied, not by a hard drive, but by dual 3.5-inch floppy drives. At this point, hard drives were still much too large and too power-hungry to fit into a battery-powered portable. The advent of the Convertible was, in fact, the first time IBM had used 3.5-inch floppies instead of the larger 5.25-inch versions on the older XT and AT desktops.
Inside the Convertible was an Intel 80C88 processor, a low-power CMOS version of the same processor used in the original IBM PC five years earlier. Its clock speed also was the same 4.77MHz as on that earlier system. Memory ranged from 256KB to 512KB, a typical amount for computers of that era.
Perhaps the most surprising aspect of the Convertible was its weight. This prototype "laptop" tipped the scales at almost 13 pounds.
Of course, in the many years since the debut of the Convertible, laptops have undergone countless changes, becoming dramatically slimmer, lighter, faster, and less expensive. In fact, in its own time, the Convertible never gained respect in the marketplace. It is significant in two respects, however: The first is that the Convertible was the first IBM PC system supplied with 3.5-inch floppy drives. The second is that it marked IBM's entry into the laptop portable system market, a market where IBM now has tremendous success with its ThinkPad systems.
The PC Convertible was available in two models. The Model 2 had a CMOS 80C88 4.77MHz microprocessor, 64KB of ROM, 256KB of static RAM, an 80-columnx25-line detachable liquid crystal display (LCD), two 3.5-inch floppy disk drives, a 78-key keyboard, an AC adapter, and a battery pack. Also included were software programs called Application Selector, SystemApps, Tools, Exploring the IBM PC Convertible, and Diagnostics. The Model 22 was the same basic computer as the Model 2 but with the diagnostics software only. You could expand either system to 512KB of RAM by using 128KB RAM memory cards, and you could include an internal 1200bps modem in the system unit. With aftermarket memory expansion, these computers could reach 640KB.
Although the unit was painfully slow at 4.77MHz, one notable feature was the use of static memory chips for the system's RAM. Static RAM does not require the refresh signal that normal dynamic RAM (DRAM) requires, which would normally require about 7% of the processor's time in a standard PC or XT system. This means that the Convertible was about 7% faster than an IBM PC or XT, even though they all operated at the same clock speed of 4.77MHz. Because of the increased reliability of the static RAM (compared to DRAM) used in the Convertible, as well as the desire to minimize power consumption, none of the RAM in the Convertible was parity checked. Of course, many users remarked that the best feature of static RAM was its instant-resume capability. Because this type of memory retains its contents even when the system is off, it does not need any time to restore its contents from a disk drive when the user turns the Convertible back on.
At the back of each system unit was an extendable bus interface. This 72-pin connector enabled you to attach the following options to the base unit: a printer, a serial or parallel adapter, and a CRT display adapter. Each feature was powered from the system unit. The CRT display adapter operated only when the system was powered from a standard AC adapter. An optional external CRT display or a television set attached through the CRT display adapter required a separate AC power source.
Each system unit included a detachable LCD. When the computer was being used on a desk, the LCD screen could be replaced by an external monitor. When the LCD was latched in the closed position, it formed a cover for the keyboard and floppy disk drives. Because the LCD was attached with a quick-disconnect connector, you could remove it easily to place the 5140 system unit below an optional IBM 5144 PC Convertible monochrome or IBM 5145 PC Convertible color monitor.
During the life of the Convertible, IBM offered three different LCD displays. The first display was a standard LCD, which suffered from problems with contrast and readability. Due to complaints, IBM then changed the LCD to a super-twisted-type LCD display, which had much greater contrast. Finally, in the third LCD, IBM added a fluorescent backlight to the super-twisted LCD display, which not only offered greater contrast but also made the unit usable in low-light situations.
The PC Convertible system unit had these standard features:
Complementary Metal-Oxide Semiconductor (CMOS) 80C88 4.77MHz microprocessor

Two 32KB CMOS ROMs containing these items:

POST (Power On Self Test) of system components

BIOS (Basic Input/Output System) support

BASIC language interpreter

256KB CMOS static RAM (expandable to 512KB)

Two 3.5-inch 720KB (formatted) floppy drives

An 80-columnx25-line detachable LCD panel (graphics modes: 640x200 resolution and 320x200 resolution)

LCD controller

16KB RAM display buffer

8KB LCD font RAM

Adapter for optional printer (Model #4010)

Professional keyboard (78 keys)

AC adapter

Battery pack
The system-unit options (along with their model numbers) for the PC Convertible included the following:
128KB static RAM memory card (#4005)

Printer (#4010)

Serial/parallel adapter (#4015)

CRT display adapter (#4020)

Internal modem (#4025)

Printer cable (#4055)

Battery charger (#4060)

Automobile power adapter (#4065)
The following two optional external CRT monitors were available for the PC Convertible:
IBM 5144 PC Convertible Monochrome Display Model 1

IBM 5145 PC Convertible Color Display Model 1
PC Convertible Specifications and Highlights
Table 1.5 lists some technical specifications for the IBM 5140 PC Convertible system. The weights of the unit and options are listed because weight is an important consideration when you carry a laptop system.
Table 1.5. Details on IBM's PC Convertible Laptop
Dimensions

Depth

14.17 in.; 14.72 in. including handle

Width

12.19 in.; 12.28 in. including handle

Height

2.64 in.; 2.68 in. including footpads

Weight

Models 2 and 22 (including battery)

12.17 lbs.

128KB/256KB memory card

1.4 oz.

Printer

3.50 lbs.

Serial/parallel adapter

1.04 lbs.

CRT display adapter

1.40 lbs.

Internal modem

6 oz.

Printer cable

8 oz.

Battery charger

12 oz.

Automobile power adapter

4 oz.

5144 PC Convertible monochrome display

16 lbs.

5145 PC Convertible color display

37.04 lbs.
To operate the IBM 5140 PC Convertible properly, you had to have PC DOS version 3.2 or later. Previous DOS versions were not supported because they did not support the 3.5-inch 720KB floppy drive.
PC Convertible Models and Features
This section covers the options and special features available for the PC Convertible. Several kinds of options were available, from additional memory to external display adapters, serial/parallel ports, modems, and even printers.
Memory Cards
A 128KB or 256KB memory card could be used to expand the base memory in the system unit. You could add two of these cards, for a system-unit total of 640KB with one 256KB card and one 128KB card.
Optional Printer
A special printer was available that attached to the back of the system unit or to an optional printer-attachment cable for adjacent printer operation (see Figure 1.9). The printer's intelligent , microprocessor-based, 40cps (characters per second), non-impact dot-matrix design made it capable of low-power operation. The printer drew power from and was controlled by the system unit. Standard ASCII 96-character, upper- and lowercase character sets were printed with a high-resolution, 24-element print head. A mode for graphics capability was also provided. You could achieve near-letter-quality printing by using either a thermal transfer ribbon on smooth paper or no ribbon on heat-sensitive thermal paper.
Figure 1.9. The IBM PC Convertible with optional portable printer attached. (Photo from www.can.ibm.com, IBM Canada.)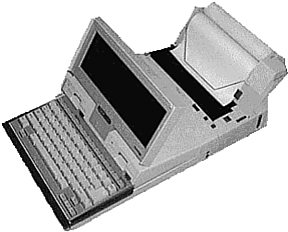 A special printer cable was available that was 22 inches (0.6 meters ) long with a custom 72-pin connector attached to each end. With this cable, you could operate the Convertible printer when it was detached from the system unit and placed in a position offering better ease of use and visibility.
Serial/Parallel Adapter
A serial/parallel adapter could be attached to the back of the system unit, the optional printer, or one of the other feature modules attached to the back of the system unit. The adapter provided an RS-232C asynchronous serial communications interface and a parallel printer interface, both compatible with the IBM Personal Computer asynchronous communications adapter and the IBM Personal Computer parallel printer adapter.
CRT Display Adapter
The CRT display adapter was available for attachment to the back of the system unit, the printer, or another feature module attached to the back of the system unit. This adapter enabled you to connect a separate CRT display to the system, such as the PC Convertible monochrome display or PC Convertible color display. By using optional connectors or cables, you could also use the CRT display adapter to attach a standard Color Graphics Adapter (CGA) monitor. In addition, because a composite video output connector was also included, you could even use a standard television set.
Internal Modems
IBM offered two different internal modems for the Convertible. Both ran Bell 212A (1200bps) and Bell 103A (300bps) protocols. The modems came as a complete assembly, consisting of two cards connected by a cable. The entire assembly was installed inside the system unit. The original first design of the modem was made for IBM by Novation, and it did not follow the Hayes standard for commands and protocols. This rendered the modem largely incompatible with popular software designed to use the Hayes command set. Later, IBM changed the modem to one that was fully Hayes compatible; this resolved the problems with software. IBM never introduced a modem faster than 1200bps for the Convertible. Fortunately, you could operate a standard external modem through the serial port, although you would lose the convenience of having it built in.
Battery Charger/Auto Power Adapter
The battery charger was a 110-volt input device that charged the system's internal batteries. It did not provide sufficient power output, however, for the system to operate while the batteries were being charged. An available automobile power adapter plugged into the cigarette-lighter outlet in a vehicle with a 12-volt, negative-ground electrical system. You could use the system while the adapter also charged the Convertible's battery.
Optional Displays
The 5144 PC Convertible monochrome display was an external 9-inch (measured diagonally) composite video CRT display that attached to the system unit through the CRT display adapter. It came with a display stand, an AC power cord, and a signal cable that connected the 5144 to the CRT display adapter. This display differs from "and was not compatible with "the older IBM monochrome display that was available for the original IBM PC desktop system. The older display connected only to the IBM monochrome adapter card, whereas this optional monochrome display for the Convertible worked with a CGA-style adapter. This display was functionally equivalent to the CRT display used in the luggable IBM Portable PC.
The 5145 PC Convertible color display was a 13-inch external CRT color monitor that attached to the system unit through the CRT display adapter. It came with a display stand, an AC power cord, a signal cable that connected the 5145 to the CRT display adapter, and a speaker for external audio output. This monitor was a low-cost unit compatible with the standard IBM color CGA display for desktop PCs.
Table 1.6 shows the part numbers of the IBM Convertible system units.
Table 1.6. IBM PC Convertible Part Numbers
| IBM 5140 PC Convertible System Units | Number |
| --- | --- |
| Two floppy drives, 256KB with system applications | 5140002 |
| Two floppy drives, 256KB without system applications | 5140022 |
The Toshiba T1000
Just a year after the appearance of the IBM PC Convertible, another seminal laptop appeared, the Toshiba T1000 (see Figure 1.10). This new system was similar in many respects to the Convertible: it had the same processor, the same amount of memory, and the same floppy-based data-storage drives. But its one difference was a huge one: At approximately 6 pounds it was only half the weight of the Convertible.
Figure 1.10. The Toshiba T1000.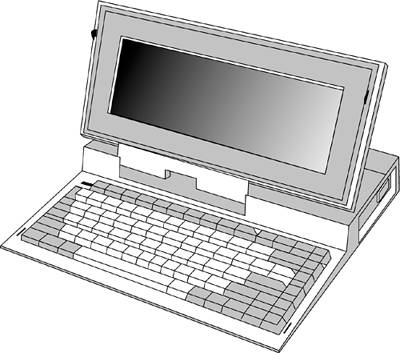 Table 1.7 compares the core features of the three early laptops covered here. The Compaq SLT/286 is covered in the next section.
Table 1.7. Comparing the Early Laptops
| | IBM Convertible PC | Toshiba T1000 | Compaq SLT/286 |
| --- | --- | --- | --- |
| Date Announced | April 1986 | 1987 | 1988 |
| CPU | Intel 80C88, 4.77MHz | Intel 80C88, 4.77MHz | Intel 80C286, 12MHz |
| Memory | 256KB "512KB CMOS SRAM, approx. 200ns, non-parity checked | 512KB "1.2MB | 640KB "12MB |
| Operating | IBM PC-DOS (MS-DOS) 2.1 | MS-DOS 2.11 in ROM | MS-DOS 3 or 4 or OS/2 v. 1.2 |
| Display Type | Wide-aspect-ratio monochrome LCD, optional backlighting | Wide-aspect-ratio monochrome LCD, no backlighting | 10-inch monochrome super-twist LCD, 7.8x5.9 inches, backlit |
| Display Resolution | 80 characters by 25 lines; 640x200x2 shades of gray | 80 characters by 25 lines, 640x200x2 shades of gray | 80 characters by 25 lines, 640x480x8 shades of gray |
| Data Storage | Two 3.5-inch 720KB floppy drives | One 3.5-inch 720KB floppy drive 20MB or 40MB hard drive | One 3.5-inch 1440KB floppy drive, 20MB or 40MB hard drive |
| Expansion Slots | One PCC 72-pin extendable bus connector | None | None |
| Footprint | 12.2x14.7 in. | 12.2x11.0 in. | 13.5x8.5 in. |
| Thickness | 2.6 in. | 2.0 in. | 4.1 in. |
| Weight | 12.2 lbs. | 6.4 lbs. | 14 lbs. |
| List Price | Approx. $2,995 | N/A | N/A |
The Compaq SLT/286
Although IBM and Toshiba had already introduced groundbreaking laptops, the computer world was waiting for another shoe to drop. The leading manufacturer of portable computers was still Compaq. As late at 1988, it was still selling its large, bulky luggable and lunchbox computers. Everyone was waiting to see how Compaq would address the burgeoning laptop market. That same year the company satisfied this curiosity by introducing the Compaq SLT/286 (see Figure 1.11).
Figure 1.11. The Compaq SLT/286. (Photo from David Hales, www.davidhales.net.)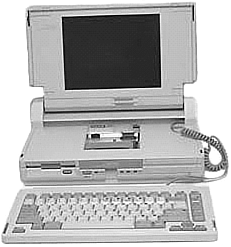 Compaq's entry into the laptop market was no lightweight system. It weighed 14 pounds. Even its AC adapter was heavy, weighing almost 2 pounds and often given the nickname brick . The SLT's depth (front to back) was only 8.5 inches, similar to many of the smallest notebooks of today's generation. But its width of 13.5 inches was quite large, and its thickness of over 4 inches was huge. A stack of four of today's thin notebooks would take up less space than this early laptop.
Although bulky and heavy by today's standards, the Compaq SLT/286 featured several innovations. Unlike previous laptops, it eschewed the dated Intel 8088 processor, which had been used seven years previously in the original IBM PC, and used instead the faster 80286 chip. Instead of two floppy drives, there was only one plus a 20MB hard drive (with 40MB available as an option).
This laptop also featured a new graphics adapter. It used VGA graphics, which had been introduced on the IBM PS/2 desktops a year earlier. VGA featured a resolution of 640x480. Along with the better graphics, the SLT had a better screen. Unlike the flattened screens of the PC Convertible and the Toshiba T1000, the Compaq screen had an aspect ratio that was more typical of desktop monitors. Its size was also notable, being all of 10 inches, measured diagonally.
Compaq's use of faster processors, hard drives, and better graphics has been imitated by generations of subsequent laptops. In fact, in its general design, the SLT was much closer in appearance to today's notebooks than any previous laptop (refer to Tables 1.8 and the following bulleted list). One design feature of the Compaq SLT, however, was indeed innovative, but never copied . The SLT was so large, with a thickness of 4.1 inches, that it could accommodate a detachable keyboard. So although the SLT was probably too heavy to be placed on top of one's lap, the detachable keyboard was quite comfortable in that position.
Table 1.8. Details of the Compaq SLT/286 Laptop (from www.davidhales.net)
Compaq SLT/286 System Unit

Power requirements:

Operating voltage

12V DC

Average power

8.5W

Maximum power

11W

Peak power

17W

Temperature range:

System on

50 °F "95 °F (10 °C "35 °C)

System off

"4 °F "140 °F ( "20 °C "60 °C)

Relative humidity (noncondensing):

System on

10% "90%

System off

5% "95%

Maximum unpressurized altitude:

System on

10,000 ft. (3,048m)

System off

40,000 ft. (12,192m)

NiCad Battery

Height

1.20 in. (3.05cm)

Depth

5.40 in. (13.72cm)

Width

4.38 in. (11.13cm)

Weight

1.8 lbs. (0.84kg)

Capacity

2.4A-hours

Power

29W

Temperature range:

System on

50 °F "95 °F (10 °C "35 °C)

Charging

50 °F "104 °F (10 °C "40 °C)

System off

"4 °F "140 °F ( "20 °C "60 °C)

AC Power Supply

Height

2.40 in. (6.10cm)

Depth

8.60 in. (21.84cm)

Width

3.40 in. (8.64cm)

Weight

1.75 lb. (0.79kg)

Operating voltage

120/220 "240V AC

Steady-state power

20W

Peak power

33W

Operating current

1A

Frequency

50/60Hz

Temperature range:

System on

50 °F "95 °F (10 °C "35 °C)

System off

"22 °F "140 °F ( "30 °C "60 °C)

Keyboard

Height

0.65 in. (1.65cm)

Depth

6.45 in. (16.38cm)

Width

13.50 in. (34.29cm)

Weight

1.38 lbs. (0.63kg)

Number of keys

82

Cable length

24 in. (60.96cm)

Coil diameter

0.56 in. (1.42cm)

Interface

6-pin mini-DIN connector

Display

Size

10 in. (25.4cm)

Height

5.86 in. (14.88cm)

Width

7.81 in. (19.84cm)

Display type

Monochrome compensated super-twist LCD

Video modes supported

VGA, EGA, or CGA

Pixel resolution

640x480

Gray scale

8/16

Characters displayed

80/40x25

Brightness/contrast

Adjustable

Horizontal frequency

30KHz

Vertical Frequency

70Hz
There were two standard models of the Compaq SLT/286 available: the Model 20, with a 20MB hard drive, and the Model 40, with a 40MB hard drive. Both models had a number of standard features, including the following:
12MHz 80C286 microprocessor

640KB of memory

3.5-inch 1.44MB floppy drive

VGA-resolution backlit monochrome LCD

Removable keyboard

Full-sized keys

NiCad battery

AC adapter

Real-time clock/calendar

External VGA connector

Parallel connector

Serial connector

Keyboard connector

External storage option connector

One-year warranty
The following options were available for the Compaq SLT/286:
12MHz 80C287 coprocessor

1MB memory board

4MB memory board

40MB hard drive

External storage module for use with:

5.25-inch 1.2MB floppy drive

5.25-inch 360KB floppy drive

60MB tape drive with compression

60MB tape cartridge

2400-bps internal modem

CD-ROM drive adapter

Serial interface board

Video Graphics color monitor

Video Graphics monochrome monitor

Advanced Graphics 1024 board

Advanced Graphics memory board

Advanced Graphics color monitor

Desktop expansion base

Enhanced keyboard

External numeric keypad

Extra battery

External battery charger

Automobile adapter

AC adapter

Carrying case

OS/2 Standard Version 1.2, as published by Compaq

MS-DOS Version 4, as published by Compaq

Compaq SLT/286 Technical Reference Guide

Video Graphics System Technical Reference Guide

Advanced Graphics System Technical Reference Guide
Portable Design Innovators and Landmarks
In the late 1980s and early 1990s, there appeared a small number of laptops that were particularly innovative. Some of these models have influenced the design of several succeeding generations of portables.
The NEC UltraLite
Around 1988, NEC introduced a groundbreaking computer called the UltraLite. This clamshell-style portable had no hard drive and not even any floppies. Instead, data was stored on a memory drive. Its greatest strength was its portability. It weighed no more than 4 pounds and its footprint was about the size of a piece of paper, 8.5 by 11 inches. Indeed, in its closed position, this computer was no larger than the thick computer magazines that published reviews of it. In fact, some people thought it looked remarkably like a paper notebook and christened it a notebook computer. Thus began the era of the notebook, a device that to this day still dominates the portable computer market "and, increasingly so, the entire personal computer industry.
Note that the dominance of the notebook computer did not come about overnight. The NEC designers had achieved the svelte profile of the UltraLite by jettisoning the hard drive, a compromise most users would not accept. Thus, until the sizes of hard drives diminished to the point where they could easily fit into the notebook form factor, laptops continued to enjoy a welcoming audience. For example, in 1990, two years after the introduction of the notebook computer, users continued to pay as much as $6,000 for laptops that were 3 inches thick and weighed 15 pounds. Eventually, however, when functional notebooks appeared with capacious hard drives and easy-to-read screens, the market for the larger laptops disappeared.
In addition to launching a new product category, the NEC UltraLite was notable for another reason. To provide storage options for this super-slim system, NEC designed a docking station, with a good assortment of storage device options and external connectors. Being the first with such a device, NEC trademarked the name Docking Station . In the years since, most other notebook manufacturers have offered docking stations for their notebooks, but never under that exact name.
The Apple PowerBook 100
Apple Computer did not sit idly by while the PC-compatible manufacturers were having fun with portables. The company introduced two mobile versions of its Macintosh "one a luggable model and the other a bulky laptop, but both attracted little attention. Then, on its third attempt in late 1991, Apple finally got it right and introduced the PowerBook 100 (see Figure 1.12). Of course, this new notebook was by no means PC compatible, but as with many aspects of the Mac, it would have a huge influence on portable PCs.
Figure 1.12. The Apple Macintosh PowerBook 100. (Photo from www.apple-history.com.)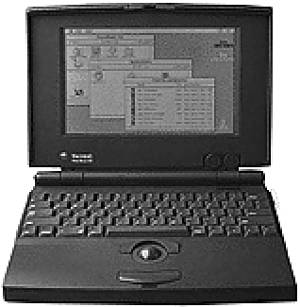 The most striking aspect of the PowerBook was its solution to the problem of what to do with the mouse "a vital feature required by the new graphical operating systems. Apple's designers simply moved the keyboard forward, thereby providing both a comfortable rest for the wrists of the user and a convenient place for a small trackball . This simple-but- brilliant concept of a pointing device in the center of a wristrest is now a standard feature of almost all notebooks.
At press time, Apple was still manufacturing new versions of the PowerBook, making it the oldest brand in the portable computer market. More important, the company was still equipping its portables with bold innovations that are sure to be copied by other manufacturers. For example, recently Apple was the first computer manufacturer to equip all its systems with wireless LAN antennas so that they could more easily take advantage of this important technology.
The ThinkPad 700
After the PowerBook, the second oldest brand in the portable computer industry came into existence in 1992, just a year later. IBM's first ThinkPad was a pen-based tablet system(see Figure 1.13). Recognizing a good brand name when they saw it, the folks at IBM also applied the name to a slick new notebook computer that came out a few months after the tablet. Like Apple, IBM had made a number of forays into the portable market, yet despite the technological innovation evidenced by the Convertible PC, the company had not had a flyaway success in this area. That all was to change with the ThinkPad 700.
Figure 1.13. The IBM ThinkPad 700, the first of the ThinkPads.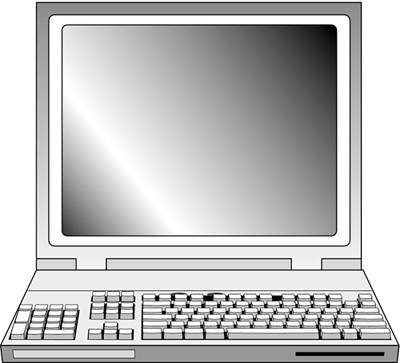 This sleek device with its trendy charcoal black exterior weighed 6.5 pounds, comfortably within the strict definition of the notebook category yet still able to pack a 160MB hard drive. This system was available with both a monochrome (700) and color (700C) screen. The list price for the color system was $4,350. Table 1.9 lists the system's specifications.
Table 1.9. Details of the IBM ThinkPad 700 and 700C (from www.ibm.com)
| Feature | Description |
| --- | --- |
| Processor (700, 700C) | 486SLC 25MHz |
| Bus architecture | Micro Channel |
| Memory (standard) | 4MB |
| Memory (maximum) | 16MB, IC DRAM |
| CMOS RAM | 8KB |
| Video | VGA |
| Floppy drive | 3.5-inch |
| Hard drive options (all 2.5-inch) | 80MB, 120MB, 160MB |
| Audio subsystem | Yes (standard) |
| PCMCIA slots | None |
As with the PowerBook 100, one of the ThinkPad's most notable innovations had to do with its pointing device. IBM steered clear of the PowerBook's wristrest and instead developed an ingenious pointing stick that looked like a pencil eraser stuck in the middle of the keyboard. As was the case with the PowerBook, the pointing stick enabled users to move the system's mouse cursor without moving their hands from the keyboard.
Except for some minor changes, the general design of notebook computers has remained similar to that of this system, the first of the ThinkPads and the most prominent of the early notebooks. Figure 1.14 shows the internal design in detail. See Table 1.10 for descriptions of the components.
Figure 1.14. A diagram of the IBM ThinkPad 700 (from www.ibm.com).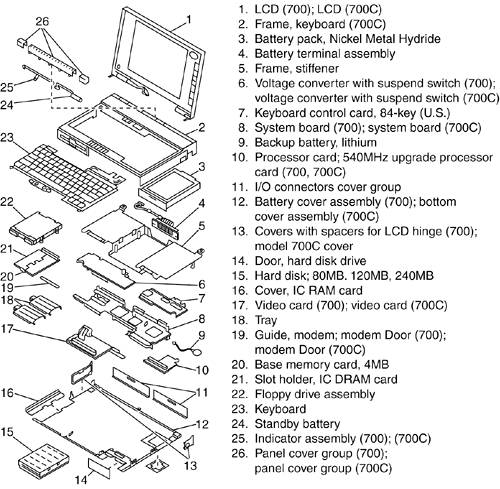 Table 1.10. Internal Components of the IBM ThinkPad 700 and 700C. The Diagram Numbers Refer to the Diagram in Figure 1.14 (from www.ibm.com).
| Diagram Number | Description | Part Number |
| --- | --- | --- |
| 1 | LCD (700); LCD (700C) | 44G3806; 48G8723 |
| 2 | Frame, keyboard (700C) | 48G8945 |
| 3 | Battery pack, Nickel Metal Hydride | 44G3811 |
| 4 | Battery terminal assembly | 44G3779 |
| 5 | Frame, stiffener | 44G3771 |
| 6 | Voltage converter with suspend switch (700); voltage converter with suspend switch (700C) | 44G3784; 48G8712 |
| 7 | Keyboard control card, 84-key (U.S.) | 44G3783 |
| 8 | System board (700); system board (700C) 44G3780; | 49G1975 |
| 9 | Backup battery, lithium | 44G3778 |
| 10 | Processor card; 50MHz upgrade processor card (700,700C) | 44G3781; 54G1045 |
| 11 | I/O connectors cover group | 44G3769 |
| 12 | Bottom cover assembly (700); bottom cover assembly (700C) | 44G3800; 48G8719 |
| 13 | Covers with spacers for LCD hinge (700); model 700C cover | 53G7817; 48G8714 |
| 14 | Door, hard disk drive | 44G3777 |
| 15 | Hard disk: 80MB, 120MB, 240MB | 95F4743; 95F4744; 66G3200 |
| 16 | Cover, IC DRAM card | 49G1108 |
| 17 | Video card (700); video card (700C) | 44G3782; 35G4823 |
| 18 | Tray | 44G3773 |
| 19 | Guide, modem; modem Door (700); modem Door (700C) | 44G3774; 53G7815; 53G7817 |
| 20 | Base memory card, 4MB | 44G3785 |
| 21 | Slot holder, IC DRAM card | 44G3772 |
| 22 | Floppy drive assembly | 49G2198 |
| 23 | Keyboard | Not available |
| 24 | Standby battery | 44G3799 |
| 25 | Indicator assembly (700); (700C) | 44G3787; 48G8729 |
| 26 | Panel cover group (700); panel cover group (700C) | 44G3789; 48G8715 |
This innovative notebook helped IBM to establish ThinkPad as one of the most recognized brands in the business. To date, the company claims that over 15 million ThinkPads have been sold and that a ThinkPad was even selected for the permanent collection of the Museum of Modern Art.
A Subnotebook by Any Other Name
The evolution of notebooks has followed an interesting path . As the internal components of notebooks continued to shrink in size, of course, so did the size of notebooks themselves .
Eventually, the sizes of certain notebooks shrunk to a weight of less than 3 pounds, and a new category was born "the subnotebook. But a small size meant a small keyboard and screen, which further meant that the subnotebook could be difficult to use. Despite some initial excitement for these systems, they failed to attract a significant following, and the category was soon abandoned .
The question arose: At long last, had portable computers become so small that some of them were too small ? The answer of course was "No." In the past few years, a number of new 3-pound notebooks have appeared. But, to avoid links with a previous failed category, they are no longer called subnotebooks . Now they are called ultralights .
The HP 95LX
In April 1991, HP introduced one of the first and probably the most popular handheld computer. The HP 95LX handheld computer was about the size of a videocassette, weighing just 11 oz. and measuring 6.3x3.4x1 inches. The screen could display only 16 lines of 40 characters each, about a third of a typical computer screen. Like many small systems, the screen was not backlit and was therefore hard to read in certain lighting conditions.
Inside the 95LX was the equivalent of the original IBM PC. The processor was an Intel 8088, complemented by 512KB of memory that was continually powered by the device's AA batteries. These batteries could power the device for several months. Included in the computer's ROM chips was the Lotus 1-2-3 spreadsheet and the MS-DOS 2.2 operating system. This computer may also have been the first to use infrared for communications with other devices. The list price was $699.
The HP 95LX was not alone on the market. It competed with the Poquet PC and the Atari Portfolio, both of which weighed more. The Poquet, for example, tipped the scales at 1 pound. The 95LX was quite popular and even spawned its own magazine. HP continued to sell the 95LX and its successors for a few years. But, as graphics-based operating systems such as Windows became increasingly popular, the need for a DOS-based portable declined.
The Toshiba Libretto
According to many industry observers, the best example of a handheld computer was the Toshiba Libretto, which was introduced in 1997. The Libretto weighed just under 2 pounds and had a form factor that was about the same as a VHS video cassette. Yet despite the small size, the Libretto was a full-function Windows-based notebook. It featured a built-in hard disk, TFT color screens ranging in size from 6.1 to 7.1 inches, and a tiny keyboard with an integral pointing stick. Although the position of the pointing stick (to the side of the screen) seemed unusual, it made more sense when you actually held the system in your hands and found that the pointing stick was right under one of your thumbs.
In external appearance, the Libretto was similar to many of the Windows CE handhelds available around the same time. But unlike the Windows CE handhelds, the Libretto ran a full version of Windows 95 and was compatible with thousands of programs designed for that operating system. Details on the specifications of the various Libretto systems can be found in Table 1.11.
Table 1.11. Details of Various Models of the Toshiba Libretto Handheld Computer (Data from www.silverace.com/libretto)
Libretto Model 50

Libretto Model 70

Libretto Model 100

Introduction Date

January 1997

October 1997

February 1998

Model Numbers:

Japan; U.S.

PA1237CA; PA1249U-T2A

PA1260CA; PA1260U-T2A

PA1254CA; PA1254U-T2A

Dimensions (in.)

8.3x4.5x1.3

8.3x4.5x1.3

8.3x5.2 x1.4

Weight (lbs.)

1.9

1.9

2.1

Processor

75MHz Pentium

120MHz Pentium with MMX

166MHz Pentium with MMX

Bus Speed (MHz)

50

60

66

Memory (MB, Standard/Max)

16/32

16/32

32/64

ROM (KB)

256

256

512

Hard Drive

810MB

1.6GB

2.1GB

Screen Size (Diagonal)

6.1 in.

6.1 in.

7.1 in.

Screen Resolution

640x480

640x480

800x480

Graphics Memory

1MB

1MB

2MB

Keyboard (U.S.): Keys; Key Pitch

80; 15mm

80; 15mm

82; 15mm

PCMCIA Slots

1 Type II

1 Type II

2 Type II or 1 Type III, CardBus

Sound Chip

Yamaha OPL3 SA2

Yamaha OPL3 SA2

Yamaha OPL3 SA3

Battery Life (Hours)

1.5 "2

2 "3

1.5 "2
Although a great achievement in miniaturization, the Libretto may have been too successful in its quest for compactness. Chief among complaints about the system was a concern about the tiny keys on the keyboard. For whatever reason, most handheld computers "whether based on Windows 95 or Windows CE "disappeared from the U.S. market a few years after their introduction.
Even though the Libretto has not been available in the U.S. for several years, Toshiba still sells Librettos in Japan, including versions with English-language operating systems. One of the latest versions is the L5 (see Figure 1.15). This unit is approximately the same size as the original Libretto, but with enhanced components. For example, the L5 features a 10-inch screen with a wide-screen resolution of 1280x600. The screen is backed up by an ATI Mobility Radeon-M graphics accelerator with 8MB of video memory.
Figure 1.15. The Toshiba Libretto L5, the latest version of the Libretto handheld computer. (Photo from www.toshiba.com.)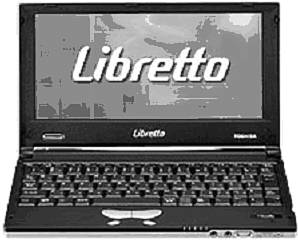 Inside the latest Libretto is a power-saving Transmeta Crusoe 5800 running at 800MHz, complemented with 256MB of DDR memory and a 20GB hard disk. Instead of a pointing stick being placed to the right of the screen, it is now in the middle of the keyboard in a manner similar to many Toshiba notebooks.
On the outside, the system has a Japanese keyboard and an assortment of connectors, including two USB ports, an RJ-45 LAN port, a VGA connector, and a Type II PCMCIA PC Card slot. The price is $1,650.
Personal Recollections of the Portable Revolution
Writing this chapter has brought back several memories. Because of their many advantages, I've used nothing but portables as my main systems since the early 80s. In fact, I have used portable systems even before there were PCs. In the pre-PC days, I used one of the original Osbornes (with its weird 52-character-wide display), as well as the KayPro II, 4, and 10 luggables. As mentioned earlier, these were sewing machine "sized portables that ran CP/M, the most popular operating system before Microsoft's MS-DOS existed.
My first DOS portable was the original Compaq sewing machine "sized portable. From there I graduated to an IBM Portable PC (also sewing machine sized). I much enjoyed the IBM Portable, which was a fantastic machine, contrary to the press it received at the time. The great thing about the IBM Portable was that it used the same motherboard as the IBM XT, and it was very upgradable. I installed a 100MB (CDC Wren III 5.25-inch half-height) SCSI hard drive in early 1987, along with a 12MHz 286 processor, a Token Ring network card, an AST SixPack multifunction card, and a number of other devices. I had that thing weighing up to 45 pounds and lugged it over half a million miles of air travel! I'm a sort of speed-walker and hate to slow down for anything. To maximize my throughput when cruising from one airport gate to another, I had perfected a method of "bowling" my briefcase and slinging the computer that allowed me to walk high-speed through an airport terminal. I'd start by carrying my 25-pound briefcase in one arm, and my 45-pound computer in the other. When the weight of the computer became too much for the one arm to bear, I had a system for transferring the briefcase and computer between arms without so much as breaking stride. I would start by sliding my briefcase along the floor about 10 feet in front of me in a bowling motion, then I would heave the 45-pound computer from one hand to the other, and finally snatch up the briefcase with the free hand as I caught up with it along the floor. All of this was done without missing a stride or even slowing down. As you might imagine, switching arms several times was necessary with a 45-pound computer and a long walk through the terminal. I still have two of the old IBM Portables, one of which my wife owned when we got married.
After the IBM Portable I then moved on to a succession of briefcase- or lunchbox-sized portables. Even though laptops and some notebooks were then becoming available, I had to use these larger AC-powered systems because I needed a system with desktop power, performance, and especially storage. Two of these lunchbox systems were the IBM PS/2 P70 (running an Intel 80386) and P75 (equipped with a 486 CPU) in 1989 and 1991. Both of these systems used plasma screens. Into these systems I installed a 320MB SCSI hard drive and then a 1.2GB SCSI hard drive (the largest hard disks available at the time). A 486DX-33 processor was originally soldered into the motherboard of the P75. Nevertheless, in 1992 I removed it and soldered a 486DX2-66 in as an upgrade. That was quite a gamble at the time because a replacement motherboard (actually more of a CPU daughter card) was $6,000! It is interesting to note that the P75 I used had an original list price of $18,890! "making it perhaps the most expensive PC ever sold.
When laptops appeared, I kept a close eye on them. I remember playing with the original GRiD Compass and the Toshiba 3100, for example. Because of my need for a portable system with desktop power and storage, however, the laptops of the 1980s and early 1990s simply couldn't do the job. In 1995 things changed. With the appearance of the mobile Pentium chip and the advent of truly high-capacity 2.5-inch drives, laptop and notebook systems finally reached parity with desktop systems in power and storage. Finally, I was able to graduate to these smaller systems, which I have been using ever since.
I still have strong memories of carrying my 45-pound behemoth, so you can see why even a supposedly "heavy" 10-pound notebook doesn't even make me flinch!