Writing a formal proposal can be a daunting task. Some of them may be hundreds, even thousands of pages long, but even if they are much shorter, they are still complex documents. As the old proverb about eating an elephant says, you can only get the job done one bite at a time.
The most important bites are the ones that appear up front—your cover letter and executive summary. Allow yourself enough time to do a good job with those parts and you'll at least create a positive first impression .
The cover letter is your firm's official transmittal message. It should be signed by an executive of sufficient rank to bind the company to a contract, ideally by someone in your organization who is the peer of the person who will make the buying decision in the client's organization. What about having the salesperson or account manager sign the cover letter? You can do it that way, but it will not have the same impact as having the president or a senior vice president sign. If you wish, you could have both the senior executive and the salesperson sign the cover letter.
The cover letter is part of the total proposal package and should help sell your solution. Think of the cover letter as a mini executive summary. Include the customer's key need or needs, one or two important outcomes from meeting those needs, your basic approach or solution in a sentence or two, and your two most important differentiators. If your proposal was written in response to an RFP, reference the RFP by name or number. Indicate in the cover letter the effective period for the pricing, staffing, and implementation schedules offered in the proposal. Just as we discussed in reference to the letter proposal, never end your cover letter with that tired old clich, "Call me if you have any questions." End with a specific call to action.
The cover letter is also a place where you can thank individuals in the client's organization who have been helpful to you.
If your proposal is a revision, indicate that in the cover letter. You may want to point out specific sections where changes have been made.
Finally, some proposal writers include a statement of proprietary rights in the cover letter. Be careful not to lapse into legalistic language if you decide to make a statement of this sort in the cover letter. As I already mentioned, I strongly recommend that you put your proprietary claim elsewhere in the document, not in the cover letter.
Likewise, avoid making statements that undercut rapport and trust, such as this one that appeared in the cover letter of an actual proposal:
Would that sentence make you feel confident that the vendor will stand by what they are proposing ? Or do they already seem to be looking for wiggle room?
[date]

Mr. Samuel Taylor, CPA
Chief Financial Officer
Kallaher Financial Group
123 E. Fourth Street, 5 th Floor
Redlands, California

Dear Mr. Taylor:

The enclosed proposal responds to your request for audits of the following facilities:

the Patriot Center for Rehabilitative Medicine in San Luis Obispo, California

the Phoenix City Hospital in Phoenix, Arizona

the Moreno Valley Wellness Center in Sunnymead, California

the Claremont Health Care Center in Claremont, California

Our proposal addresses your need for thorough audits of all four operations, but we have also gone a step further, taking into account your broader objectives. We have developed an overall plan to help you gather the necessary data to turn the properties around financially and protect the value of your investment. We have also outlined our services in the event that one or more of these properties cannot be made profitable and must be sold or liquidated.

We recommend handling the audits by means of a partnership between ourselves , through our Redlands, California, headquarters, where we have extensive experience in real estate audits, and James J. Harrison, CPA, & Company, a firm with offices in Phoenix, Arizona, with recognized expertise in supporting the health care industry. This partnership is uniquely qualified to handle the audit and provide additional services as may be required.

We bring some distinct advantages to the process of handling your audit:

As medium- size firms, we have the flexibility and responsiveness to meet all deadlines, especially those imposed by third parties and regulators. We offer you the level of service and commitment that the national firms save for their largest clients .

At the same time, we have the resources, specialized knowledge, and experience to handle complex audits of long- term -care facilities quickly.

Senior partners of both firms will be personally involved in conducting your audits.

We provide the highest-quality services at a cost-effective price.

We seek to handle all four audits because it is important to develop a total picture of the financial situation for all four facilities. In addition, by handling all four audits, we can save you money. For these reasons, our firms would decline to participate in a split or partial award.

We are eager to work with you on this project. May we schedule a time to present our proposal to the entire management team?

Sincerely,

| | |
| --- | --- |
| Donald Miller, CPA | Nancy Jamison |
| Partner | Business Development Manager |

Figure 12-1:

Sample Cover Letter 1.

[date]

Mr. Fred Landers
Director, Professional Development
Canadian Micrometer
155 Lake Louise Drive
Banff, Alberta
Canada

Dear Mr. Landers:

The enclosed proposal is a response to your recent RFP 03-B433 to provide commercial management training. We believe our proposal offers you an exceptional combination of experience and resources to meet your training needs cost-effectively.

In today's fast-moving business environment, mergers and acquisitions are commonplace. Canadian Micrometer's recent acquisition and merger activity has created a need to consolidate your systems and processes, particularly those involving commercial management processes. This will maximize the benefits of your mergers and help ensure seamless transition to a centralized operation.

As the enclosed proposal shows, we specialize in the development of tailored and custom-developed management courses. Each member of the Management Performance, Inc., team is a dynamic presenter, bringing to the classroom both formal training and years of experience in commercial management functions. We have established an outstanding record for tailoring programs to meet the needs of both our clients and each individual participant.

We also offer you the flexibility of combining various training media. Besides our years of success in developing and delivering classroom instruction, we are leaders in creating self-paced learning materials, computer-based and Web-based interactive instruction, and innovative educational tools, such as games and experiential learning activities.

Please note that our proposal is exactly that: a set of proposed recommendations based on our preliminary look at your needs. To finalize the content of the training and to assure the most effective delivery media, we urge you to work with us in completing a detailed assessment of your exact requirements.

We look forward to working with Canadian Micrometer and are committed to providing you with top-quality support for your training initiative at a very competitive price. The result will be enhanced skill and knowledge among your professional staff, accelerated integration of the various organizations you have acquired during the past eighteen months, and a rapid payback. I will call you next week to discuss the next steps.

Sincerely,

Ursula E. Drew
Vice President, Account Development Services

Figure 12-2:

Sample Cover Letter 2.

[date]

Ms. Mary Carpenter
U.S. Department of Housing and Urban Development
Office of Procurement and Contracts
451 7th Street SW
Washington, DC 20410

Reference: Solicitation No. EV211D1111127204

Dear Ms. Carpenter:

We are pleased to submit the enclosed proposal to provide the research, writing, editing, proofreading, text entry, manuscript preparation, and special services necessary for producing a Handbook for the United States Department of Housing and Urban Development.

Documentation Plus, a qualified woman -owned small business, will serve as prime contractor. As the enclosed proposal shows, we are writers foremost, specializing in legal and technical communications designed for nonspecialist audiences. Each member of the Documentation Plus team has experience writing about legal issues, particularly in the areas of housing civil rights. In addition, we are familiar with a wide variety of media, having produced Web sites, technical journals, newsletters, audio-visual presentations, videotapes, and interactive CD-ROMs.

American Legal Resource Systems, a minority-owned, qualified 8a small business, will serve as subcontractor on the project. ALRS has extensive experience in providing publication support services to commercial, federal, and other government accounts. These services include technical writing and editing, graphic development, layout, production, document design, and publishing.

We look forward to working with the Department of Housing and Urban Development and are committed to providing cost-effective, high-quality support of all your writing, editing, and other communication needs associated with the proposed Handbook.

Sincerely,

| | |
| --- | --- |
| Jennifer McCorkle | James T. Olson |
| CEO | President |
| Documentation Plus | American Legal Resource Systems |

Figure 12-3:

Sample Cover Letter 3.
Title Page
The title page should include a title for the proposal, the name of the recipient, the name of the preparer(s), and the date of submission. You can also put the client's logo and your company's logo on the title page. It's a nice way to personalize the title page, but don't do it if the client is touchy about anyone reproducing their logo.
Never title your proposal "Proposal." That doesn't say anything your clients can't figure out themselves . (It's a little like writing a book and titling it "Book," isn't it?) Also, avoid using generic titles such as "A Proposal for New American Corporation." Finally, avoid any proposal title that is basically nothing more than the name of your product or service: "Proposal to Analyze Internet Security Requirements." "Proposal for the TurboEncabulator Model 5000." All of those are losers.
You'll get better results if you create a substantive title that states a benefit to the client or focuses on the primary outcome the client desires. Try to construct a title that does the following:
Describes your recommendation in terms of its outcome or impact on the client organization

Contains a verb that expresses a beneficial state of change for the client

Focuses on results, not product names

Avoids any use of your own in-house jargon
Here are some examples:
REDUCING DATA TRANSMISSION COSTS
A Union Technology Solution for AmeriBank Corporation
IMPROVING PRODUCTIVITY THROUGH ONLINE INVENTORY ACCESS
INCREASING CUSTOMER LOYALTY THROUGH ENHANCED SERVICE OPTIONS
CUTTING COSTS IN THE ACCOUNTS PAYABLE AREA WITH AUTOMATED WORKFLOW PROCESSES
Some federal, state, and local government programs and some RFPs prepared by consultants specify a format for the title page or even provide a form for you to complete. In that case, do what they ask.
Figures 12-4 and 12-5 each exemplify a complete title page.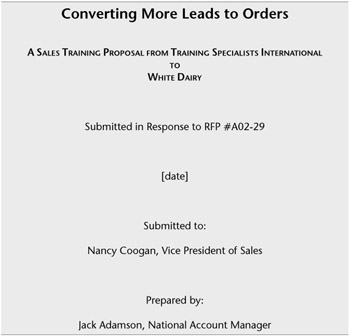 Figure 12-4: Sample Title Page 1.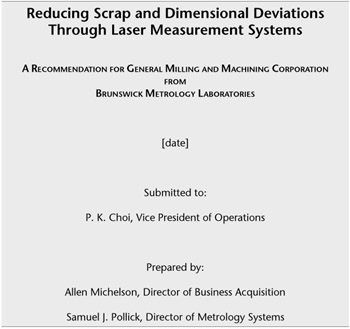 Figure 12-5: Sample Title Page 2.
Table of Contents
One of the key principles of successful proposal writing is to make your proposal easy to use. People are more likely to view your submission positively if it seems easy to understand. The table of contents is a helpful tool for achieving that goal.
Does your proposal need a table of contents? It probably does if it contains more than four or five pages of content or if it is divided into two or more sections.
List the title of each section and the headings of each major subsection in your table of contents. If the RFP uses a numbering scheme or a particular nomenclature for sections or division of content, mirror it in your table of contents.
Make sure the table of contents includes page numbers . Number the pages consecutively through the entire proposal. Don't start renumbering the pages with each section.
Figures 12-6, 12-7, and 12-8 show the structural clarity a table of contents can lend to a proposal.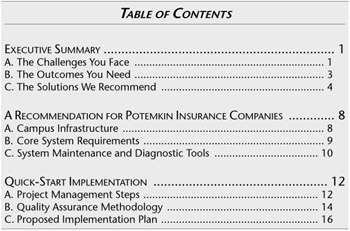 Figure 12-6: Sample Table of Contents 1.

Figure 12-7: Sample Table of Contents 2.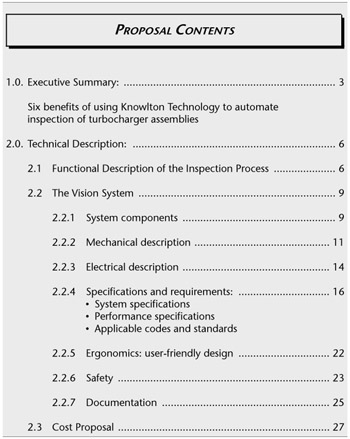 Figure 12-8: Sample Table of Contents 3.
Executive Summary
The executive summary is the single most important part of your proposal. It's the only part that's likely to be read by everybody involved in making a decision. In fact, it's the only part of your proposal that some decision makers will read.
Calling it an "executive summary" is a bit of a misnomer, but we're stuck with it now. The name is misleading because this part of your proposal doesn't really summarize the rest of the document. Think of it as a business overview or a management case. That will help you include only the content that matters.
Here are some additional guidelines:
Write the executive summary so that it is accessible to anyone from the janitor to the chairman of the board.

Focus on organizational issues and outcomes, and keep technical content to the essential minimum.

Present your strategy and win themes in the executive summary. You will develop and substantiate them elsewhere in the proposal, but make sure they are clear and prominent parts of the executive summary

The executive summary should be about the customer, not you. Count how many times the customer's name appears and compare that to the number of times your firm's name appears—the ratio ought to be 3:1 in favor of the customer.

Keep your executive summary short—one to two pages for the first twenty-five pages of proposal text and an additional page for each fifty pages thereafter.
Remember that the last comment regarding length is just a guideline, not an absolute rule. Write an executive summary that tells your story clearly and persuasively, even if that takes an extra page or two.
The structure of the executive summary is almost identical to the structure of the letter proposal. Both are based on the persuasive paradigm, both use a minimal amount of detailed substantiation, and both are primarily concerned with defining the customer's problem or need correctly, articulating the positive outcomes that will come from solving that problem, and recommending a solution. Keep your executive summary focused on the bottom-line issues the customer cares about the most. Figures 12-9, 12-10, and 12-11 offer examples of an executive summary.

Enhancing Communications and Increasing Productivity at North American Chemicals

THE OPPORTUNITY AND THE CHALLENGE

North American Chemicals' trial application of our competitor's voice mail system has already demonstrated a tremendous opportunity to increase employee productivity and reduce long-distance costs. But any opportunity such as this also contains an inherent challenge: maximizing the potential payoff that the opportunity offers.

To gain the greatest possible benefit from the introduction of a voice messaging system, North American Chemicals should consider four key factors:

The system's ease of access and user -friendliness. Will employees and customers actually use it?

The professionalism of the image the system creates, both for individuals and for the company as a whole. Does the system enhance the company's image or detract from it?

The technical quality of the system. Is the system technically robust enough to accommodate future needs, adaptations, modifications, or enhancements, as North American Chemicals needs them?

The overall value of the system. Will it quickly and conveniently become an everyday tool? Will it be fully supported? Will it fit into the overall telecommunications system?

The challenge for North American is to select the system that offers the biggest payoff in terms of these key factors.

EASE OF ACCESS AND USER-FRIENDLINESS

Voice messaging systems have become standard business tools, and the technology behind these systems is evolving rapidly . Most of the enhancements have focused on making the systems easy to access and easy to use. Integration with wireless networks and multiple modes of access are important, particularly for mobile employees and those who work in factory or warehouse settings.

The voice mail system North American Chemicals has used for the past decade was a good system for its time and employees are relatively comfortable with it, even though they sometimes become frustrated with its limitations. Introducing a new system will inevitably produce resistance to change. By choosing a system that offers the shortest possible "learning curve," a system that is easy and quick to use, North American will enhance the success of the system and the value of your investment. Employees and customers alike will use the system, or resist it, depending on how easy it is to understand. If they don't use it, obviously it won't have a positive impact on productivity.

No system available today has a faster rate of acceptance among users than Vox Populi's voice messaging system. From the perspective of your customers, the Vox Populi is a refreshing change from systems that take them through endless menus of user prompts. In most cases, customers can reach the right person or department by entering five numbers or less. For your employees, the system will give them a double increase in productivity. With its simple, two-key forwarding function, the Vox Populi allows them to transfer calls and messages to a cell phone or another extension. Retrieving messages is just as simple, and the advanced functions, including message forwarding and broadcast forwarding, are all available through a menu of prompts. No cards, no booklets, no failure to use the system because employees can't remember what to do.

ENHANCING YOUR PROFESSIONAL IMAGE

The voice messaging system you select will often be your customers' first contact with North American. It's important to use a system that creates a professional impression. After all, first impressions are much easier to make than to undo.

The Vox Populi Message Network offers a number of features that will enhance the professional image of North American Chemicals and your employees:

Single-digit voice prompts that are simple to use. Other systems sometimes require entering four to ten digits. Think about the last time you called your airline mileage club. Was it a positive experience that made you feel like a valued customer? Or did you feel like you were being imposed upon? What about trying to reach someone at a credit card company? Your customers have many choices. They will do business with the company that gives them the best combination of quality service and quality products.

Greetings and instructions that duplicate real human speech. Many systems use synthesized messages. As a result, their messages sound robotic. The overall impression on callers is negative.

The opportunity to designate messages "Urgent" or "Private. " Good communications depends on the ability to communicate in the appropriate way.

Guest mailboxes. This is particularly useful for subcontractors .

Support twenty-four hours a day, seven days a week.

TECHNOLOGY TODAY:THE ISSUE IS QUALITY

In selecting your system, you need to evaluate the vendor as well as the system. Is this company a leader in the industry? Are they financially solid? Do they adhere to international standards? Will their system be open enough to accommodate future developments? Will the vendor continue to update the system technically, offering valuable enhancements without requiring you to replace the entire system?

The Vox Populi Message Network is a technically advanced system, designed to respond to the growing sophistication of voice mail users and to work with the growing range of wireless and voice-over-IP applications that are appearing on the market. It comes from one of the world's largest telecommunications companies with a solid financial standing and dedicated team of developers.

Unlike many in the market, we can provide you with equipment that resides in your facility, or can provide the same voice messaging functionality as a service, not requiring any investment in equipment on your part. We can even combine the two options, as appropriate, to support your manufacturing and operational facilities as well as your home-based employees around the world.

TOTAL VALUE:SYSTEM,SERVICE, AND SUPPORT

Vox Populi is unique in its ability to offer North American Chemicals a single source for all of your telecommunications needs. Whether you are looking for on-site equipment, voice messaging services, networking services, broadband applications, video and teleconferencing, computer/telephony integration, we can supply what you need. We have the products, services, and expertise to meet your needs now and in the future. And we have dedicated service and support available locally.

Your Vox Populi support team will manage all aspects of installation for you and will customize the system to ensure that it meets your specific needs at each location. Vox Populi will provide unlimited local training and remote teletraining and e-learning to familiarize your employees with the system's features and operation. In addition, we schedule regular Webinars to provide helpful hints on how to use the system even more effectively.

THE VOX POPULI MESSAGE NETWORK: ADVANCED FEATURES, LOWER COSTS

Installing a voice messaging system will enhance the productivity and accessibility of your sales and support team. And it will lower your overall telecommunications costs. The reason you should choose a system from Vox Populi is that it offers you the highest possible payoff.

Our system will give North American Chemicals an easy-to-use service that will be up and running in a minimum amount of time.

It offers flexibility and an open design to integrate with your computer networks, wireless phone systems, even voice over the Internet.

Your employees and customers will adapt to it quickly and use it eagerly because of its simple, intelligent design and advanced features.

As we document later in this proposal, the number of calls that drop off the sales line will go down, meaning a higher percentage of customers get through to your sales staff. That will give you the opportunity to close more business.

The Vox Populi system will enhance North American Chemicals' professionalism and will enable you to keep pace with your evolving needs.

Choosing Vox Populi's Message Network will maximize the success of voice messaging for North American. You will have the best available tool for communicating with your employees and customers.

When you consider the four key factors of user-friendliness, professionalism, technological quality, and overall value, you come to one inescapable conclusion: Vox Populi's Message Network is the best choice for North American Chemicals.

Figure 12-9:

Sample Executive Summary 1.

The bottom line is this: MidAmerican Metal Fabrications can improve productivity and increase overall profitability by an additional $5/ton.

EXECUTIVE SUMMARY

The American steel industry has become fiercely competitive during the past decade. Recent economic conditions have added to the challenge of operating profitably. MidAmerican Metal Fabrications' decision to install a new continuous slab caster is a vital step forward. It will enhance MidAmerican's productivity and profitability. In fact, industry analysts have already applauded the move:

Installation of a $115 million continuous slab caster at Silverman Group's MidAmerican Metal Fabrications plant has analysts bullish on the company's future....

According to Louis E. Hannen, an analyst with Wheat First Securities Inc. in Richmond, Va., "... the caster will increase annual capacity from 300,000 tons to about 500,000 tons." Silverman Group will also be able to produce a higher grade of product and won't have to sell as much lower-priced, substandard steel.

The Midwestern Business Courier , II: 40, p. 2

The challenge you face is to manage the selection and installation of a continuous caster to make sure you wring every bit of profit and productivity improvement from the new equipment. And that means not overlooking a vital element in the process: scrap handling.

Problems with the Current Process

Unless decisive action is taken quickly, your current scrap-handling system will quickly prove to be a limiting factor, one that reduces the actual payoff from your installation of a continuous caster.

There are four problems inherent in the current scrap-handling system:

The current system limits the number of grades of scrap that can be used in a given blend and does not provide an effective means for controlling the blend.

This means you will miss potential opportunities to reduce blending costs.

It also means that there will be inherent inconsistencies in the scrap mix, causing variations in melt chemistries and potential caster interruptions.

The current system provides only limited traceability when problems do occur.

The current scrap-handling system is inefficient and occasionally unreliable.

In some instances, scrap must be handled twice for the same operation because of remote storage in Area 17.

The current system cannot handle barge shipments, which require double handling.

The current system's unreliability has resulted in melt shop downtime.

The current scrap yard is logistically constrained.

The yard has limited flexibility, which puts MidAmerican Metal Fabrications at the mercy of scrap market fluctuations.

The yard has limited potential for future expansion.

The current yard offers limited capacity, which may result in dangerously low inventory levels once the continuous caster is running.

Limited capacity threatens the full productivity of the new caster system.

MidAmerican Metal Fabrications' responsiveness to customer demands will be hampered unless you can maintain adequate inventory.

Overcoming Scrap-Handling Problems

SCJ and Company proposes a solution to these scrap-handling problems. Our solution will maximize the productivity and profitability of your new continuous caster. In addition, our approach to scrap handling will enhance product and process quality. It will eliminate problems with scrap flow, inventory control, and material handling. It will provide greater traceability and product quality than you can achieve with your current system.

In our proposal we demonstrate the return on investment you can achieve by changing your method of scrap handling. The bottom line is this: A change in scrap handling now will dramatically improve productivity and increase overall profitability of the MidAmerican operation by an additional $5/ton. This system will pay for itself and still deliver additional profits.

SCJ and Company is so confident of our ability to provide a technically sound, profitable solution for MidAmerican that we are offering you a guarantee. This guarantee is outlined in Section III.

The attached proposal also provides the technical specifications of the system, showing how scrap would flow through the process and how blending would be enhanced.

SCJ and Company proposes to provide a range of services for MidAmerican Metal Fabrications:

These services will enable your melt shop to run at peak productivity and will open up additional work area, because you will be able to remove the cranes currently used in the melt shop area to handle scrap. In addition, the system we will provide will include a data link between the scrap yard and the melt shop providing for immediate communications, an online status report on the buckets ready for the caster, and permanent record storage for precise traceability.

The expansion of your capabilities through continuous casting is a necessary next step in the growth of MidAmerican Metal Fabrications' business. It's a vital move to maintain cost competitiveness . But unless that step includes new processes for scrap handling as proposed by SCJ and Company, continuous casting cannot deliver its full payoff to the bottom line: increased productivity, enhanced quality, and greater profitability.

We recommend adoption of this proposal now so that the new scraphandling process can be ready when your continuous caster goes on line.

Figure 12-10:

Sample Executive Summary 2.

EXECUTIVE SUMMARY

HOW HENDERSON FINANCIAL CAN SAVE MONEY ON SOFTWARE AND HARDWARE BY WORKING WITH ABECEDARIAN TECHNOLOGY LICENSING

Henderson Financial operates over forty offices nationwide where your clients come for financial planning and investment opportunities. All of these offices use a variety of hardware and software tools to maximize employee productivity. The problem you have recognized is that purchasing has been decentralized, resulting in Henderson paying higher prices than necessary and sometimes struggling to maintain consistency in the products being used by your employees.

Your goals are to obtain (a) the lowest prices on software and add-on hardware for your offices, (b) faster delivery, (c) accurate invoicing , (d) cost reductions through volume purchasing, and (e) a wide range of value-added services, including user training.

The answer: turn to Abecedarian Technology Licensing.

THE CHALLENGES YOU FACE

Like most organizations, Henderson Financial is experiencing growing pressure to cut costs. However, you must provide your employees with the technology they need to work efficiently . Abecedarian has the experience to help you balance the business issues identified below with Henderson's need to cut costs.

CONTROLLING COSTS

MANAGING SOFTWARE LICENSES

Companies face severe penalties if they are found to be using software for which they do not own appropriate licenses. In addition, companies find that employees sometimes purchase and install software on their office computers that is not approved for use by the corporation. Henderson needs a way to document licenses and control what software is installed in your offices.

SAVING MONEY ON TECHNICAL EDUCATION

IMPLEMENTING AN EFFECTIVE PROGRAM FOR REFRESHING TECHNOLOGY

Software and hardware are constantly evolving, but not every new product is worth investing in. Which innovations are most likely to pay off for you? Where is the most effective place to implement new technology? Is there a way to roll out new hardware and transfer existing equipment to smaller offices to conserve costs? Henderson Financial needs a partner with the ability to design and manage a program of technology "refresh" so that you take advantage of new technology in a prudent, cost-effective way.

ACHIEVING YOUR GOALS

Addressing these challenges will have a number of positive results on Henderson Financial's operations. In fact, you will see positive impact in your business performance, technical infrastructure, and employee performance.

IMPROVED CONTROL AND PLANNING

IMPROVED BUDGETARY PERFORMANCE

THE ABECEDARIAN SOLUTION

We are committed to helping you save money by reducing your software and hardware costs. As you know, by buying in small quantities , you typically pay the highest prices. But even if you were to consolidate all of your purchasing for the entire company, you would not be able to save as much as you will save by working with us. When dealing with the major suppliers of software and hardware, it's very difficult for a company the size of Henderson to obtain aggressive pricing. But Abecedarian can do it for you.

The answer is to use a volume leasing contract, which will assure you of the lowest possible prices. By aggregating all software and hardware requirements for all of our clients, Abecedarian is able to obtain concessions on price that you would never receive on your own.

In addition, outright purchases require significant capital outlay. By structuring your acquisition as a lease, you can cut your costs to just pennies per user.

One factor to keep in mind is that volume licensing contracts are cumbersome to evaluate and administer. However, they are our core competency. We manage the contracts for you, which keeps the entire process simple and straightforward.

We also provide you with a range of programs and supporting tools so you get the most out of the software and hardware you use. For example, we can perform a complete system audit to determine exactly what software and hardware you currently own, whether you have licenses for everything in place in your offices, and whether the versions you have are eligible for upgrades. We can also conduct security and virus audits to protect you from unauthorized access to proprietary data or from damage caused by the uncontrolled spread of malicious virus code.

Ours is a comprehensive offering. You can be assured that every element of our solution is focused on helping you achieve the lowest total cost of buying and supporting your computing infrastructure.

Figure 12-11:

Sample Executive Summary 3.
Body Copy
The actual "meat" of your proposal goes in the body. What should you address in this section? Here are some suggestions, but remember that the overriding rule should be that you provide exactly what your client wants to see in the order that he or she wants to see it. Avoid the temptation to "bulk up" your proposal by including lots of extraneous detail.
The technical section, which may include the technical details, functional analysis, operational description, design specifications, and implementation programs associated with your recommendation

The pricing section, which will include detailed costs and an analysis of return on investment or another form of cost justification

Detailed response to the questions and requirements of the RFP

Case studies, success stories, and past performance summaries

Related applications that have been successful

References to satisfied clients

Testimonials

The management plan, including project schedules, critical milestones, and the allocation of responsibilities among your firm, the customer, and other vendors , if any

Brief resumes of key personnel who will oversee or work on the project

Logistical and support issues

Warranties, service-level agreements, and risk-sharing options, if any

Documentation

Training plans
Not every proposal needs to contain all of this content. In fact, most of them won't. Include the elements that are of most interest to your customer and deal with them in their order of importance as the customer sees it. If you are responding to an RFP, use it as your guide. It may specify an order for the content in your proposal. Even if it doesn't, look at the sequencing of issues in the RFP and mirror that in your proposal.
Section Introductions
One of the most important areas of your proposal is the introduction you write to each major section. A short introductory paragraph, particularly if you highlight it with a box or shading, focuses the reader's attention, provides the reader with a transition from one major idea to the next, and gives you an opportunity to state your key themes.
Here's an example:
The following section addresses the specific features of our software and how users can customize the interface to meet their own requirements or preferences. Specifically, this section discusses the tools included in the standard package that make it easy for a user to modify the view of data. These tools reduce the time it takes to locate and process data, thereby increasing productivity.

This section also discusses how a system administrator can enable users to make modifications at the desktop level or can make modifications that affect the entire enterprise. This capability allows you to match the software to your specific work environment and requirements, eliminating the need for customization and reducing the amount of time the administrator spends configuring the product for individual users.