Participating in Web Discussions
PowerPoint's online collaboration capabilities don't stop with presentation broadcasts and online meetings. You can also access Office's Web-based discussion forums from PowerPoint as you can with all the other Office applications.
These forums work like a newsgroup or message forum and let you carry on a discussion with others without all of you having to be present at the same time. Web forums are there whenever you have a chance to check in to see what's new. It's handy to have the choice between the two approaches.
Starting a Web Discussion
To start a new Web discussion (or access a previously created one), choose Tools, Online Collaboration, Web Discussions. The Web Discussions toolbar appears (see Figure 18.20).
Figure 18.20. The Web Discussions toolbar provides all the functionality you'll need to conduct a Web discussion.

To start a discussion about your presentation, click the Insert Discussion About the Presentation button. PowerPoint asks you to specify a discussion server. Click Yes, and you'll see the Discussion Options dialog box (see Figure 18.21).
Figure 18.21. You can add new discussion servers here as well as configure what kind of information appears on them.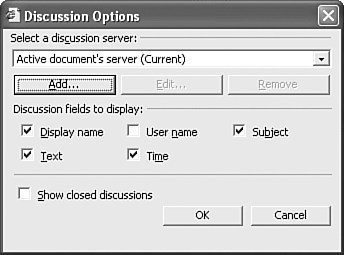 If you haven't set any discussion servers before, click the Add button to specify your first one. The Add or Edit Discussion Servers dialog box (see Figure 18.22) opens.
Figure 18.22. You need to type in the server name of your Office discussion server to access a Web discussion.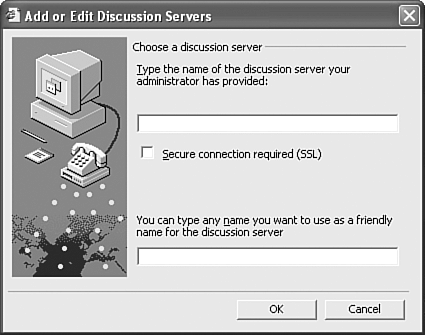 NOTE
Your network administrator must set up a discussion server ahead of time. A discussion server is a Web server with special software, called the Office Server Extensions, installed on it.
Type the server name that your network administrator has provided in to the top box of this window and, if you want, type an easy-to-remember name in to the bottom box of the window. This name will be your identity during the discussion. Then choose OK to finish this step.
PowerPoint returns you to the Discussion Options dialog box, where you can add, edit, or remove Office discussion servers, as well as decide which fields you'd like to see displayed on the discussion server. The default settings are usually adequate, so you can just click OK.
When you close the Discussion Options dialog box, you're ready to use the Web Discussions toolbar to control your discussion. Table 18.1 describes the buttons on this toolbar.
Table 18.1. Web Discussions Toolbar Buttons
| Button | Name | Description |
| --- | --- | --- |
| | Discussions | Displays a drop-down list of options enabling you to insert a discussion about the presentation; filters, refreshes, or prints the discussion; or redisplays the Discussion Options dialog box. |
| | Insert Discussion About the Presentation | Displays the Enter Discussion Text dialog box, which lets you enter a comment about the presentation. Comments appear at the bottom of the screen. |
| | Subscribe | Displays the Document Subscription dialog box, where you can tell the Office Discussion Server that you'd like to be notified by email when this document changes or when someone else adds a comment to the discussion database. |
| | Stop Communication with Discussion Server | Stops communication with the discussion server. |
| | Show/Hide Discussion Pane | Serves as a toggle to display or hide the discussion pane. |
| | Close | Closes the Web discussion. |