Adapting to new software can be painful, but Firefox makes it easy to transition away from your current browser. The developers of Firefox have purposely mimicked certain design elements and keyboard shortcuts of Internet Explorer and other browsers, and Firefox can import your settings, bookmarks, browsing history, and saved passwords.
This part opens with a brief overview of why Firefox is worth switching to and then walks you through the brief transition process. The chapters in this part help you on your way to a better browsing experience.
Chapter 1:

Why You Should Fire Your Old Browser

There's just one Internet, but there isn't one Internet experience. How safely, easily, and quickly you browse the Web is a function of the browser you're using. Firefox is the only one designed to meet the demands of a wired world, so if you're not using it, you're stuck in rush hour traffic - while 100 million others whiz by you in the carpool lane. But before I tell you why to change lanes , I tell you what a browser is.
What Is a Browser, Anyway?
Many people confuse a Web browser with a search engine, such as Google. It's a reasonable mistake because most daily browsing begins with a search. However, whereas a search engine finds Web sites, a browser displays them. Think of the browser as your window to the Web. It doesn't have specific knowledge about the scenery (like a search engine), but you need to look through it to see what's out there.
In addition to displaying Web sites, the browser provides tools to help you navigate among them. I talk about basic commands like Back and Forward in Chapter 2, but most browsers also include features like Bookmarks, which help you keep track of your favorite pages. Successful browsers hide the complex underpinnings of the Web and make surfing safe, pleasurable, and easy. Check out Figure 1-1.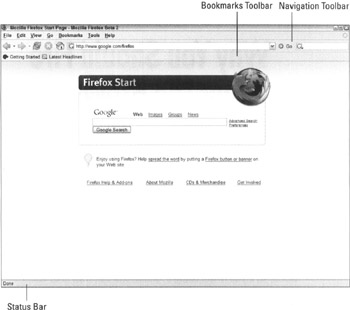 Figure 1-1: Firefox includes just the features you need, making the Web the center of attention.