The Switch
The Don cracked his knuckles, loosened up his wrists, and got down to business. To make sure he was on the same type of system he had seen before, he typed the universal command for help.

>HELP

   FORMAT : 

   COMMAND(S) : 

   MMI COMMAND(S)
   [ (UNIQUE            - "KEYWORD1 KEYWORD2 KEYWORD3")
     (GROUP             - "? ? ?")
     (ALL MMIS          - "ALLKEY")
     (TEXT FOR ALL MMIS - "ALLTXT") ] : ALLKEY
  ABOUT  ADDING  CELLS
  ABOUT  DELET   CELLS
  ACK    ALARM
  ACTIVA CELNET  LINK
  BUILD  CP      ROAMER
  CALL   TRACE
  CHANGE CELL    FEATUR
  CHANGE CP      MOBID
  CHANGE MOB     CELL
  CHANGE MTN     PHYLNK
  CHANGE TEST    ACCESS
  CHANGE USNAME
  COPY   DAN
  DELETE CELL    FEATUR
  DELETE CP      BILLID
  DELETE CP      CARIER
  DELETE CP      MOBID
  DELETE PASSWO
  DISPLA ALARM   DEFCON
  DISPLA CALL    RECAVL
  DISPLA CP      MOBID 
  DISPLA CP      SUBSCR
  DUMP   DISK
  HELP
  IDLE   MOBILE
  INIT   CRASH
  LOAD   DAN     MESSAG
  MANUAL TRUNK   TEST
  MODIFY SYNCH   LINE
  PUT    MOB     CHAN
  RECORD DAN     MESSAG
  REPORT BAD     SECTOR
  STATUS CALL
  STATUS NETWOR
  VERIFY MOB     NAILED

The list kept going. The commands scrolled down the screen like a waterfall. Over 1000 available commands. Most were self-explanatory, like CHANGE CP MOBID to change the phone number of the mobile phone or STATUS NETWOR to obtain the status of the system. Others were more obscure. For once, a help menu was surprisingly useful and gave The Don the ammunition he needed to complete his mission. It even listed diagrams on how to add or delete a cell from the network.
This was definitely the cellular switch he was looking for. And, judging by the command list, he had complete control. Beautiful.
From his previous score, he was already familiar with the DISP CP SUBSCR command, which was used to display specific information about a single mobile phone or range of phones. This was the best way to identify the phone number Knuth had given him.

>DISP CP SUBSCR
  Enter the single 7-digit MOBILE ID number or the range of
  7-digit MOBILE ID numbers to be accessed or DEFAULT
  [0000000 - 9999999, DEFAULT]
  :  7238424

MOBILE ID = 7238424    COVERAGE PACKAGE = 0      SERIAL NUMBER = 82A5CDC7
ORIGINATION CLASS = 1  TERMINATION CLASS = 0     SERVICE DENIED =  N
PRESUBSCR CARRIER = Y  CARRIER NUMBER = 288      OVERLOAD CLASS = 0
FEATURE PACKAGE = 4    CHARGE METER = N          LAST KNOWN EMX = 16
PAGING AREA = 1        VOICE PRIVACY = N         CALL FORWARDING = N
FORWARD # =            BUSY TRANSFER = N         NO-ANSWER TRANSFER = Y
TRANSFER # = 2022560   CREDIT CARD MOBILE = N    SUBSCR INDEX = 54768
ROAM PACKAGE =   15    LAST KNOWN LATA =  1      CALL COMPLETION = NA
CCS RESTR SUBSCR = NA  CCS PAGE = NA             VMB MESSAGE PEND = NA
VMB SYSTEM NUMBER = 0  LAST REGISTR = NA         VRS FEATURE = N
VOICE MAILBOX # =      NOTIFY INDEX = 0          DYNAMIC ROAMING = Y
REMOTE SYS ROAM = N    OUT OF LATA = N           PER CALL NUMBER = N
PRES RESTRICT = NA     DMS MSG PENDING = NA      SUBSCRIBER PIN = NA
LOCKED MOBILE = NA     LOCKED BY DEFAULT = NA

04:14:36  BS3YCT  7.2.1.0       TERM 4

The interesting thing about this entry is that the No-Answer Transfer feature was enabled. All calls coming into this mobile phone were being transferred automatically to another number.
The Don quickly fired up Mozilla in another window and went straight to Google. Could this forwarding number be identified? It sure could. And it was the first hit on the list.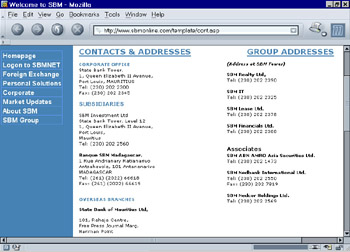 Identifying the Number
The phone number was a direct line into SBM Investment Ltd., a subsidiary of the State Bank of Mauritius. Whatever the Knuth was planning seemed to be much larger than The Don had imagined. It had piqued his interest and he made a mental note of the number. Then, he continued .
As Knuth requested , he wanted a list of calls coming into and going out of this mobile phone number. The CALL TRACE command provided exactly what he needed, in a friendly formatted display.

>CALL TRACE
MOBILE ID    : 7238424

--------     10:49:17     LINE = 0074   STN = 230
00:00:00     OUTGOING CALL
              DIGITS DIALED      226307888
00:01:28     CALL RELEASED

--------     18:55:10     LINE = 0053   STN = 230
00:00:00     INCOMING CALL      RINGING 0:04
              CALLING NUMBER     2634733033
              NAME
              UNKNOWN
00:05:19     CALL RELEASED

--------     01:12:45     LINE = 0069   STN = 230
00:00:00     INCOMING CALL      RINGING 0:02
              CALLING NUMBER     226307888
              NAME
              BIB
00:03:16     CALL RELEASED

--------     03:32:56     LINE = 0032   STN = 230
00:00:00     OUTGOING CALL
              DIGITS DIALED      2089767
00:00:47     CALL RELEASED

04:18:39  BS3YCT  7.2.1.0       TERM 4

The Don carefully transcribed the data from the screen to a small piece of paper. He folded it neatly and put it in his pocket. Hopefully Knuth would be happy with the results.
The final step was to remove the mobile number from the cellular phone database. As The Don noticed in the help file, a command existed specifically to do this.

>DELETE CP MOBID 
MOBILE ID    : 7238424

<< DELETE SUCCESSFUL >>
04:21:03  BS3YCT  7.2.1.0       TERM 4

And it was done. Weary and with bloodshot eyes, The Don stumbled out of Maxim s and made his way back to his flat. The sun was starting to come up, but what did it matter? His mission was complete.
When he returned home, The Don removed the SIM card from the back of the Nokia 6600 and stuck it through his crosscut shredder. The shredder never liked handling plastic cards and it wheezed and moaned as it blended the SIM card into unreadable tidbits of torn plastic.
Then he counted sheep.