Choosing Mobile Technologies
The computer industry has addressed users' demand for mobility in many ways. Users can read e-mail, surf the Web, and conduct business over the Internet using notebook computers, cell phones, personal digital assistants (PDAs), and even wearable technology built into clothing.
Two technologies have emerged as the leaders in connecting devices and networks while on the move: Bluetooth, a short-range radio technology for connecting devices, and 802.11, a set of IEEE standards for radio frequency wireless local area networks (WLANs).
Understanding Bluetooth
Bluetooth is a technology for connecting devices within a short range (about 10 meters ) using a radio link between the devices. Bluetooth-enabled devices, including Macintosh systems, keyboards, mice, and cell phones, can pair with each other in a manner that is user friendly and doesn't require cables. The Bluetooth Special Interest Group hopes that Bluetooth will one day replace the cables that currently connect one device to another.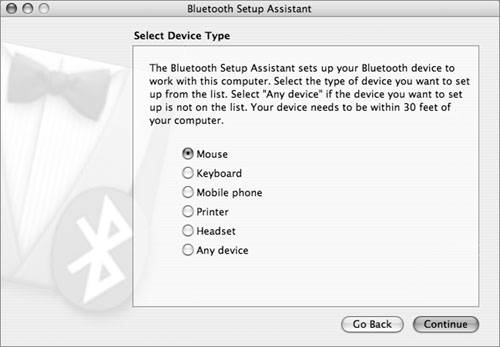 Other benefits of Bluetooth include simplicity, low cost, low power usage, and robustness.
Note
Bluetooth is standardized by an industry consortium called the Bluetooth Special Interest Group. The founding members of this group include Ericsson, IBM, Intel, Nokia, and Toshiba. Apple Computer is an associate member.
Bluetooth radio modules operate in the unlicensed Industrial Scientific Medical (ISM) frequency band at 2.4 GHz, which is a band used by many technologies. Bluetooth radios avoid interference from other signals by hopping to a new frequency after transmitting or receiving a packet. Compared with other systems in the same frequency band , including 802.11b and 802.11g wireless LANs, a Bluetooth radio hops faster and uses shorter packets. This means that Bluetooth operates well in environments with a lot of radio frequency activity.
When connected, Bluetooth devices allow users to upload and download files, access peripherals such as printers without using cables, listen to music on wireless headphones, and automatically synchronize contact and calendar information.
Mac OS X includes a Bluetooth File Exchange application that allows remote users to browse, upload, and download files from a specified directory on a Bluetooth-enabled Macintosh. Bluetooth File Exchange also lets a Macintosh user send files to other Bluetooth devices. Setting up Bluetooth connectivity and applications is easy to do, but there are security concerns, as discussed later in this lesson in the "Identifying the Security Risks of Mobility" and "Implementing Bluetooth Security in Mac OS X" sections.
Understanding 802.11 Wireless LANs
Whereas Bluetooth pairs two short-range devices so they can share information, 802.11 technology creates a WLAN permitting multiple devices to communicate over a distance of up to 50 meters. With the addition of a wireless access point, such as the Apple AirPort Extreme Base Station, devices can access the wired network and often the Internet, assuming that the wired network (or the access point itself) includes a router with Internet connectivity. Although 802.11 protocols support users communicating in an "ad-hoc mode" in a computer-to-computer network, it is more common to use an access point, which IEEE calls infrastructure mode .
Note
The distance listed here is 50 meters, but could be further under certain circumstances. It's best to simply assume that all wireless connection methods should be secured.
Like Bluetooth, 802.11 WLANs use radio frequency. The IEEE 802.11 Working Group has standardized the following WLAN technologies:
IEEE 802.11 operates in the 2.4 GHz frequency band, supports 1 to 2 Mbps, and uses direct-sequence spread spectrum (DSSS) or frequency-hopping spread spectrum (FHSS).

IEEE 802.11a operates in the 5 GHz frequency band, supports 54 Mbps, and uses orthogonal frequency division multiplexing (OFDM).

IEEE 802.11b operates in the 2.4 GHz frequency band, supports 1, 2, 5.5, and 11 Mbps, and uses high-rate DSSS (HR/DSSS).

IEEE 802.11g operates in the 2.4 GHz frequency band, supports 54 Mbps, and uses OFDM, but is not compatible with 802.11a, which also uses OFDM. (802.11g is compatible with 802.11b.)
Today, most WLANs use 802.11b or 802.11g. 802.11g is preferred by most users because it has a faster data rate. The IEEE is also working on a new standard, called 802.11n. The promise of 802.11n is longer range and even higher data rates. Whereas most WLANs today offer a maximum speed of 54 Mbps, 802.11n will approximately double that transmission speed to about 100 Mbps.