6.13. Adjusting the Levels
After you've spent some time working with the middle tones of your picture, you can turn your attention to the endpoints on the histogram, which represent the darkest and lightest areas of the photo.
If the mountains of your graph seem to cover all the territory from left to right, you already have a roughly even distribution of dark and light tones in your picture so you're probably in good shape. But if the graph comes up short on either the left (darks) or the right (lights) side of the histogram, you might want to make an adjustment.
Figure 6-10. Top: Here's a promising landscape shot that will serve as the basis for all the Adjust-panel manipulations described in this chapter. The camera was in Program mode, with Auto White Balance turned on. Unfortunately, you can see by looking at the histogram that much of the tonal information is bunched in the middle of the graph. As a result, the photo looks a little "flat," without much contrast.
Bottom: Step one in the repair job, then, is to move the Exposure slider a little to the right to improve the midtones. Because the graph in the histogram is elongated as a result, you've also improved the contrast.
To do so, drag the right or left pointer on the Levels slider inward , toward the base of the "mountain" (Figure 6-11). If you're moving the right indicator inward, for example, you'll notice that the whites become brighter, but the dark areas stay pretty much the same; if you drag the left indicator inward, the dark tones change, but the highlights remain steady.
---
Tip: Instead of dragging these handles inward, you may prefer to simply click the slider track itself at the outer base of the mountain. That's faster and gives you better control of the handle's landing point.
---
Figure 6-11. Here's that same photo, now showing the results of the second Adjust panel tweak: You've moved the endpoints of the Levels slider inward, boosting the shadow and highlight tones. In this case, moving them all the way to the point where they're touching the sides of the "mountains" would overdo it, creating too much contrast for this particular image. The base of the mountains is usually your target, but the visual results should always be your primary guide. Besides, you can always perform additional tweaks using the Brightness and Contrast sliders.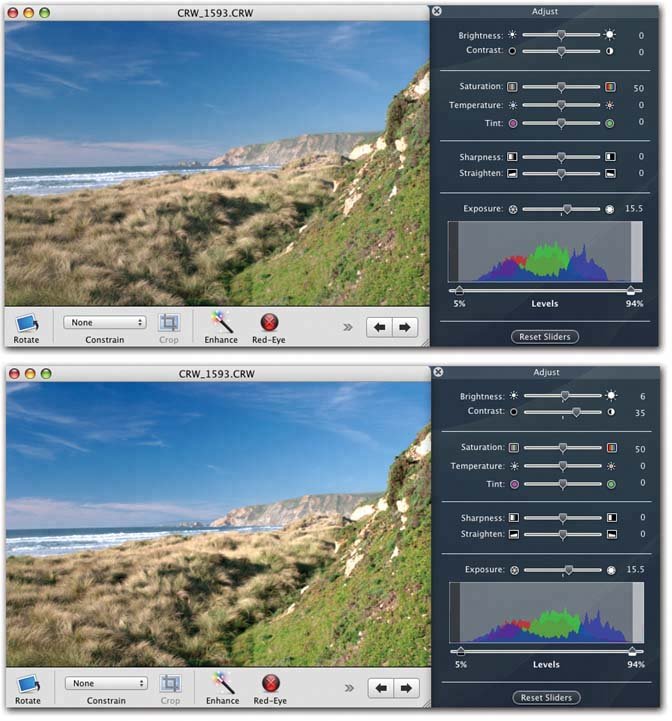 In general, you should avoid moving these endpoint handles inward beyond the outer edges of the mountains. Doing so adds contrast, but also throws away whatever data is outside the handles, which generally makes for a lower quality printout.