6.6. Cars
A car is probably the most expensive thing you'll ever buy (after a house); doing some Web research before you buy is practically mandatory these days. Besides, if you're going to whiz down the highway at 60 miles an hour in 3,000 pounds of steel , rubber, and plastic, safety should be a concern. And with gas prices persistently shooting skyward, you have to research mileage as well.
Well-known automotive magazines like Motor Trend and Car and Driver have posted their Buying Guide sections online (www.motortrend.com and www.caranddriver.com). These sites let you assemble your desired make and model from pop-up menus and then show you the technical specifications: curb weight, seating capacity, fuel economy, and so on. You can also price out a model with your own personal options. Or, if you're in the market for a used car, these sites offer used listings and reviews as well.
Here are some other rest stops on the road to automotive reviews and ratings:
6.6.1. Cars.com
Large portions of Cars.com (www.cars.com) are devoted to Research and Shopping Advice. You can read helpful articles like "Things to Consider When Choosing a Pickup Truck" and peruse lists such as "Best & Worst Gas Mileage." Payment calculators and links to nearby dealers await when you're ready to make a decision. And if you're looking to sell your car, Cars.com lets you place an online ad for as little as .
6.6.2. Kelley Blue Book
The infamous Blue Book started out as a small printed list passed around among California car dealers in the 1920s. It's a list of car prices that's become the definitive national reference for deciding the worth of a used caran essential resource when buying or selling one. In convenient World Wide Web form (www.kbb.com), Kelley Blue Book has blossomed into an inviting place to read up on cars old and new. The site includes reviews, ratings, and yes, the Blue Book values.
6.6.3. Car Talk
The NPR radio show where Tom and Ray banter about cars, ex-wives, and life in general has its own Web site at www.cartalk.com. You can read the results of Tom and Ray's test drives (Figure 6-4), and their thoughts on new models. If you have a specific automotive question, take it to the message boards or the instant Q-and-A system.
Figure 6-4. You learn a lot about cars when you spend a few decades fixing them, and Tom and Ray love sharing their wisdom. You can also hear an audio stream of the latest episode of Car Talk in case you missed it.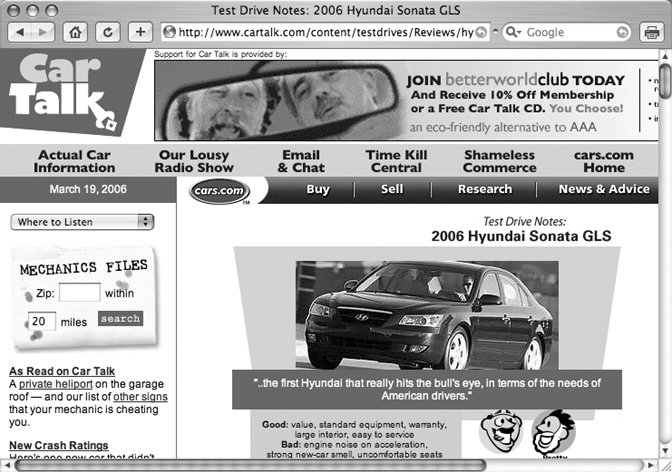 6.6.4. The Family Car
The Family Car (www.familycar.com) may not be your best bet if you're looking for a zippy little two-seater. But the site has a trunk-full of articles on car care, shopping advice, driving safety, highway tips, and other roadworthy stuff. Active user forums provide a place to share and care.
WORD TO THE WISE
Consumer Reports : The Online Lowdown
Consumer Reports magazine has been the careful shopper's bible since 1936, and it now has an online edition at www.consumerreports.org. Published by Consumer's Union, a nonprofit consumerrights advocacy group , the magazine rates everything from baby bottles to recreational vehicles.
CR is an independent organization, and so it doesn't accept paid advertisements or manufacturer freebies that could sway opinions . Instead, the company buys all of its own test products in stores, just as a consumer would, and puts them through rigorous evaluations in its laboratories.
Over 100 testing experts are employed to bang on stuff and write up intensely detailed reports on all aspects of the product. The staff also polls anonymous shoppers for their opinions and experiences. The result is about the most objective product evaluations you're likely to find.
You can get a glimpse of the material on the site without a subscription, or sign up for a month () to do short- term product research. An annual subscription costs around . (People who subscribe to the print magazine get a Web discount.)