You can choose the outline level for your heading by using the Outline Level list on the Outlining tab. Simply click in the heading to which you want to apply the outline level and then click the Outline Level arrow to display the list, as shown in Figure 9–8. Click your choice, and the format is applied to the heading.
Promoting and Demoting Headings
Once you have text in your outline, you can easily change outline levels, moving a heading from level 1 to level 2, for example, or from body text up to level 3. Put simply, promoting a heading takes it one level higher in the outline, and demoting a heading moves it one level down in the outline.
Each time you click the Demote button, Word moves the heading one level down the outline level scheme. Outline view shows the change by indenting the heading and changing the formatting. Conversely, the Promote button raises the heading level of the selected text until you reach Heading 1, which is the highest outline level available.
When you want to demote and promote in larger increments , moving a heading all the way to the topmost level, for example, or changing a heading to body text, use the Promote To Heading 1 or Demote To Body Text buttons .
When might you want to promote or demote text? You could be working on a report, for example, and realize that a topic you've placed at a Heading 2 level is really part of another topic. You can first change the heading level to reflect the level the heading should be to fit in the outline where you want it to go, and then you can move the selection to that point. You can also drag and drop the selection where you want it to appear in the outline; you may need to adjust the heading level depending on where you drop the section.
Displaying Outline and Print Layout View at the Same Time
You can easily view your document in both Outline view and Print Layout view at the same time. Just drag the split bar (located at the top of the vertical scroll bar) down the screen to open another window displaying the current document.

To change that area to another view, click in it to give it focus and then select the view you want (for example, Outline view). Figure 9–9 shows how the document appears when you are viewing a document in both Print Layout and Outline view.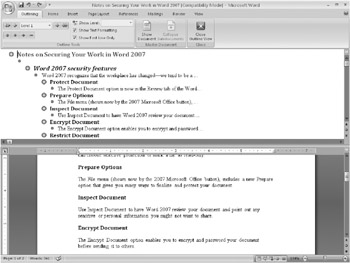 Figure 9–9: Use the split bar to open another window and display the current document using different views.