Is your Tools Options dialog open ? Good. As you can see, the dialog contains six tabs: Capture, Video, Audio, Camera, Hotkeys, and Program. Note that the Capture tab comes up first by default. As a shortcut, if you know which tab you want to work in prior to opening the Tools Options dialog, you can click the arrow next to the Options tool, and then actually select a particular tab from either the Tools Options or the Effects Options dialogs, as seen here: Let's discuss these tabs.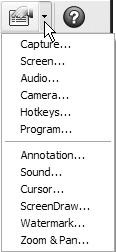 Every Options tab is available in one handy list.
The Capture Tab
The Capture tab actually has a dual function, controlling both how files are saved (File Options) and how the recording is actually executed (Capture and Performance Options).
File Options
Let's begin with the File Options. Starting with version 3, the Camtasia Recorder introduced a new file system to incorporate streams of additional content without making you contend with a gazillion files. Now you have a choice between the industry-standard AVI files to which you've grown accustomed (if you've used previous versions, that is) and proprietary CAMREC files, which encapsulate both the screen video and, if desired, its corresponding camera video as well as video markers into one handy file. In the future, it's likely that CAMREC files will be expanded to include additional streams of data. For now, which format you choose depends on your specific needs. If you don't need to include your face as part of your video or add markers at record time, and you would like the ability to import your video into third-party editing applications (Adobe Premiere, Sony Vegas, etc.), then AVI is for you. If, however, you want to keep everything within Camtasia Studio, or if you need to include camera video or markers, then choose CAMREC.
To choose between AVI and CAMREC, just click the corresponding radio button. If you try to access any of Recorder's marker or camera video features, you will receive an error message if AVI is selected here. No worries - just come right back and change it to CAMREC.
Notice here that you also have a button labeled File name options… available to you. The options contained in the dialog that follows can really help you streamline your work, and here's how. By default, the Camtasia Recorder has a specific way of handling your file data. It prompts you for a file name upon saving, and opens to the most recent folder you last saved to. This is adequate for most users. In fact, most regular users aren't even privy to the fact that these settings are adjustable. Little do they know the files can be automatically saved without having to bother with this dialog at all.
Normally, when you finish your recording, you are prompted to save the file. You must give it a name and specify the desired folder (if it differs from the folder to which you saved last). Ask for File Name is the program's default. You can, however, set your Output File Name to be automated. Choosing Fixed File Name will always save your file under a particular name, automatically overwriting the previous iteration. When you clicked on Fixed File Name, did you happen to notice that the Output Folder field became active? Whenever using Fixed File Name, you must specify an output folder. You can do so by clicking the folder icon next to the Output folder field to browse for the folder, or simply click the field's drop-down arrow to choose from a list of usual suspects . Keep in mind you will get no warning that you're overwriting your old file; Camtasia Recorder will just do it. This method is particularly handy if you're the sort of person who does a million retakes until the video sequence you're working on is perfect (just remember to change the file name here when it finally is perfect, so that you don't go overwriting your perfect clip). So, if you've selected this option, the Recorder already knows both the name of your file and the location when recording, and as such you will not be prompted upon saving. At all. So, if you ever start a new video session, finish the recording, and don't get the expected Save As… prompt, this tab is the first place to troubleshoot.
The final file output option is Automatic File Name . With this method, you specify a prefix (some project- related word or acronym), and the Camtasia Recorder will save the file with your chosen prefix plus a three-digit number, starting with 001. With each successive file save, the Recorder automatically increments this number so that no existing files get saved over by your new file. Even if you start a new recording session several days later, the Recorder will not "start over" and inadvertently overwrite your old files. It quickly scans your output directory, finds all files with your established prefix, and then increments one digit upward from the highest number it finds. So even if you've moved or deleted some files, all files in your directory will be listed sequentially from first to last.
Capture Options
Let us move on to your Capture Options , which will help give you a finer level of control over exactly how the capture is executed. Here we have a number of check boxes:
Minimize before starting capture. Checking this option gets the Camtasia Recorder window out of your way when recording is engaged and brings the window back when the recording is paused or stopped . This will ensure that you don't inadvertently capture the Recorder window instead of the desired application. This setting is on by default.

Pause before starting capture. Picture this: When starting your screen capture, the capture rectangle appears and recording begins. The problem is, the capture rectangle is a different size or in a different position than expected, and capture is effectively ruined before it has even begun. Pausing before starting capture circumvents this issue by starting the Recorder in paused mode when activating the capture. That way, you can tell ahead of time if the capture rectangle will encompass all the elements you want recorded and, just as importantly, make sure that no unwanted items get caught inside the rectangle. Also, if the location of the capture window needs adjusting, you can do so before recording begins by clicking and dragging one of the rectangle's corner angle handles. This setting is off by default, but I personally always keep it enabled. It lets me do one final sanity check before I start my session.

Hide capture rectangle. Normally, the capture rectangle is visible during record and paused modes (solid green when paused; blinking green and black while recording). When this option is enabled, the capture rectangle is invisible. In fact, the only visible indication that you're recording is the Camtasia Recorder icon in your system tray, which blinks red and green during capture. Only when paused is the capture rectangle visible (in solid green). Why would you want to turn off such a helpful visual indicator like the capture rectangle? Well, you may find that even the corner handles of the capture rectangle get in the way of desktop elements, and it's nice to make them invisible for an unobstructed view. You may also find the incessant blinking an annoyance, especially on longer captures. And finally, some screenshot applications and other graphic applications can auto-select individual objects on the desk- top, and the capture rectangle can confuse the program, as it sees the capture rectangle and everything inside it as one large object. Hiding the capture rectangle will let you perform the capture while preserving this auto-select functionality. This option is off by default.

Solid capture rectangle. This check box will change the capture rectangle into a solid rectangle rather than one with angles at each corner. That way, you can have a pixel-exact view of those elements that are included in the capture. If both Hide capture rectangle and Solid capture rectangle are checked, the capture rectangle will be invisible during recording and solid when paused. This option is off by default.

Report dropped frames . This is a handy option that will help you monitor how well your system is coping with the capture, telling you in the Recorder's Statistics and Properties area just how many frames the system couldn't capture due to performance issues.

According to these statistics, we haven't dropped a single frame. Yea!

For weaker systems, this is a good way to quickly tell if you're getting in over your head in terms of your Recorder settings or the content you're trying to capture. Obviously, if you choose to enable this option, don't also check Minimize before starting capture, as the Recorder window needs to actually be visible during recording for it to be of any use. This option is off by default.

Round frame size to a 4 pixel boundary. When compressing your videos, several video codecs (Microsoft Video 1, among others) require that all videos have horizontal and vertical pixel dimensions that are in multiples of four. The TechSmith Screen Capture Codec (TSCC) does not have this limitation. But even if you're only ever planning on using TSCC for your captures (and good for you if you are; that's exactly what you should be doing!), you may want to switch to a different codec when producing your final project, and it's nice to have all your bases covered. Unless you absolutely need to have pixel-exact captures, this limitation shouldn't trip you up very often - the heights and widths of every commonly used screen resolution just happen to all be divisible by four, anyway. This option is on by default.

Capture layered windows . There are some translucent or irregularly shaped windows, such as the Office Assistant in Microsoft Office, that appear to "float" above the other windows, completely untethered to a standard rectangular window. It's actually not far from the truth - these are called layered windows , as the content is actually rendered on a separate layer above the desktop action.

Layered windows such as Mr. Clippit here can be readily captured when this option is checked.

Checking this option will allow Camtasia Recorder to record both the desktop screen activity and this additional layer. With it, you can literally capture everything you see on your screen. So why not leave it on all the time? Well, capturing these additional layers can really take a toll on your system performance, and your maximum frame rate will definitely take a hit. If you're not recording a video that features any layered windows, it's best to keep this option off until you really need it. It is off by default.

Show toolbar underneath capture rectangle during recording. By default, whenever you're performing a screen recording that doesn't consume the full screen, Camtasia Recorder places a small toolbar just below your capture rectangle that lets you quickly pause, resume, stop, etc. It you never use this toolbar, you can turn it off permanently by clearing this check box.
Performance Options
Finally, we come to Performance Options . As you can see, there's really only one option: Disable display acceleration during capture . This option keeps your system from choking during recording. If you look in your Statistics and Properties area and see that your captured frame rate is only 3 or 4 fps when it should be 15, chances are you're recording with display acceleration enabled. Disabling should bring your actual fps in line with the frame rate you specified.
Why does this make such a difference? When working with your computer, your system normally relies on your video card to assume the load in displaying images on your screen. Especially for processor- intensive programs like games , video, or CAD applications, your video hardware uses display acceleration, which optimizes all those little bits to efficiently travel from your system memory to your video memory. For just about every application except screen capture, this tends to speed things up considerably. However, for screen capture and screen recording applications like Camtasia Studio, the data needs to flow in the opposite direction, from video memory to system memory. Like a fish trying to swim upstream, the data flow of hardware acceleration actually works against the Camtasia Recorder doing its job. Following our " river " analogy, disabling your hardware acceleration calms these waters, giving the Recorder a much easier time of recording your screen data. In fact, disabling hardware acceleration is probably the single most important thing you can do to improve your maximum frame rate.
Note that checking this option disables the display acceleration only during the recording process (i.e., the program is either in record or paused mode). You will see the screen quickly and temporarily go black when first entering record mode, and again when stopping the recording. This is from the Camtasia Recorder turning the display acceleration off and then back on again when finished. If you're doing multiple takes, this constant screen flashing can get old rather quickly. This is why I generally tend to turn off the display acceleration globally, which is a setting in Windows, and it affects all applications.
Here's how to globally disable your display acceleration :
Choose Start , and then select Control Panel . Open the Display Properties dialog by double-clicking the Display icon.

Click the Settings tab. This is the tab that controls the screen resolution and color depth of your monitor. In the lower right-hand corner of the dialog, you will see the Advanced button. Give it a click.

Click the Troubleshoot tab. Under Hardware Acceleration, drag the slider from Full to None . Click OK .

At the end of your session, repeat steps 1 through 3, this time dragging the slider from None back to Full .
One final note about hardware acceleration: Some applications, such as games, media players, and CAD programs, need hardware acceleration in order to function. If the application you want to record refuses to run, you'll need to keep the display acceleration enabled. You can still record it, but you may need to make some concessions . Please see the sections called "Recording Games" and "Recording Media Player Content" in Chapter 5, "Recording Your Screen."