Architecture of Vo802.11: Putting It All Together
What is the architecture for an alternative to the PSTN? The PSTN is comprised of three elements: access (the wires to a residence, for example), switching (the switches in the central office), and transport (long-distance ATM networks or IP fiber-optic backbones). Figure 6-2 shows how voice services are handled via an alternative network where access is performed by 802.11 (or associated protocols), switching is done by a softswitch, and transport is handled by IP fiber- optic backbone. The common denominator in this alternative to the PSTN is VoIP. Anywhere access can be made to an IP stream, VoIP is possible. Softswitch technologies make managing voice traffic over an IP network possible.
For the application of Vo802.11, it is important to first assess where demand occurs. The largest and most effective opportunities for Wireless Fidelity (Wi-Fi) telephony are in the enterprise and vertical markets. In these areas, wireless LANs (WLANs) have been adopted and mobile users are easily identified. These businesses have control over the coverage area, bandwidth utilization, and QoS implementation. The users have access to the corporate telephone system, giving Wi-Fi users the same features and accessibility as their wired peers. It is cost effective and efficient to leverage the investment in WLANs by adding wireless telephones. When the cost of Wi-Fi telephones can match what is already available at the local superstore, and low-cost residential IP telephone service is readily available, Wi-Fi telephony will emerge strong in the home. The following sections describe enterprise architectures that could potentially morph from enterprise to residential applications. [15]
Vo802.11 Phones
A more hybrid approach is Vo802.11 technology, such as the wireless PBX interfaces from SpectraLink and Symbol. In this scenario, 802.11 handsets interface with an 802.11 gateway located in front of the legacy PBX. The wireless handsets free employees to roam around the premises (such as medical professionals in a hospital, warehouse workers, or knowledge workers on a corporate campus). Figure 6-9 details that architecture.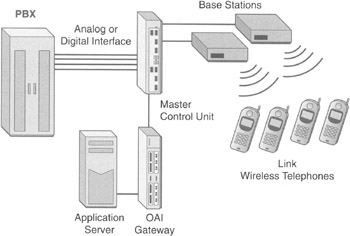 Figure 6-9: SpectraLink 802.11 phones and a PBX interface Source- SpectraLink
According to a recent Cahners-InStat report, additional demand from verticals such as education, healthcare, retail, and logistics will help the overall voice over WLAN market expand to over 80,000 handset shipments in 2002, a significant jump from the 20,000 shipments in 2001. Furthermore, InStat/MDR reports that annual shipments of Vo802.11x handsets are expected to pass half a million units by 2006. [16]
At the time of this writing, the retail price of some Vo802.11 handsets is about 0 each. This limits their market to certain verticals such as healthcare, education, and warehousing where a demonstrable tradeoff exists between the expense of handset versus the employee being mobile in the workplace. The limited market for Vo802.11 handsets keeps prices high. If the technology were to reach a mass market, driving the production of those handsets, then the cost per handset would drop.
One potential solution to the high cost of Vo802.11 handsets is to use VoIP software on wireless modem-equipped PDAs. Although these high-end PDAs cost upwards of 0, they offer great utility in being PDAs, telephones, Short Message Service (SMS) devices, and MP3 players.
PDA as an Office Phone via an IP-PBX
A number of ways are available for transmitting voice in 802.11 networks. The simplest approach is to treat the 802.11 network like any other IP stream and route VoIP using VoIP equipment. Software products from Pocket Presence and Global IP Sound reside on handheld devices such as Compaq's 802.11-capable iPaq. These devices present an evolution where voice is simply one more computing function of a PDA.
One barrier to the acceptance of the PDA as a Vo802.11 device has been incorporating call control. One solution is to incorporate an IP-PBX using PDAs as Vo802.11 handsets. New-generation IP-PBXs are more cost competitive (at less than 0 per user ), resulting in a return on investment (ROI) in excess of 100 percent per month. Equally important, they are easy to install and operate (circuit-switched PBXs are not).
These newer IP-PBXs use PDAs as office telephones. Many PDAs contain a sound card with both a microphone and a speaker. Connecting an ear-bud to a Compaq iPAQ PDA, for example, gives it functionality comparable to a cell phone. Software on the PDA converts analog voice to a digital stream that is routed via the IP-PBX to its final destination, which may be another PDA, a computer, or a regular phone. When the voice traffic is routed to another PDA or computer, it travels over the Internet or corporate network, thus saving toll charges.
The PDA can communicate with an IP-PBX using a standard Wi-Fi card, thus making it mobile within the office or wherever a Wi-Fi hot spot is available. The screen of the PDA makes a software-based phone, or softphone, very attractive. The graphical user interface (GUI) is much easier to use than a standard phone (or even an IP phone). Some softphones also provide for self-service, where options can be personalized, such as a voice-mail greeting or on-hold music without calling the telephone system administrator (who probably would have to call the vendor or the distributor). Some of the softphone packages also provide advanced communication features such as identifying the participants and speaker(s) in a conference call (see Figure 6-10). [17]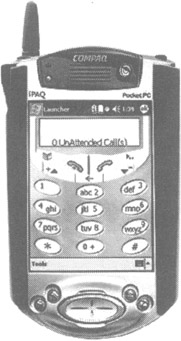 Figure 6-10: A PDA loaded with softphone is a cost-effective Vo802.11 handset.
[15] Geri Mitchell, "Wi-Fi Telephony: Wireless Voice over IP Presents New Opportunities, Challenges," a white paper from SpectraLink, wwwspectralink.com May 2002.
[16] Cahners-InStat, "Voice over Wireless LAN: 802.11x Hears the Call for Wireless VoIP," April 23, 2002.
[17] Percy Rajani, "An IP-PBX Helps Turn Your PDA Into an Office Phone," PDA Planet Magazine , an article available online at www.planetpdamag.com/content/103002ve.htm October 30, 2002.