Router Ports and Connections
In a central headquarters, where network segments converge, a larger router with a greater capacity to handle large volumes of network traffic is used. A typical router found in many corporate environments, for example, is the Cisco 2505 series. This router comes in several modelsto accommodate different network interfacesand can provide for both Ethernet and Token-Ring support. The Cisco 2505 appears in Figure 10.3, from the rear, so that you can see the physical connections.
Figure 10.3. A router usually contains multiple interface connections to join different network segments.

In this figure, you can see that the 2505 model provides for eight UTP Ethernet connections on the left side that can be used to connect either individual computers or switches (using crossover cables that swap the transmit and receive wires).
Tip
When configuring a router, you need to supply information about each port, or network interface, that is used. Typically, each port is named to indicate its use. For example, the Cisco IOS (Internetworking Operating System) software uses E0 to represent the first Ethernet port, E1 for the second, and so on. Serial ports are denoted using an "S" (S0, S1, and so on).
Other local area network interfaces you will find on other models in this series of routers include Token-Ring connectors (usually a DB-9 connector) and Attachment Unit Interface (AUI, usually a DB-15 connector) used to connect an Ethernet transceiver to the router.
Near the middle of Figure 10.3 are two 60-pin serial connections (DB-60 connectors) that can be used to connect to wide area networks. These connections usually are made to either a modem or a CSU/DSU that interfaces with the high-speed link. Like LAN ports, different models allow for other kinds of WAN connections. For example, the 2500 series includes support for Basic Rate ISDN to connect your office to a WAN.
In Figure 10.4, you can see a close-up of the serial ports, along with two RJ-45 ports.
Figure 10.4. Serial connections allow you to connect a router to wide area connections while the console port allows you to configure and manage the router.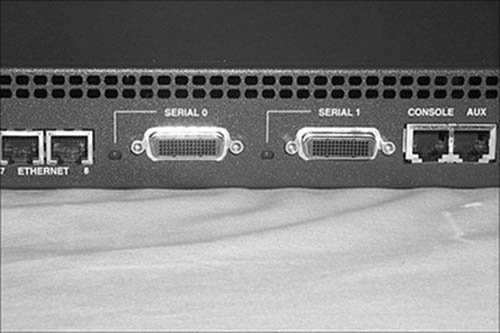 Next to the WAN serial connections are two RJ-45 ports labeled CONSOLE and AUX. The console port is used to connect a terminal to the router for configuration and management purposes. The terminal you use can be either a dumb terminal (such as a VT-series terminal) or a terminal emulation program running on a PC. Either way, you'll probably also have to obtain an adapter to convert the RJ-45 connector to the type of serial port used on your terminal or PC serial port. Standard serial port converters might or might not be included with the router, so be sure to check the accessories list.
The AUX port can be used to connect a modem to the router. This can be handy for dial-on-demand routing, for infrequent connections to remote sites that don't need a full-time dedicated connection.
Caution
Although you can connect a modem to the console port, this is not always a good idea. Some routers, such as the Cisco 2500 series we're discussing here, don't support RS232 modem controls. This means that when a user using this port logs out, the modem connection is not automatically dropped. If another call comes in shortly afterward, it's possible to access the router without knowing the administrative password, because the session is still in effect.
If you want to use a modem to control the router, make sure the router supports RS232 modem controls.
The Cisco 2505 router is designed to handle a variety of connections and network types. However, if your network is strictly TCP/IP and uses UTP Ethernet cable, you won't need the DB-60, AUI, or other types of connections supported by the 2505. Other types of Cisco routers use RJ-45 ports or USB ports to connect to newer types of networks.