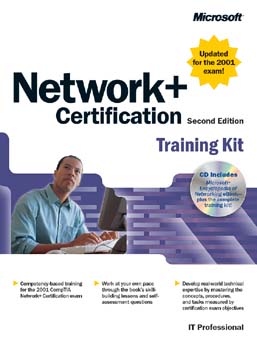 Copyright © 2001 by Microsoft Corporation
PUBLISHED BY
Microsoft Press
A Division of Microsoft Corporation
One Microsoft Way
Redmond, Washington 98052-6399
Copyright © 2001 by Microsoft Corporation
All rights reserved. No part of the contents of this book may be reproduced or transmitted in any form or by any means without the written permission of the publisher.
Library of Congress Cataloging-in-Publication Data

Network+ Certification Training Kit.--2nd ed.

			p.  cm.

		Includes index.

		ISBN 0-7356-1456-3

		1. Computer networks--Examinations-Study guides.  I. Microsoft Corporation.

 

	TK5105.5 .N4652  2001

	004.6'076--dc21	2001044545

 
Printed and bound in the United States of America.
1 2 3 4 5 6 7 8 9 QWT 6 5 4 3 2 1
Distributed in Canada by Penguin Books Canada Limited.
A CIP catalogue record for this book is available from the British Library.
Microsoft Press books are available through booksellers and distributors worldwide. For further information about international editions, contact your local Microsoft Corporation office or contact Microsoft Press International directly at fax (425) 706-7329. Visit our Web site at www.microsoft.com/mspress. Send comments to tkinput@microsoft.com.
Active Directory, Microsoft, MS-DOS, Windows, and Windows NT are either registered trademarks or trademarks of Microsoft Corporation in the United States and/or other countries. Other product and company names mentioned herein may be the trademarks of their respective owners.
The example companies, organizations, products, domain names, e-mail addresses, logos, people, places, and events depicted herein are fictitious. No association with any real company, organization, product, domain name, e-mail address, logo, person, place, or event is intended or should be inferred.
Acquisitions Editor:
Thomas Pohlmann
Project Editor:
Karen Szall
About This Book
Welcome to the Network+ Certification Training Kit. This training kit introduces the basic concepts of computer networking. It is designed to prepare you to take the Network+ Certification exam administered by the Computing Technology Industry Association (CompTIA). The Network+ Certification program covers the networking technologies most commonly used today. It measures the technical knowledge of networking professionals. Passing the Network+ Certification exam means you are certified as possessing the basic knowledge and skills needed to work in the computer networking field. However, this book is not just about getting you through the exam. The lessons in these chapters also provide you with knowledge you will really use when working on networks.
Each chapter in this book is divided into lessons. Most lessons include hands-on procedures that allow you to practice or demonstrate a particular concept or skill. Each lesson ends with a short summary and a set of review questions to test your knowledge of the lesson material.
Intended Audience
This book is for people aspiring to have careers as network administrators or support technicians who want an objective assessment of their skills and would like certification of their accomplishments. The audience for this book ranges from people with little or no actual experience in network administration to individuals who are working in entry-level to intermediate positions in the field. This book can also help you prepare to take the related Network+ Examination N10-002.
Prerequisites
There are no official prerequisites for taking the Network+ Certification exam or for using this book, but you are expected to be familiar with the workings of personal computers and have at least a basic idea of what a data network is and why it's useful. In some ways, the Network+ Certification exam can be thought of as the next step after CompTIA's A+ Certification examination. That exam measures a user's knowledge of personal computers and his or her qualifications to work as a computer service technician. The A+ Certification exam is not a prerequisite for this self-paced training course, but the knowledge gained in preparing for and taking that exam would certainly help you in your preparation for the Network+ Certification exam.