Authors: Shepherd C
Published year: 2003


Pages: 50-51/198
Skilling Up – Learning About E-Learning
E-learning provides some exciting new possibilities for the training department, but to really take advantage of these will, in most cases, require a radical review of available competencies and an up-skilling programme aimed at the principle job roles of e-learning - manager, developer and e-tutor. In this chapter, I look at the skills needed to make e-learning a success, at the issues involved in bringing these skills in-house, and at the opportunities currently available in the UK for training in e-learning skills.
New skills – who needs them?
In many ways, as far as trainers are concerned , e-learning is just 'more of the same' – the same mountain of training needs, the same demanding learners, the same inadequate budget and the same impossible time constraints. What's changed is a promise. The promise that, by making use of computers and networks to assist us in managing and delivering our training, we could meet a higher proportion of these needs, more quickly and more cost-effectively. That's the promise.
The reality, of course, is that things are never that simple. First of all we have to create the infrastructure necessary to support e-learning, which may mean new hardware for some and possibly a learning management system. Then we have to effectively integrate e-learning into our overall learning strategy, taking best advantage of what technology has to offer without sacrificing the good things we've been doing so far. Next we have to source the content, which may mean buying off-the-shelf, but often means building something from scratch, a task that is quite different from putting together an instructor-led course. Lastly, we have to overcome cultural resistance, often from our own department, and then enthusiastically support the new training solutions so people actually use them. All in all, not quite business as usual. Same business, same customers, completely different business model. Skilling up for e-learning is a must-do activity for just about every training department.
What skills?
To fulfil all the demands of an e-learning project requires many different skills, certainly more than you can reasonably expect of any single person, however multi-talented. These skills can be thought of as more or less pedagogical (concerned with learning), technical (concerned with the computers and the networks) or creative ( concerned with the development of engaging content). At the centre of these three sits what is perhaps the most difficult skill of all – integrating all this together through strategic and project management.
As you can see from fig 1, the e-learning skills triangle, some skills sit at the extreme corners of the triangle, and these tend to be best left to dedicated professionals. In the technical corner, we have programming and systems integration; in the creative corner, animation and audio-visual development; and in the pedagogical corner, e-tutoring and instructional design. Why leave these skills to specialists? Because that way you get the best work, from people who live and breathe their subject and spend their time with like-minded souls. Don't make programmers do learning design, or illustrators install your LMS. Bring in the experts when you need them, for as long as you need them.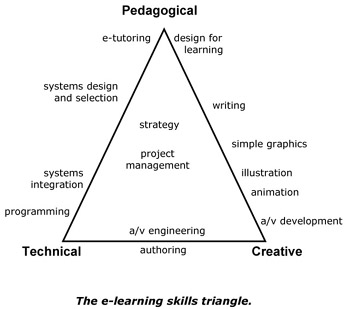 Figure 1: The e-learning skills triangle.
An e-learning project brings together a mix of pedagogical, technical and creative skills. At the three extremes are skills which are probably best left to dedicated professionals. Towards the centre are the more generalist and management skills.
Where does that leave you, the trainer who wants to take an active role in e-learning, who might even see their career as a dedicated e-learning professional? Well, first of all, chances are, that if you've received formal education or training as a teacher or trainer, then you're well equipped to operate in the pedagogical corner, as a designer of e-learning content or as an e-tutor. You will still need some e-skills, to help you apply your past experience to the new technology, but you'll be well on the way.
If you're more technical, you could play a more active role with the technology, helping to design and select the most appropriate software tools and interfacing with the techies. If you have luvvie tendencies, there are opportunities to express your writing skills or to work on the creation of the visual material (probably not illustration or animation, but the simpler stuff). You could also turn your hand to authoring, which, rather like desk-top publishing or working with presentation software, brings together the technical and the creative.
Lastly, if you feel you have some understanding of all the disciplines, and can combine all these elements in the pursuit of the e-learning vision, then there's scope for you as a creator of the e-learning strategy or as a project manager. So, something for everyone.

Authors: Shepherd C
Published year: 2003


Pages: 50-51/198