ON THE ROAD
Grounded By No-Fly Lists
The Annoyance:
I'm a frequent flyer, and just about every time I go through a security checkpoint some beefy guard pulls me to the side, waves a wand over my entire body, and interrogates me before I can get on the plane. Am I on some sort of government no-fly list? How do I get off?
The Fix:
You may well be, though good luck finding out. Since 1990 the feds have maintained a list of passengers deemed a threat to civil aviation. In fact, there are at least two separate lists: one contains "selectees" who must undergo extra scrutiny before boarding; the other contains the names of those who are prevented from flying at all. The terrorist attacks of 9/11 vastly increased the scope of such lists—from a handful of names to more than 20,000, according to an October 2004 report in the Washington Post .
In April 2004, the ACLU filed a class action lawsuit on behalf of six individuals who believe they were unfairly singled out, either because their name is similar to one on the list or because of their political activity. For example, attorney David C. Nelson, one of the plaintiffs in the suit, says he's been stopped more than 40 times. (Former TV star David Nelson of "Ozzie and Harriet" fame also reports being stopped at airports.) In documents released last October 2004, Transportation Security Administration officials admit to massive problems with "false positives" resulting from similar sounding names. More than 2000 passengers have filed complaints with the TSA regarding the no-fly lists. The agency plans to introduce a new program in August 2005 (called "Secure Flight") that it claims will reduce the number of false positives but may provoke other privacy concerns (see "Are You Registered to Travel?").
According to published reports, some travelers have solved the problem by changing how their names are spelled on their airline reservations —adding or subtracting a middle initial, for example. You can also request the TSA remove you from the No-Fly list by filling out and returning a Passenger Identity Verification Form listing your SSN, date of birth, and a detailed physical description. You'll also need to submit notarized copies of three forms of ID—such as a birth certificate, driver's license, military ID, passport, visa, or voter registration card. If approved, the TSA says it will contact the airlines and help streamline your check-in process. To obtain this form, call the TSA's Office of the Ombudsman at (877) 266-2837, email them at TSA-ombudsman@dhs.gov, or send a letter to:
Office of the Ombudsman

TSA Headquarters

601 South 12th St. - West Tower - TSA 22

Arlington, VA 22202
While you're at it, fill out the ACLU's detailed No Fly/Watchlist Complaint Form (http://www.aclu.org/Feedback/Feedback.cfm?R=40). The ACLU provides a similar complaint form for people who believe they were singled out by security because of racial profiling (http://www.aclu.org/airlineprofiling/). This won't make traveling any easier in the short term , but it could ultimately help make passing through airport security less of a hassle.
My Bag Has Been Flagged
The Annoyance:
I just returned from a trip, opened my suitcase, and found a calling card from the Travel Security Administration announcing that my bag had been opened and inspected by hand (see Figure 5-3). (Fortunately, I left my AK-47 at home). Was I just inches away from being thrown into a cell at Guantanamo Bay?
The Fix:
In the post 9/11 era there's nothing you can do to stop the Feds from riffling your bags. But you can avoid trouble by not packing certain problematic items. Before you fly, check the TSA's list of permitted and prohibited items (at http://www.tsa.gov/interweb/assetlibrary/Permitted_Prohibited_8_23_2004.pdf); you may be surprised by what you can bring. For example, nearly all forms of weaponry are allowed in checked baggage (so that AK-47 would have been fine, provided you declared it to the TSA officials at check-in, and packed it inside a locked case, separate from your ammo). But flammable materials and most other hazardous chemicals are verboten. The rules for carry-on luggage are much fussier; essentially anything more lethal than a corkscrew will get removed. You could also be liable for criminal penalties and civil fines of up to ,000, depending on the item. (For a select list of prohibited items, see Table 5-2.)
Whether an item can go on board is ultimately up to the screener—so even if an item is on the permitted list, the screener may still determine it can't go on the plane. If you have questions about what you can and can't bring with you, contact the TSA at (866) 289-9673, or email them at TSA-contactcenter@dhs.gov.
annoyances 5-3. ATSA calling card the author found in his suitcase.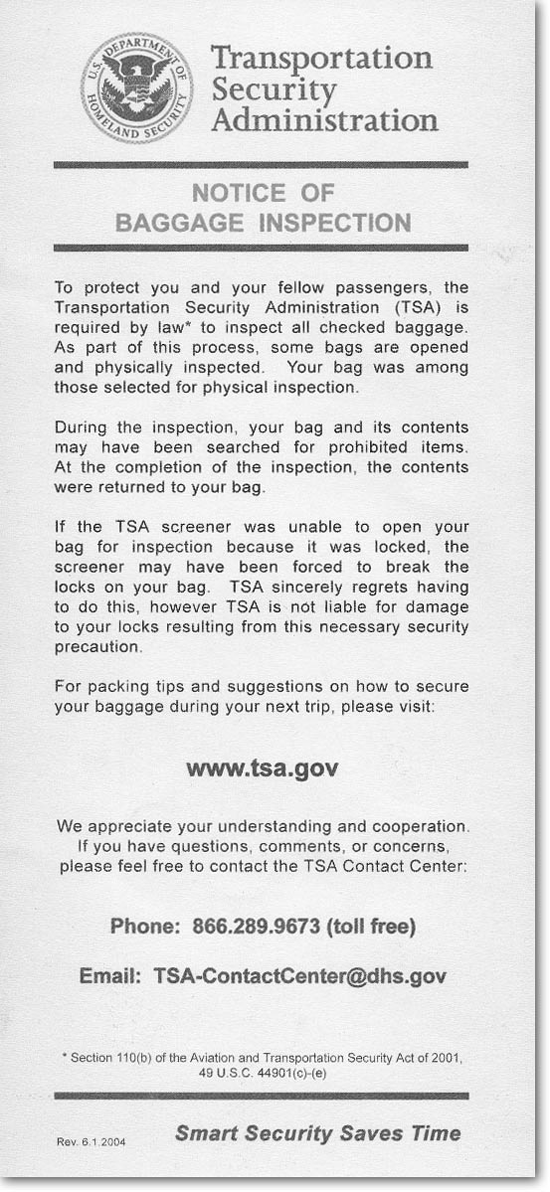 Table 5-2. What you can pack—and where.
Item

Carry on?

Checked baggage?

Nail clippers

Yes

Yes

Cigarette lighter

No a

No

Pointy metal scissors

No b

Yes

Mace or pepper spray

Yes c

No

Swords

No

Yes

Hockey sticks

No

Yes

Firearms

No

Yes

Ammunition

No d

Yes

Hand grenades

No

No
Your Life Is an Open Bag
The Annoyance:
Once the TSA screeners have my bag open, what's to keep them from snooping around for—or even stealing—other stuff?
The Fix:
Not much. Over the past year there have been several news reports of TSA and private screeners being arrested for stealing valuables from passenger bags. The TSA has processed more than 25,000 claims for damaged or missing goods since February 2002, with an average payout of 0. (If your valuables have disappeared from your bags while traveling, you can file a claim with the TSA by downloading a complaint form at http://www.tsa.gov/public/display?theme=174.)
What's more interesting is what happens when the TSA discovers something in your bags that shouldn't be there. For example, if they find flammable materials—including any alcoholic beverage more than 140 proof—it will be handed over to the airlines for disposal.
The Transportation Security Administration has proposed an interesting way to avoid long security checkpoint lines: join the Registered Traveler program. Last summer select airlines began inviting frequent fliers to participate in pilot programs (no pun intended) in five cities: Boston, Houston, Los Angeles, Minneapolis, and Washington, DC. Volunteers were asked to provide full personal information and submit to a fingerprint or iris scan and a complete background check. Once cleared, they could pass through a special checkpoint where they are scanned to verify their identity, then continue on to their boarding gate. (For more information, see the TSA Registered Traveler fact sheet at http://www.tsa.gov/interweb/assetlibrary/RT_Factsheet.pdf).
Meanwhile, the TSA is readying a new passenger profiling system for the rest of us called Secure Flight. Unlike earlier, highly controversial proposals for passenger screening systems, Secure Flight will rely strictly on passenger name records, not consumer data, to identify potential terrorists. TSA officials say Secure Flight will be used only for airport security screening, not to identify other criminal suspects . The agency hopes this program, set to launch in spring 2005, proves more accurate and less problematic than current no-fly watch lists.
If screeners find anything illegal—like, say, a controlled substance—the agency will notify your airline as well as the appropriate law enforcement agency, in which case you might find an unwelcome escort waiting for you after your plane touches down. If you're carrying more than ,000 in cash, agents (the honest ones, anyway) are likely to contact your good friends at the IRS. What happens if they find a copy of, say, The Anarchist's Cookbook or other politically sensitive materials? A spokesperson for the TSA declined to comment.
But the fix is simple: to avoid theft, pack small, expensive items like jewelry or electronics in your carry-on—the TSA won't compensate you if they disappear from your checked baggage. (You can find a list of other valuables not covered at http://www.tsa.gov/public/interapp/travel_tip/travel_tip_0038.xml.) If the items are too big or too numerous for your carry on, conceal them inside clothing. Be sure to make a list of all your valuables and check your bags before you leave the airport. Most important: leave wads of cash—and your stash—at home.
| | |
| --- | --- |
| | Making your vacation plans through a traditional travel agent can help keep some of your personal information out of Passenger Name Records, says travel guru Edward Hasbrouck. Standard industry practice is to use the agency's address and phone number when making reservations, making the agents an effective anonymizer for many travelers. |
High-Risk Frisks
The Annoyance:
On my last trip through airport security, the guards stopped me and gave me such a thorough pat down that I felt like a criminal. How can I keep this from happening again?
The Fix:
Ever since two female Chechen terrorists allegedly brought down two Russian airliners with explosives hidden in their clothing, airline passengers are being subjected to more invasive physical searches. The TSA estimates that 15 percent of airline travelers—or nearly 2 million passengers—get patted down every week.
This has angered some women who feel they've been unfairly singled out for searches—like the 54-year old Michigan woman forced to pull down her pants in Detroit Metro airport in December 2004 so screeners could examine her artificial leg for explosives.
Unfortunately there's no way to refuse a pat-down and expect to get on a plane, but it helps to know the rules airport screeners must follow:
Women must be searched by a female screener, if one is available.

Screeners must use the sides or backs of their hands when examining sensitive areas such as between or below the breasts.

Screeners must allow the search to take place in a private area, if you request it.
You may be able to reduce your chances of getting frisked by avoiding bulky or loose clothing that could be used to conceal a bomb, as well as underwire bras or fashion accessories that could trip airport metal detectors.
According to published reports, the TSA has received around 300 complaints about overly aggressive (or excessively friendly) pat downs . If you feel you've been treated unfairly, you can submit a complaint to the TSA's Office of Civil Rights detailing the nature of the incident, the date and time it happened , the name of the airport, your flight info , and the name of the screener if you have it. Send your letter to:
For more information, call the TSA's Office of Civil Rights at (877) 336-4872 or send email to TellTSA@dhs.gov.
If you've ever flown in a commercial jet, checked into a hotel, booked a cruise, or rented a car, you've created a passenger name record (PNR). Your PNR contains a wealth of information about where and when you've traveled, and with whom. This information is stored in any of four massive commercial databases and is never purged, so your PNR could theoretically contain your entire travel history.
But that's merely the tip of the iceberg. Edward Hasbrouck, travel privacy guru and author of The Practical Nomad (http://www.hasbrouck.org), says your PNR can indicate a lot more than simply who you are and where you've been. For example, your passenger records can reveal:
Your religious beliefs . Did you order a Kosher meal? That information is permanently enshrined in your PNR.

Medical Conditions . Did you order a low-salt meal or request a wheelchair be made ready for you at the gate? If you're especially infirm, your record may indicate your ability to feed yourself or control your bladder.

Employment status . If you travel for work, your job title may be part of the record, as well as the company you work for and the name of the person who made the reservation for you.

Income level . How much did you pay for your ticket? How frequently do you fly? Did you always go first class? All may be indicators of relative affluence.

Memberships and affiliations . Did you receive an AARP discount? Did you book a room as an attendee at an event to get a better rate? Your travel records can show not only your age and interests but whom you associate with.

Romantic liaisons . So you were traveling on business with a colleague, yet your PNR indicates you both checked into a single room with a king- sized bed. What's up with that, lover boy?
Until 9/11, this information was hard to come by because it was scattered among four massive computerized reservation systems and used only by the travel industry. Since then, most of the major U.S. airlines—including American, JetBlue, Northwest, and United—have voluntarily shared more than 300 million PNRs with the FBI and other government agencies, without notifying their passengers. In some cases, PNRs were married to data obtained from Axiom, which collects information about the purchase histories of some 130 million individuals, in an attempt to identify potential terrorist threats.
In fall 2004, the Transportation Security Administration announced it will be collecting and analyzing PNRs for use in its Secure Flight program, which is scheduled to begin testing in late summer of 2005. Privacy advocates warn that such a system could be used to profile individuals based on activities unrelated to terrorism—such as political dissent.
The EZ Way to Track Your Movements
The Annoyance:
I bought a pass that lets me drive right through the toll booths on the turnpike without stopping. It saves me a huge amount of time each morning. But does this mean the highway authority can track my movements? Can this come back to bite me in, say, divorce court ?
The Fix:
You bet. Systems like EZ Pass, which is used on toll roads from Maine to Virginia, I-PASS (Illinois), or FasTrak (Northern California) rely on RFID transponders that attach to your car's windshield and emit a unique ID when read by a scanner (see "All RFID, All the Time"). Every time you drive though a booth , the scanner reads the signal coming off your transponder , identifies your vehicle, and deducts the toll from your prepaid account. Such automated payment systems can provide a reliable record of your movements (or, at least, your car's movements), which is why electronic toll data has become increasingly popular with law enforcement agencies and civil attorneys .
The New York Thruway system reported it received more than 250 subpoenas for EZ Pass records in 2003—roughly double the number of the previous year. It provided the data in roughly half of those cases. Electronic toll information has been used in a murder investigation in Maryland and custody cases in Illinois. It's been used to nab New York City cops who tried to claim overtime pay when they'd already driven home, and to investigate Cook County judges. Anyone who claims to be in one place when they're really in another can get nailed by electronic toll records.
But transit authority officials aren't the only ones who can get at this data. Enterprising students at Texas A&M rigged scanners that collected transponder information to calculate average traffic speeds for Houston drivers. The use was benign (they created a web site that allowed drivers to gauge traffic conditions), but it proved how easily someone can scan your toll pass. A handful of airport parking lots and two McDonald's drive-thru restaurants now accept payments using EZ Pass. This data is also vulnerable to hackers: in October 2000, a security hole in the New Jersey EZ Pass web site exposed the names and account information of thousands of drivers.
The solution is simple but inconvenient: skip the EZ Pass and wait in line to pay cash at the toll booth. Alternately, you can buy a bag such as the mCloak ( to , http://www.mobilecloak.com), which blocks wireless transmissions for such RFID cards and devices, preventing a scanner from reading your card when you don't want your movements to be tracked. Cloaks can also be used for other wireless gizmos, including WiFi Handhelds or cell phones with built-in GPS transponders. Note: some transit authorities, such as FasTrak, provide RF-blocking Mylar bags for free.
In 2001, Acme Rent-a-Car of New Haven, Connecticut, fined more than two dozen customers 0 for speeding while driving its cars . How did Acme know? Each car had a GPS transponder and software that alerted the company when customers exceeded 79 miles per hour for two minutes or more. The fines were later overturned by the Connecticut Department of Consumer Protection, which ruled that Acme provided insufficient notice to customers before implementing the penalties, and ordered the company to discontinue the practice.
We Know Where You Drove Last Summer
The Annoyance:
I've just bought a car with one of those new GPS-based directional systems inside. Can someone use this to follow my movements?
The Fix:
It depends on what kind of system you have and what you've been up to. Sophisticated telematics systems can keep you from getting lost and help you out of a jam. But they often do so at the expense of your privacy.
There are two major telematics manufacturers: ATX Technologies, which makes systems for Mercedes Benz, BMW, and Rolls Royce, among others; and OnStar, which is available in many GM cars. Both services go well beyond simple navigation. Using a cellular phone connection, you can communicate directly with service operators to dispatch a tow truck or an ambulance if you've been in a wreck. Impact sensors can automatically alert the service when you've been in a collision, and it can use the system's GPS transponder to locate your car virtually anywhere on the globe. They also tap directly into your car's computer controls—so someone thousands of miles away can open or lock your car doors, turn the engine on or off, and even control heating and air conditioning. If you've locked your keys in your car and it is 20 degrees outside, that's a godsend.
According to OnStar's privacy policy, the service only tracks your car's location when you call for assistance, you're involved in a collision and/or your airbags deploy, or when compelled by a valid court order. This is where things can get sticky. The same technology that can locate your car when it's stolen can also be used to track you, if law enforcement agencies deem you worthy of investigation. Worse, the Feds could theoretically use the system's cell connection to bug your car and listen to your conversations.
In 2001, FBI investigators in Las Vegas did just that. For more than a month, agents eavesdropped on suspects in their car using its telematics system, before the unnamed telematics company asked a court to intervene. Ultimately, the 9th Circuit Court of Appeals ruled the eavesdropping was illegal—not because of privacy violations, but because tying up the cellular line interfered with subscribers' ability to access their contractually guaranteed emergency road service. The Federal decision only affects states in the 9th District, which includes California, Hawaii, Nevada, Oregon, and Washington.
OnStar and ATX say the systems they sell today notify passengers when a call is initiated, making it hard to eavesdrop without their knowledge. ATX spokesperson Gary Wallace says the type of notification varies by automaker, and older systems may not have this feature.
Dan Kahn, road test editor for Edmunds.com, a research site for car buyers , recommends drivers concerned about their privacy avoid subscription services like OnStar or ATX and install after-market navigational systems instead. They won't help locate your car if it's stolen, but they can keep you from getting lost—without being tracked.
You may not realize this, but when a red-light or speed-radar traffic camera detects a car racing through an intersection, it captures images of the driver as well as the car's license plate. In July 2004, a traffic cam in Hawthorne, California, caught a woman in more than the simple act of running a red. When her husband visited the police station and reviewed the video taken by the camera, he saw another man behind the wheel of his car, who turned out to be his wife's lover. Soon afterward, the cuckolded car owner filed for divorce. So if you're thinking about having an affair, do it in a city without traffic cams—or maybe just take the bus instead.
Want to foil traffic cams by covering your license plate? Be careful—many states make it a crime to deliberately obscure your license number. An alternative tactic is a can of spray varnish. Products like PhotoBlocker, Photo Fog, and Photo Stopper claim to foil cams by making your license plate highly reflective—so when the camera's flash goes off, the number is obscured. (We can't vouch for the effectiveness or legality of this practice, however.)

You might also try your luck in court. In September 2001, San Diego Superior Court Judge Ronald L. Styn overturned nearly 300 red-light-camera citations, saying the accuracy of the cams had been compromised because their manufacturer, Lockheed Martin (now Affiliated Computer Services), collected a sizeable percentage of every fine. For more info on camera locations nationwide and tactics used to fight citations, visit http://www.highwayrobbery.net.
Automobile surveillance may soon be available 24/7, if the National Transportation Safety Board has its way. The NTSB has recommended that all cars be required to contain an Event Data Recorder (EDR), similar to the black boxes installed on commercial aircraft. This EDR plugs into your car's diagnostic computer and can record the day and time you drove, how far you went, at what speed, whether you wore a seat belt, and how well the car's safety devices worked.
The idea is that investigators can use this data after a crash to determine its cause, which in theory could lead to safer cars. The practical reality is that such black boxes could become a treasure trove for insurance companies, rental agencies, law enforcement, family law attorneys, employers , and anyone else with a more-than-casual interest in your driving habits.
Many new cars already come with recorders that store only a few seconds' worth of data at a time—so they can record what happened in the moments preceding an accident, but not how fast you were driving a week ago. If you break the law, however, this information can be used against you. In October 2003, a New York driver was convicted of killing a pedestrian based in part on data retrieved from his car's black box. According to accident reconstruction firm Harris Technical Services, EDR data has been used in more than 20 civil and criminal cases since 2000.
Worse, some private firms are promoting boxes that keep a running record of your driving habits. Last August, the Progressive Insurance Group began a pilot program in Minnesota where drivers who agreed to put data recorders in their car could be eligible for discounts on their auto insurance—provided they didn't speed or drive after midnight, and had the recorder plugged in at least 95 percent of the time. Drivers who want the discounts have to periodically upload their driving data to Progressive using a personal computer.
Car manufacturers are installing recorders not merely to improve vehicle safety but to gather information in case they're sued, says Dan Kahn, road test editor for Edmunds.com. If the EDR indicates a driver hit the brakes hard and swerved before his SUV overturned, the carmaker could avoid paying millions in damages in a product liability suit. Kahn says manufacturers can also use the data to void the car's warranty—if the recorder says you've been driving aggressively, you may be out of pocket for repairs .
So far, regulation of such devices has been minimal. California, for example, passed a statute that requires carmakers to disclose the presence of data recorders in the vehicle's owners manual. But that same law allows third parties to access that data in certain circumstances. Meanwhile, California and other states are considering the use of black box data to assess mileage taxes on vehicle owners , check vehicle emissions, or collect information on speeding violations.
Most cars won't work without the recorders plugged in, says Kahn, so disconnecting them isn't an option. The best solution is to do your homework before you buy your next automobile. Find out if the car has an EDR before you buy it, and what kind of information it records. Or shop for an older classic—though GM cars have used very basic event logging since the 1970s, most cars built before 1996 don't have any place to plug in a data recorder.