If you change the target location for My Documents, Windows creates a new My Pictures subfolder at the new location.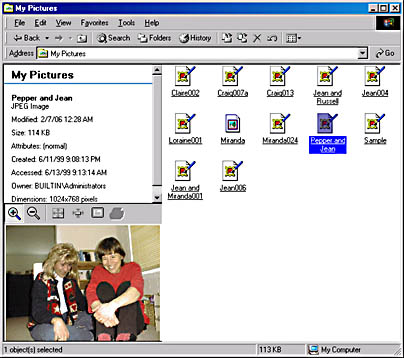 Figure 8-7. The Image Preview HTML template, applied by default to your My Pictures folder, shows the contents of an image file without opening it.

[Previous] [ Next ]
Running Programs and Opening Documents
Icons for programs, documents, and shortcuts in a Windows Explorer window behave exactly as they do on the desktop. Double-click or single-click them (depending on how you've set up your system), and they perform their default actions. Generally speaking, that means that programs open, documents open within their parent programs, and shortcuts activate the objects to which they're linked.
Nondefault actions are available via the shortcut menu. The choices on that menu vary depending on the kind of object you right-click. You might want to experiment with documents you use regularly to see what commands appear on their shortcut menus .
Opening Documents in Different Programs
To open a document in a program other than the default program associated with its filename extension, choose Open With from the shortcut menu. In the Open With dialog box that appears (see Figure 8-8), select the program you want to open.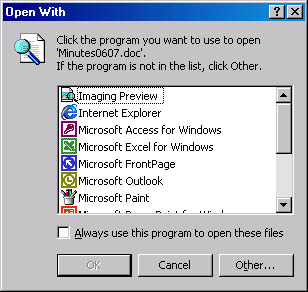 Figure 8-8. The Open With command lets you open a document with a program other than the file type's default program. Selecting the check box makes the alternative file association permanent.

Once you've used the Open With command with a particular file type, Windows modifies the command to make it easier for you to reuse that file type with the same alternative program. For example, suppose you occasionally want to open .doc files (files that are normally associated with Microsoft Word) in WordPad. The first time you right-click a .doc file and choose Open With, you'll need to scroll through a relatively long list of program names to find WordPad. The next time you want to open a .doc file in WordPad, however, the Open With command will open a short cascading submenu, and WordPad will appear near the top of that menu.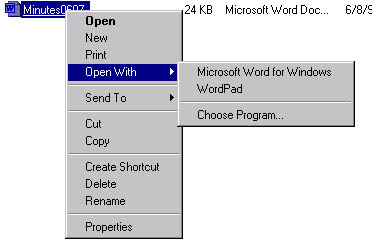 You can use the Choose Program command from this submenu if you need to see the full list of available applications again.
Changing the Parent Application for a File Type
As Figure 8-8 shows, the Open With command also includes a handy check box that lets you make a permanent change to a file type's association. For example, if you decide that you always want .doc files to be opened by WordPad, this is the easiest way to make the change. For a more complicated way, see "Working with the File Types List."
Opening Documents That Don't Have a Parent Application
If you double-click or click a file that isn't associated with any application, Windows presents the Open With dialog box shown in Figure 8-8. Choose the application you want to open the file, and select the check box if you want to create a permanent association between the file and a particular application.