Knowing that a Tablet PC is right for you is just the first step. Choosing one can be challenging because there are actually about 23 different models of Tablet PC, and each offers slightly different design and hardware features. If you've already bought your Tablet PC, skip this section. But if one of your reasons for buying this book is to figure out which Tablet PC to buy, read on . . .
The big debate about Tablet PC is whether people even want to enter information into a computer with a pen. Well, handwriting is easier than typing for some - and a convenient method of input in cramped spaces certainly has its appeal . Imagine writing happily away at 30,000 feet with your pad-like Tablet PC resting on your meal tray, avoiding the fool who slams his seat back into your knees without warning. Just imagine the disaster that would ensue with a clamshell-style laptop.
Of course, handwriting is harder to read than typed text - and handwriting-recognition programs still make mistakes, so converting your handwriting to text can be cumbersome. Still, consider the possibilities: Delivery people and salespeople can capture actual signatures while visiting customers. Hospital staff can jot notes about treatments in settings where a keyboard would be difficult to come by. Market research can be done by having people in a shopping mall fill out any one of several versions of survey forms stored on a Tablet PC, and through wireless technology, the results can be sent to the home office in minutes, instead of taking weeks to compile paper forms.
The debate about the viability of handwritten input will probably continue until pen technology and handwriting-recognition software become user -friendly enough to end the uproar once and for all.
Slate versus convertible
The first choice to make is between a slate model, such as the ViewSonic Tablet PC ( illustrated in Figure 1-2), which has no attached keyboard, and a convertible model, such as the Acer TravelMate C100, which sports the clamshell design of a traditional laptop - with a twist. The twist is that you can spin the monitor panel around and flatten it to turn the laptop-style unit into a tablet form.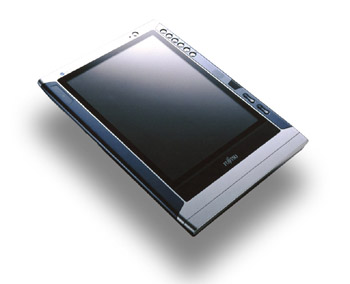 Figure 1-2: The ViewSonic model offers a good- size screen and rubber edging to help you grip the unit.
Here are a few things to consider when choosing between convertible and slate models.
Slate models:
Pro - Detachable keyboard: You can attach a keyboard to any slate model, so none of them is totally keyboardless. Some come with detachable keyboards; others offer this as an option.

Con - No protective cover: Most slate units (the Motion M1200 Tablet PC is an exception) have no protective cover over their screens, as a convertible does when it's closed up. You can buy screen protectors, but if you treat your portable computer roughly , you may be better off with a convertible model.
Convertible models:
Pro - Size: Convertible model keyboards tend to be somewhat smaller than traditional laptop keyboards.

Con - Weight: Convertible units can be a half-pound to a pound heavier than slate units.

Con (sometimes) - Price: Convertible models tend to be a bit pricier than slate models (but not always and not by much - maybe $100 or so).
Deciding which model makes sense for you
There are six models offered by mainstream computer manufactures such as Compaq and Toshiba. The rest are made by either regional manufacturers (for example, Taiwanese Tantung's Tangy is pretty much available only in Asia) or manufacturers such as PaceBlade Technology (which sells its PaceBook Tablet PC mainly through value-added resellers ).
Tip If you want to buy several units for your business or want any kind of consulting about how to roll out your Tablet PCs into your workforce, a less-well-known manufacturer may offer you better value and support. Also, some distributors , such as InfoCater (www.infocater.com), provide consulting services to help you fit Tablet PC into your business needs.
In essence, about six models are available to you as an everyday consumer. Being a fan of handy tables, I've created Table 1-1 to help you make the Tablet PC choice from among these models. Try ranking your own computing priorities to make a choice from among these models. For example, is a lightweight model more important than speed? Or is price the most important thing to you?
Table 1-1:

Tablet PC Models

| Model | Price | Design | Memory | Processor | Hard Drive | Weight | Screen Size |
| --- | --- | --- | --- | --- | --- | --- | --- |
| Acer Travel Mate C100 | $2,200 | Convertible | 256MB | 800 MHz | 20GB | 3.2 Pounds | 10.4 inches |
| Compaq TC 1000 | $1,700 | Slate/Convertible | 256MB | 1 GHz | 30GB | 3 Pounds | 10.4 inches |
| Fujitsu Stylistic ST 4000 | $2,200 | Slate | 256MB | 800 MHz | 20GB | 3.2 Pounds | 10.4 inches |
| Motion M1 2000 | $2,200 | Slate | 128MB | 866 MHz | 20GB | 3 Pounds | 12.1 inches |
| Toshiba Portage | $2,300 | Convertible | 256MB | 1.33 GHz | 40GB | 4.1 Pounds | 12.1 inches |
| View Sonic V1100 | $1,999 | Slate | 256 MB | 866 MHz | 20GB | 3.4 Pounds | 10.4 inches |
What do all these numbers and initials mean? Here's a quick-and-dirty rule that can help you understand which numbers are good. The better value would have higher numbers for processor speed, memory, hard drive capacity, and screen size, and lower numbers for weight and price.
Try comparing a couple of these models to determine which would offer the best value. The Toshiba Portege, which retails at $2,300, is a convertible model. It has 256MB of memory, a 1.33 GHz Pentium III processor, 40GB hard drive, 12.1-inch monitor, and it weighs 4.1 pounds. Compare that to the Fujitsu Stylistic ST4000, which is cheaper (at $2,200). This model is a slate with 256MB, a slower 800 MHz Pentium III, half the space on a 20GB hard drive, a smaller 10.4-inch screen, and a weight of 3.2 pounds. Bottom line: You may save $100 and one pound of weight, but you lose speed, memory, and screen size.

Making the Tablet PC choice for your business
If you've been put on the spot to recommend a Tablet PC purchase for your business, you may have different considerations than you would if you were buying one for yourself, so I'll take a moment to look at this choice from a business perspective.
First, you have to determine if the Tablet PC is going to replace another form of computer or be used in addition to a desktop or laptop computer. Replacing older computing devices may be perfectly cost effective, but if you find that your workers will need both their desktop computers and Tablet PCs, that can carry a pretty hefty price tag. Tablet PCs may replace laptops, but seldom replace desktops for those already using one.
If you want to provide portable computing for members of your workforce who don't currently use computers (such as inventory checkers in your warehouse), Tablet PCs may provide increases in speed and productivity that can help you justify their cost.
Tip If you have a specialized use for Tablet PCs (beyond standard word processing or spreadsheets, for example), consider whether you'll also need to have proprietary software written for your business. A commercial application already written for your industry may do the trick.
Remember Although any software that runs on Windows will run on Tablet PC, not all such software is designed to work with handwritten or spoken input - which might defeat the purpose of your purchase.
If you have workers who deal with product or packaging design, they may find that pen input is a useful addition to their existing computing capabilities. Programs such as Corel Grafigo (shown in Figure 1-3) make drawing on the screen a natural way to input line art into a computer.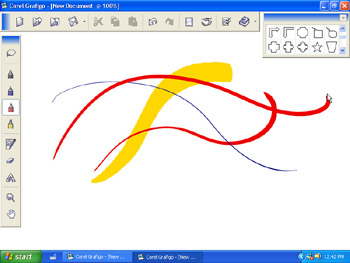 Figure 1-3: Corel Grafigo offers artistic types a more natural input approach for drawing.