An Overview of Publisher 2003
Publisher 2003 includes a number of features that make it well suited for organizations that need to create many different types of complex documents. These documents can be saved to SharePoint sites or workspaces as with other Office 2003 documents. Informational websites can also easily be created to augment SharePoint sites.
A number of sample document templates are includedfor example, brochures , business forms, catalogs, envelopes, flyers, labels, newsletters, and resumes. The new Mail and Catalog Merge Wizard pulls information from a spreadsheet, table, or database to create a wide range of documents.
Content from Office 2003 applications including Excel charts , Excel worksheets, PowerPoint presentations, PowerPoint slides, Project documents, Visio drawings, and Word pictures can easily be inserted into a Publisher 2003 document, by choosing Insert, Insert Object from the menu. This makes Publisher 2003 an excellent tool to use for publications that involve many elements from different applications. Color schemes and the overall design of the document can quickly be updated to adjust the overall look and feel of the publication.
Website wizards are also included with Publisher 2003, which can be useful when adding some pizzazz to SharePoint sites. A multipage site can quickly be created in Publisher and then published to a SharePoint document library. For example, a company newsletter could be spiced up with one of the template layouts in Publisher 2003 and then published to a document library available to readers. Publisher 2003 offers an Incremental Publish to the web feature that updates only the files that have changed when publishing to an established site.
Figure 10.11 shows an example of the creation of a newsletter website that includes a more elaborate calendar page than SharePoint 2003 allows through the events list. A template provided by Publisher 2003 was used and then customized to suit the needs of the organization.
Figure 10.11. Using Publisher 2003 to create a web page.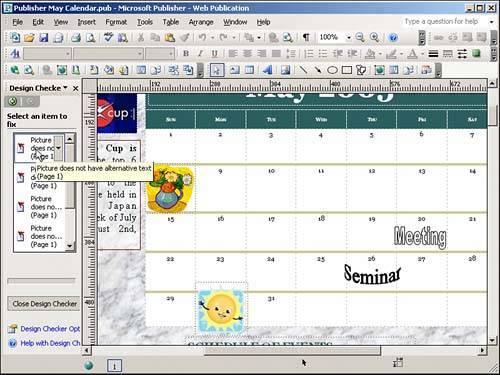 Note that this is a considerably more lively and graphically rich presentation of calendar information than the SharePoint events list can provide. Word Art is used for the meeting and seminar items on the calendar, and some clip art was inserted for Mother's Day (flowers) and Memorial Day (a smiling sun). A reminder of an upcoming eventthe Imagine Cupalong with an image was included on the left-hand side of the page as well. Hyperlinks were added to the Word Art objects ("Meeting" and "Seminar") to events in SharePoint to further enhance the functionality of the calendar. Publisher offers a great variety of tools that make the design of the page easy, including a Design Checker tool seen on the left-hand side of the screen.
Figure 10.12 shows the calendar page when viewed from a document library. Note that the cursor is hovering over the object Meeting (circled in Figure 10.12), and the URL is shown at the bottom of the window (indicated by the arrow in Figure 10.12).
Figure 10.12. Viewing a web page created in Publisher 2003.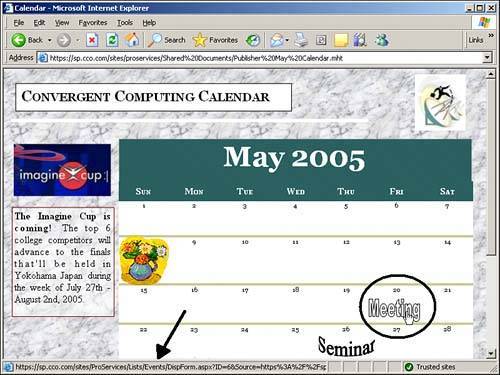 The tools provided by Publisher make it easy for even a novice to create an attractive web page that can appeal to a wide audience and add functionality such as hyperlinks, graphics images, textured backgrounds, and other features.
TIP
Consider using Microsoft Publisher 2003 instead of FrontPage 2003 for creating special-purpose web pages that will be housed in a SharePoint document library. The learning process is easier, and the tools will be familiar to marketing or communications resources.