Removable-Media and Tape Drives
Removable-media drives bridge the capacity gap between floppy disks and hard drives. With capacities ranging from 100MB up to 20GB, they can be used for backup and primary data storage and for data transport between systems. Some types that connect to SCSI or ATA/IDE interfaces can be used as boot drives. Although many types of removable-media drives have been discontinued recently as low-cost rewritable optical storage has become very popular, you need to understand the major types of current and recent removable-media drives to be prepared for the A+ Certification Exam as well as your day-to-day work as a technician.
The major types of removable-media drives you should become familiar with include
Tape drives are used for backup instead of primary storage. The capacities of current models range from 20GB to as high as 360GB (2:1 data compression assumed). The major types of tape drives in use include
Travan

DDS

VXA

SLR

AIT

DLT

LTO
Tape drives use various types of magnetic tape. Some tape drive mechanisms can be incorporated into autoloaders or tape libraries for large network backup and data retrieval.
Interface Types
Removable-media and tape drives use the same interface types used by other types of drives:
Parallel (Zip and SuperDisk LS-120)

USB (all products listed)

SCSI (Jaz, Orb, and Zip)

IEEE-1394a (Jaz, Orb, Zip, and Peerless)

ATAPI (Zip, SuperDisk, and Orb)
Most current tape drives connect via USB 1.1, 2.0, SCSI, ATAPI, or IEEE-1394a interfaces. Some older models used floppy or parallel-port interfaces.
See the following sections for more details.
Zip
The Iomega Zip drive is far and away the most common removable-media drive you are likely to encounter. It is available in three capacities, which among them support all interfaces used by removable-media drives. (Some interfaces have been discontinued.) All Zip drives use only Zip media (see Figure 14.25).
Table 14.8 provides a quick reference to Zip drives produced by Iomega; some third-party vendors also produce Zip drives under license for use in interchangeable drive bays for notebook computers as well as standard internal and external interfaces. All drives listed in Table 14.8 except for the ATAPI version are external drives.
Table 14.8. Iomega Zip Drive Interfaces and Capacities
Drive Capacity

USB 1.1

USB 2.0 (Hi-Speed USB)

Parallel Port

SCSI [1]

ATAPI

IEEE-1394a

Supported Media [2]

100MB

Yes

No

Yes

Yes

Yes

No

100MB R/W

250MB

Yes

No

Yes

Yes

Yes

No

250/100MB R/W [3]

750MB

Yes

Yes

No

No

Yes

Yes

750/250MB R/W [3]

100MB R/O [4]
[1] Uses DB-25F connectors
[2] R/W "read/write; R/O "read-only
[3] 750MB and 250MB versions can read and write the next -lower capacity of media, although performance drops drastically with smaller media
[4] 750MB drives can read, but not write, to 100MB media
SuperDisk LS-120, LS-240
The SuperDisk drives originally developed by Imation are available in two versions:
LS-120 , 120MB SuperDisk media, and also read/write compatible with 1.44MB and 720KB 3.5-inch floppy disks

LS-240 , 240MB SuperDisk and 120MB media, and also read/write compatible with 1.44MB and 720KB 3.5-inch floppy disks; can also format 1.44MB floppy disks to hold 32MB of data
Figure 14.23 compares floppy, Zip, and SuperDisk media.
Figure 14.23. 1.44MB floppy, Zip 100, and LS-120 SuperDisk media compared.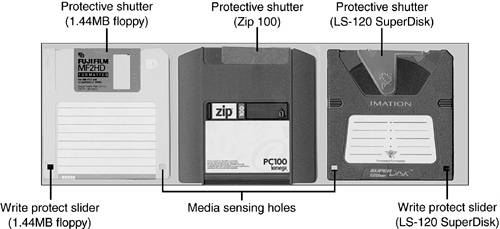 SuperDisk drives have been built in various internal and external form factors using parallel, USB, PC Card and ATAPI interfaces, as well as proprietary designs for use in interchangeable drive bays on some notebook computer models.
SuperDisk drives are more versatile than Zip drives because they support standard 3.5-inch media as well as their own SuperDisk media. However, they are not nearly as popular, and most versions have been discontinued.
Orb, Jaz, and Peerless
All three of these removable-media drives have capacities of 1GB or higher, and can be used as primary storage as well as backup storage. These products vary widely in their design and capabilities. Table 14.9 provides an overview.
Table 14.9. High-Capacity Removable-Media Drives
| Drive Model and Vendor 1394a | Capacities | USB 1.1 | USB 2.0 | Parallel Port | SCSI | ATAPI | IEEE- |
| --- | --- | --- | --- | --- | --- | --- | --- |
| Iomega Jaz | 1GB, 2GB | No | No | No | Yes | No | Yes |
| Iomega Peerless | 10GB, 20GB | Yes | No | No | No | No | Yes |
| Castlewood Orb | 2.2GB, 5.7GB | Yes | Yes | No | Yes | Yes | Yes |
The Iomega Jaz drive (now discontinued) is available in 1GB internal and external and 2GB internal and external versions for SCSI interface only. Both 1GB and 2GB external versions use the HD-50 connector, whereas internal versions use the 50-pin ribbon cable. Jaz drives use only Jaz cartridges; the 2GB version can read and write to both 1GB and 2GB cartridges. Jaz cartridges can be purchased from Iomega and some other vendors.
The Iomega Peerless drive (now discontinued) is a unique modular system that uses the following components :
10GB or 20GB Peerless removable hard disk

Base

Interface module (USB 1.1 or IEEE-1394a)

Power cable
The base and interface module are connected to create the base station, which can accept the removable Peerless disk cartridges (see Figure 14.24).
Figure 14.24. The major components of the Iomega Peerless drive system.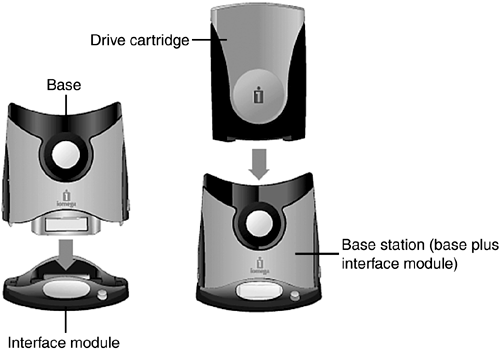 The Castlewood Orb drive is available in two capacities (2.2GB and 5.7GB Castlewood Orb hard disk cartridges). It supports most interface types except for parallel port and USB 2.0. The 5.7GB drive is read-only compatible with 2.2GB media. External Orb drives with SCSI interfaces use the HD-50 connector, whereas internal Orb drives with SCSI interfaces use the HD-68 connector on a ribbon cable.
Tape Drives
Tape drives are available in several types that use various kinds of data cartridges. Tape drives are generally rated in two ways:
For example, a VXA-1 tape drive has a native capacity of 33GB, and a compressed capacity of 66GB. Note that the real-world compressed capacity of a tape drive generally falls between the native and 2:1 compressed capacity due to how well different types of data can be compressed. For example, word processing documents and uncompressed bitmap graphics can be compressed by as much as 90% smaller than their original size , but GIF and JPEG graphics and archive files using the ZIP and CAB formats are already compressed and can't be compressed any further during backup.
Tape drives must be used with backup software. Various versions of Windows have limited-capability backup software included, but third-party backup software usually has more capabilities. Some drives are packaged with backup software, but others require the user to purchase tape backup software separately.
Installing and Configuring Removable-Media and Tape Drives
The physical installation of any removable-media or tape drive resembles the process used for installing other drives or devices using the same interface (see Figure 14.25).
Figure 14.25. An internal ATAPI Iomega Zip drive (top) compared to an external SCSI Iomega Zip drive (bottom). Each drive has the same configuration features as other drives in the same category.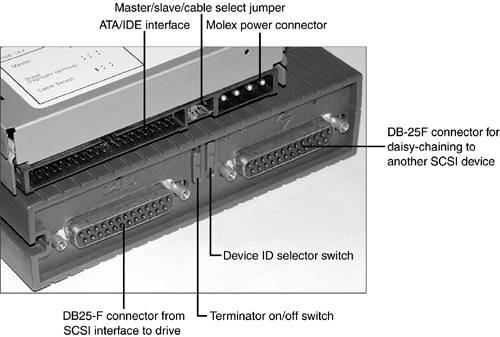 However, there are two significant differences:
Most removable-media drives depend upon proprietary support software for advanced features; tape drives in particular are useless unless backup software that supports the drive is used. If the drivers are not installed, removable-media drives work, but features such as write protection, disk copying, and others might not be available.

You might also need to install the driver and support software for the drive before you install the drive itself. Installing the driver and support software first enables the system to more easily detect the drive. See the documentation for a particular drive for details.